India's auto industry is in a state of flux like never before. As the industry weighs the pros and cons of its electric future and seek ways to adjust itself for the shift to clean-fuel technology, we get industry experts to talk on how ready we are to embrace e-mobility in India.
Visitors coming in from the Chennai airport into the heart of the city through Mount Road have to pass by a glitzy, glass fronted building that houses the Ashok Leyland corporate office. Just a few decades back that area was known as the 'Halda Junction' after a large typewriter factory situated there that employed hundreds of workers. Over the years, the market for typewriters vanished and so did that typewriter factory.
The market for typewriters just disappeared with the age of the computer and no matter how good one was at making typewriters, the machinery and technology required for the manufacture of typewriters was completely different from that required for manufacturing printers. The winds of change had blown the typewriter industry into oblivion.
A similar gust of wind blew through the engineering industry in 2016 when newspapers and TV channels across the country splashed the news that the Government of India had announced it would be selling only electric cars by 2030.
2030 was just 13 years away.
100 percent electric cars meant no more cylinder blocks, cylinder heads, con rods, crank shafts, gear boxes - products that currently are the bread and butter of the engineering industry.
The Indian automotive industry has been one of India's strongest engines of growth and accounts for seven percent of the country's GDP. The industry contributes around 22 percent to India's Industrial GDP and 50 percent to its manufacturing GDP.
100 percent electric vehicles (EVs) would mean that in addition to direct job losses at the auto makers, the auto component makers, the forging and casting suppliers and smaller tier 2 and 3 suppliers, it would cause ripples upstream at steel, iron and mining industries and downstream in servicing, fuel supply, logistics etc.
After that bombshell announcement came a slew of reports questioning whether the ambitious target was feasible in India, whether EVs would truly solve the problem of pollution and carbon emission and whether there were more viable alternatives to consider before we committed ourselves to an electric future.
The History
Vehicles driven by electricity is not a new technology. The first electric car was made in 1837, decades before the first production of the iconic Ford Model T in 1908. In fact, in the early 1900s in the US, 40 percent of automobiles were powered by steam, 38 percent by electricity, and only 22 percent by gasoline.
Electric cars continued being reasonably popular till the 1920s but as the road infrastructure improved and people needed to travel longer distances at faster speeds, the EVs of the day could not keep up and the concept died out.
The crowbar that broke the log jam - The resurgence of EVs
Though most of the major auto makers had dabbled in electric cars and some had electric cars in their portfolio, none of them had a model that was really able to sell on par with the Internal Combustion Engine (ICE) vehicles. All that changed in 2003 when a startup with no experience in the Auto industry turned up and shook up the industry with the release of the Roadster. The Tesla Roadster ran on a lithium-ion battery, which at the time was considered by most of the auto makers to be a technology that was still '10 years away'. The Roadster was the first production automobile to use lithium-ion battery cells and the first production EV with a range greater than 320 km per charge.
When Tesla's Model 3 was unveiled in 2016, people queued up overnight to get a chance to book a car—a sight normally witnessed for rock music albums and iPhone releases. Within a week, Tesla had notched up 325,000 bookings worth over $14 billion. By August 2017, there were half a million bookings, and an average of 1,800 reservations were being added per day.
Even though there was pressure on the auto industry from the environmentalists to produce more fuel-efficient cars, it was the success of Tesla that demonstrated to the auto makers that there was a pent up, mainstream consumer demand for more EVs.
Bob Lutz, Vice Chairman, General Motors (GM), put it best when he said, "All the geniuses here at GM kept saying lithium-ion technology is 10 years away, and Toyota agreed with us—and boom, along comes Tesla. So I said, 'How come some tiny little California startup, run by guys who know nothing about the car business can do this, and we can't?' That was the crowbar that helped break up the log jam."
Views that matter
At the forefront of this tectonic shift are the auto makers, the auto component manufacturers and the machine tool manufacturers and each of these industries would face different challenges in the future.
On being asked why a country with 25 million vehicles sold annually would embark on such a drastic change and whether this target of 100 percent EVs by 2030 was feasible, Anil Bhardwaj, Managing Director, Mazak India, one of the world's largest machine makers, said, "I understand the compul­sions of the Government to set such an ambitious target. India is a signatory to the Paris climate agreement and we are obliged to bring down our share of global emissions by 2030. Many of our cities are also amongst the world's most polluted, with vehicular pollution being a major cause. We also import almost all of our oil requirements, which is expected to touch a whopping $85 billion in 2018 alone. I think 100 percent EVs by 2030 may not be feasible considering that the support infrastructure that EVs need, like charging stations etc., is still at a nascent stage in India. Most of our power is still generated by thermal power stations which will not really bring down pollution levels. Yes, the pollution in the cities due to vehicular traffic would come down but unless we switch to cleaner, renewable forms of energy the overall emissions will not come down. In fact, they might go up considering the added power requirements to charge the EVs."
"Mazak has been on the forefront of pioneering machine tool technology for over 100 years. In fact, we have already geared up for the future with the development of a Hybrid Multi-tasking machine — Integrex i400AM — which is a combination of a 3D Printer and a Multi-tasking machine. This innovative technology is an alternative to conventional processing in terms of part design and machining and can be used by all types of industries including components for EVs. The EV evolution will not affect our business as in addition to the automotive segment, we have a significant presence in aerospace, oil & gas, power & energy and medical sectors too," he added.
All geared up
Trumpf is the world's largest maker of sheet metal machi-nery and lasers for industrial manufacturing. Pradeep Patil, Managing Director, Trumpf India, is quite optimistic about Trumpf's prospects with EVs coming in: "EVs are rapidly changing the established paradigms of manufacturing and significant new demands are being posed by this change. As a machine tool company, Trumpf has been ahead of the curve and as of today, we already have the manufacturing solutions to enable commercially viable mass production of EV components like batteries, high power electronic systems and electric drives. All of these components require cutting, welding, surface processing and marking technologies with lasers on a variety of materials like aluminum, copper, and nickel, which is our core competency. At Trumpf, we foresee an exponential increase in business with the evolution of EVs in India."
Charging infrastructure needed
On the future of the Auto Component industry, Ananth Ramanujam, Director, Turbo Energy (a JV between the TVS group and Borg Warner Turbo Systems) and a leading supplier of Turbo Systems to the OEMs, said, "100 percent EVs would be unlikely by 2030 as the charging infrastructure is lagging behind. Estimates place EV penetration by 2030 to be approximately 40 – 50 percent, most of which is likely to happen in the two- and three-wheeler categories. Hybrids could be commonplace in the four-wheeler segments by then. ICEs will continue to power
commercial vehicles (CVs), off-road applications (gensets, construction equipment etc.), and farm equipment (tractors, harvesters) for the conceivable future. Light-duty diesel applic­ations could fade away in 15 years' time, while small gasoline engines could continue for a while longer."
"As ICEs would continue in CVs, tractors and off-road vehicles, engine-group auto component manufacturers would be kept busy for at least two decades. Turbo chargers, for example, would continue to be used in ICEs and Hybrid platforms to facilitate OEMs in meeting stringent emission regulations in the immediate future," he added.
Government support is crucial
Shekar Vishwanathan, Vice Chairman, Toyota Kirloskar Motors commenting on the feasibility of 100 percent EVs by 2030, said, "The target of 100 percent EVs by 2030 is not feasible given the lack of charging infrastructure, dependence of the Government on revenue from the ICE technology and the cost of batteries. EVs can achieve a maximum penetration of 10 percent by 2030 if the Government continues to give tax breaks etc."
"Probably by 2050, we can get to 30 percent EVs, which if we do, can be considered a success. 100 percent EVs is not possible in any country, unless solid state battery technology or some other alternate technology can become financially viable," he added.
When asked what would happen to the suppliers of forgings, castings and machining vendors of blocks, heads, crankshafts, con rods, gear boxes and their workforce who are dependent on ICEs, he said, "If the Government pursues EVs to the exclusion of other technologies be it fossil fuel, hydrogen or hybrid, investment in the ICE sector will be starved leading to higher costs for the economy in terms of lost employment. Existing suppliers of forgings, castings, cylinder blocks, heads, gear boxes etc. will not modernize their factories, leading to investment starvation."
On the future and what his advice would be to the auto component manufacturers and the machine makers who are currently heavily reliant on ICE components, Vishwanathan said, "The Government would be well advised to consider hydrogen technology in the longer run apart from strong hybrid technology immediately, which does not require additional investment and time in creating charging infrastructure which is needed for EVs. I would advise the auto makers and the auto component manufacturers to follow the consumer and study the degree of consumer acceptance of EVs before making any investment in the non-ICE sector."
BVR Subbu, Former President, Hyundai Motor India Ltd, had a different take on the matter: "When you disaggregate vehicle demand and examine individual subsectors, it appears that 100 percent adoption of electric mobility is feasible in two wheelers, three wheelers and four-wheeler micro commercial vehicles by 2030. I think adoption could be significant in the urban bus sector as well. But in passenger cars and light and heavy commercial vehicle trucks, there could be several challenges."
"If the Government creates an appropriate fiscal incentive regime and puts in place the required physical infrastructure including power transmission systems, particularly in urban agglomerations with populations of one million and above, at least 30 percent of new private cars registered, and 75 percent of new taxis sales could potentially shift to EVs by 2030," he added.
"The possibilities for buses is, however, far more promising. If the Government were to work towards building an urban bus network using a combination of large high-power trolleybuses on high-density, high-traffic routes along with 20 to 30-seater buses on feeder routes as part of the well-structured mass transit network including perhaps BRT systems,
I think a 100 percent intra-urban electric bus network is feasible. As far as inter-urban passenger buses are concerned, fuel cell and alternate chemistry storage system-based products, if developed at the appropriate price points, could help ensure adoption levels above 60 percent," opined Subbu.
"As far as LCV and HCV trucks are concerned, I expect that only those vehicles in utility services, and last mile logistics in urban areas could shift to electric. This proportion would probably be less than 10 percent of total new CV sales in 2030," he said.
On whether 100 percent EVs would be possible in India and what he thought would happen to the suppliers of forgings, castings and the machining vendors of blocks, heads, crankshafts, con rods, gear boxes and their workforce, he said, "I don't believe 100 percent EVs in India is possible with presently favored energy storage alternatives because of the extent of control that China presently exerts on the global supplies of strategic materials like lithium and cobalt."
"The IC engine has been consistently improving in terms of power to weight ratios. Today, 1.5 L engines producing 175 HP power and 300 NM torque with compression ratios of 12.5:1 are already a reality. These will help make IC engines relatively friendlier to the environment and increase their shelf life. But extremely high degrees of optimization in design will require a completely new dimension of metallurgy and machining capabilities, and obviously of process quality," added Subbu.
"Component manufacturers who are able to acquire and absorb higher technology standards will obviously not have too many hiccups while adjusting to the changing demands of OEMs. I think the most critical concern of component manufacturers and machine tool manufacturers, who are currently reliant on ICE components, should rapidly acquire competencies in design and material tech­nologies," he added.
On whether there was any other technology that could replace EVs as a viable, clean, and less polluting alternative in the next 10 to 15 years, he said, "In a world that is changing every day, and with concepts like hyper-loop moving beyond the drawing boards to reality, the innate innovative capability of humankind leads me to believe that EVs are but another stage in the evolution of mobility."
Adjusting the sails
For the auto makers, the auto component makers and the machine makers the winds of change have begun to blow. It is an immutable law that change will happen, technologies will change, and products and industries will become obsolete. The old will be replaced by the new. Which way the wind will blow and where the new technology would lead the auto industry to, no one can really tell.
But perhaps the best advice for an industry facing uncertainty and change is an old sailor's saying: "You can't change the direction of the wind, but you can adjust your sails to reach your destination".
It was the success of Tesla that demonstrated to the auto makers that there was a pent up, mainstream consumer demand for more EVs.

I would advise to study the degree of consumer acceptance of EVs before making any investment in the non-ICE sector.

Which way the wind will blow and where the new technology would lead the auto industry to, no one can really tell.
Quotes:
"Probably by 2050, we can get to 30 percent electric vehicles (EVs), which if we do, can be considered a success. 100 percent EVs is not possible in any country unless solid state battery technology or some other alternate technology can become financially viable."
Shekar Vishwanathan
Vice Chairman
Toyota Kirloskar Motor Pvt Ltd
Source: Toyota Kirloskar Motor Pvt Ltd
"We already have the manufacturing solutions to enable commercially viable mass production of EV components like batteries, high power electronic systems and electric drives. At Trumpf, we foresee an exponential increase in business with the evolution of EVs in India."
Pradeep Patil
Managing Director
Trumpf India Pvt Ltd
Source: Trumpf India Pvt Ltd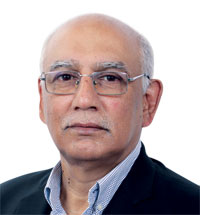 "When you disaggregate vehicle demand and examine individual subsectors, it appears that 100 percent adoption of electric mobility is feasible in two wheelers, three wheelers and four wheeler micro commercial vehicles by 2030."
BVR Subbu
Former President
Hyundai Motor India Ltd
Source: Hyundai Motor India Ltd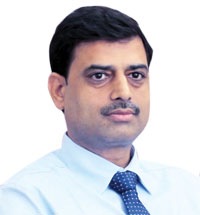 "We have already geared up for the future with the development of a Hybrid Multi-tasking machine—Integrex i400AM—which is a combination of a 3D Printer and a Multitasking machine which can be used by all types of industries including components for EVs."
Anil Bhardwaj
Managing Director
Mazak India Pvt Ltd
Source: Mazak India Pvt Ltd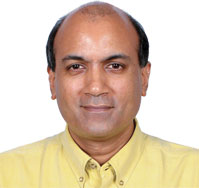 "100 percent EVs would be unlikely by 2030 as the charging infrastructure is lagging behind. Estimates place EV penetration by 2030 to be approximately 40 – 50 percent, most of which is likely to happen in the two- and three-wheeler categories."
Ananth Ramanujam
Director
Turbo Energy Ltd
Source: Turbo Energy Ltd
Author
REJI VARGHESE
Managing Director
Forms & Gears
fngreji@gmail.com