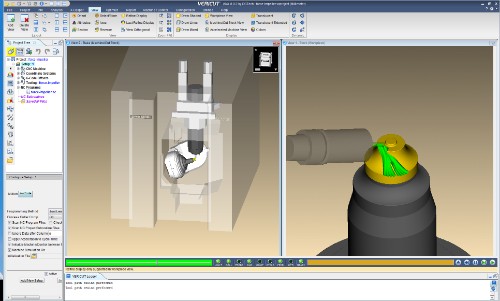 CGTech is powering into IMTEX 2019 with its latest physics-based feed rate Optimization module, VERICUT Force.
As the world's most advanced independent CNC machine tool simulation, verification and optimization software, VERICUT it as at the heart of the CNC manufacturing process for many of the world's leading automotive and motorsport engineering businesses. The latest release, VERICUT 8.2, introduces a new optimization module – Force Turning.
Force is a physics-based NC program optimization module that analyzes and optimizes cutting conditions to achieve ideal chip thicknesses while managing the cutting forces and spindle power required. The latest module, Force Turning, optimize turning and mill-turn operations when combined with Force Milling.
Force provides NC programmers with detailed information about the cutting process that they never had before. With a single click, users can review problem-causing cuts, which if left uncorrected, could cause chatter, break the tool and damage the part or machine. Force optimization automatically corrects these issues, such as excessive cutting forces, metal removal rates, power, torque, and tool deflection while simultaneously correcting underutilized cutting conditions by raising them to optimal performance levels.
CGTech India
T: +91 98864 42520
E: info.india@cgtech.com
www.cgtech.co.in