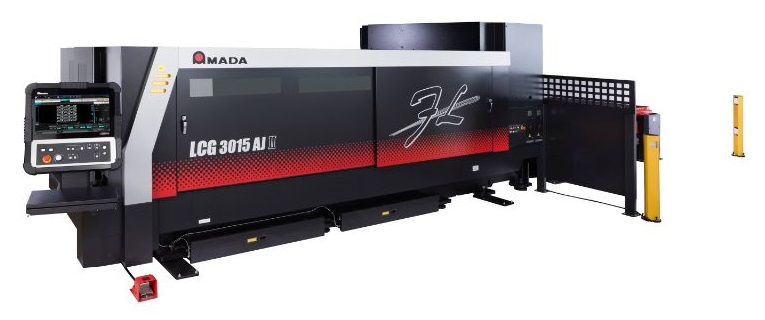 The latest upgrade to the Amada global standard fiber laser cutting machine, LCG AJ series is the most efficient fiber laser cutting system for processing thin to mid-thick sheet metal.
LCG AJ series machines have following features:
High Production Efficiency
The machines eliminate any need to change lens for various materials. This reduces burden on the operator, cutting risk, and helps achieve efficient and stable processing.
The Automatic 8-station nozzle changer helps in continuous cutting and production planning, reducing preparation time of nozzles for various materials and thicknesses. This helps achieve flexible response to urgent parts.
Oil shot sprays oils on the material before piercing, preventing spatter build-up and improving the processing quality and stability.
New Application
High-pressure Air Cutting: Auxiliary gas high-pressure expansion of air cutting range. High-grade processing with reduced cost (reducing the secondary process).
Deep Etching: Deeper depth marking is possible, which is visible even after the powder coating process.
Automation
Adapted to diversified production patterns.
Easy Operation
The latest NC unit, AMNC3i can be operated quickly and intuitively like a smartphone. A large screen provides good visibility and can display many functions and information items. Operability is improved substantially, setup time reduced drastically, and many quality and equipment management support functions have been provided.
Factory Monitoring
Connecting IoT to visualize factory issues in real time. All employees from the manager to the operator share the same information through 'My V-Factory'.
Amada (India) Pvt Ltd
T: +91 80 71100200
E: info@amadaindia.co.in
www.amadaindia.co.in