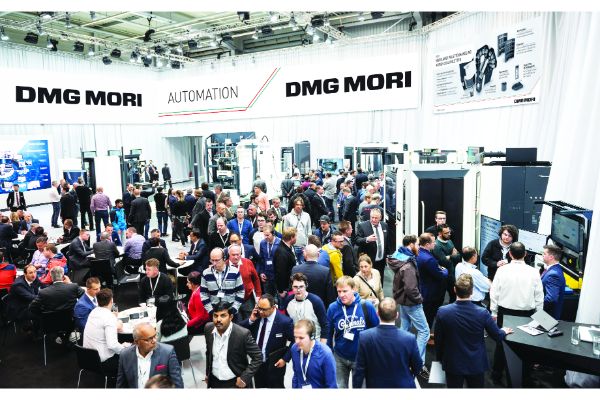 DMG MORI's recent open house event at its factory in Pfronten, Germany, highlighted the company's advances in digitalization as well as automation and additive manufacturing. Here's knowing what unfolded that has ensued so much excitement…
At DMG MORI's traditional open house held in Pfronten, Southern Germany, from February 11-15, 2020, the global machine tool manufacturer presented its innovations in the field of digitization and automation.
The event showcased the company's prowess in automation through 45 innovative machines and 15 automation solutions demonstrated. The four world premieres included the DMU/DMC 65 H monoBlock universal horizontal machining center, the modular PH Cell pallet system, the Lasertec 400 Shape for laser texturing and the Lasertec 30 Dual SLM for additive manufacturing.
The focus was on end-to-end connectivity as the standard for all machines, the update of all existing CELOS versions, the new customer portal myDMG MORI and TULIP as a simple means to digitization.
Murali Sundaram
Correspondent
Magic Wand Media Inc
murali.sundaram@magicwandmedia.in
Knowing the newcomers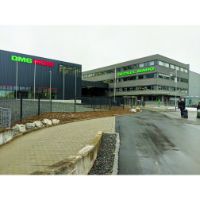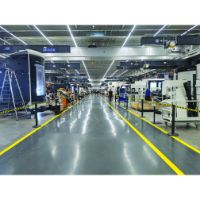 DMC 65 H monoBLOCK
The DMC 65 H monoBLOCK combines the flexibility and ergonomics of a 5-axis vertical machining center with the
productivity and process reliability of a horizontal machining center. Optimal chip evacuation makes the machine particularly suitable for reliable machining of aerospace structural components.
Those working in the mould and die sector witnessed the possibility of machining deep holes up to 550 mm, while contract manufacturers appreciated the flexibility provided by the swivelling rotary table that allows the use of workholding towers as well as full 5-axis machining of components weighing up to 600 kg.
PH Cell pallet system
The PH Cell automated pallet handling system with a footprint of just 10.7 sq mt was demonstrated feeding a DMU 65 monoBLOCK machining center. Pallet loading from the side provides good accessibility to the working area. The system is of modular design and offers a high degree of flexibility.
The basic version can accommodate up to 12 500 x 500 mm pallets, 16 400 x 400 mm pallets or 20 320 x 320 mm pallets over three or four levels. The system can be expanded by a second module, making up to 40 pallet storage spaces available. The
second module can be retrofitted without the need for any additional footprint.
Lasertec 400 Shape
The Lasertec 400 Shape expands the DMG MORI machine port-folio for 5-axis laser structuring into the range of large moulds up to 3,350 x 1,350 x 1,000 mm and weighing up to 20 tonne. The newly developed laser head swivels from -100 to +135° and has a rotation range of ±200° making it possible to produce undercuts.
The ergonomic and thermo-symmetrical gantry design ensures precision and outstanding texture quality at three times the speed of other models in the range.
Lasertec 30 Dual SLM
Equipped with two lasers the new Lasertec 30 Dual SLM, for additive manufacturing, expands the DMG MORI portfolio as a significantly more productive manufacturing solution for the powder bed process.
Based on the proven Lasertec SLM series, the new flagship in powder bed processing is equipped with a high-precision optics module that has two lasers, which together can build up one component or several workpieces in parallel. This increases productivity by up to 80 percent.
Two powerful 600 W lasers enable build rates of up to 90 cm³/h. The software automatically recognizes which scan strategy is the most efficient, thus ensuring the Lasertec 30 Dual SLM always operates optimally and that it can be used flexibly depending on the order situation.
Automation solutions
The 15 automation solutions displayed at the show included the new PH Cell on a DMU 65 monoBLOCK, a DMC 90U duoBLOCK with PH-AGV 50 automated guided vehicle pallet automation system, and a CTX beta 1250 TC with Robo2Go Vision.
The PH-AGV 50 offers flexible automation with free access to the machine and an intelligent safety concept for human-machine collaboration. The Robo2Go Vision is a further development of flexible robot automation and enables direct loading of Euro pallets. Using a new 3D camera, it recognizes workpiece positions without the need for racks or to restack the parts.
Additive manufacturing
Since the demands on the additive manufacturing technology are constantly shifting, DMG MORI has further made developments into its Lasertec 3D hybrid, Lasertec 3D and Lasertec SLM series.
Based on the sturdy monoBLOCK series, it is designed for parts measuring up to 1,250 mm in diameter, 745 mm high and weighing up to two tonne. The rigid machine construction and high dynamics of the machine enable accurate, reliable, cost-effective and complete machining of complex 3D parts.
A key selling point of laser deposition welding is the possibility of changing between two materials quickly under CNC.
Feats in digitalization
Not many have been as successful as DMG MORI in digitally enhancing and expanding its traditional business in machine tools and services.
On an area of over 7,500 sq mt, DMG MORI once again presented cutting-edge production concepts in machining and additive manufacturing.
Here are some of its ground-breaking innovations in the field:
CELOS
DMG MORI Connectivity
DMG Mori Messenger
myDMG MORI
TULIP
Lead
Source: DMG MORI
Dr Masahiko Mori, President, DMG MORI addressing the international media at the Open House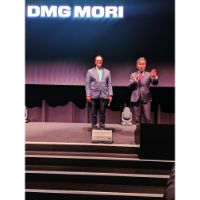 (L-R): Christian Thones, Chairman of the Executive Board, DMG MORI AKTIENGESELLSCHAFT
and Dr Masahiko Mori, President, DMG MORI taking questions from the audience
Source: Magic Wand Media