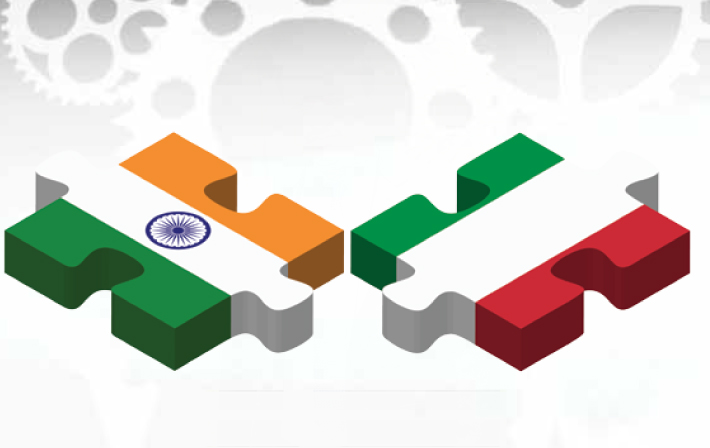 The current global economic scenario calls for forging economic relations between nations. Taking stock of the opportunities such alliances offer such as advantages of cost, economies of scale, and employment, India, with its newly formulated economic policies, is striving hard to improve its bilateral ties with major economies. Working in alignment with its plans, the country last year inked six pacts with Italy, the world's ninth biggest economy, to boost cooperation in key sectors, including energy and trade, after detailed talks between Prime Minister Narendra Modi and his Italian counterpart Paolo Gentiloni.
Italy's machine tool sector upbeat this year too
Italy is India's fifth largest trading partner in the EU with a bilateral trade of US$8.79 billion in 2016-17, as per official figures. The country's economic structure is mainly based on services and manufacturing. Its manufacturing sector is specialized in high-quality goods, and its main exports are mechanical machinery and equipment as well as motor vehicles and luxury vehicles.
As per the country's machine tools sector, Massimo Carboniero, President of UCIMU-SISTEMI PER PRODURRE, Italian Machine Tools, Robots & Automation Manufacturers Association, briefs us with its buoyant situation: "2017 was quite a positive year for the Italian industry for manufacturing machine tools, robots and automation systems, totalling a turnover of over € 9 billion, highlighting an upturn for all main economic indicators."
"Ranking fourth among manufacturers, Italy confirmed its third position among exporters; in addition, it stabilized its fifth place in the consumption ranking," he informs. The second quarter of 2018 continued the positive trend with the index of machine tool orders growing by 2.8 percent compared with the same period of the previous year.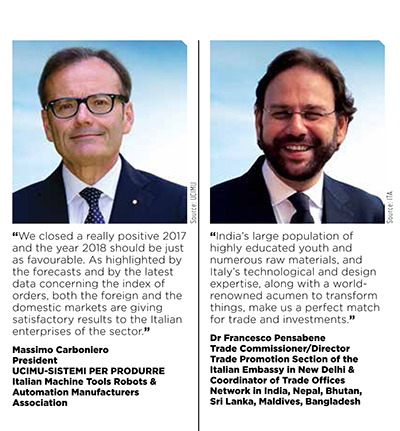 How Italy perceives Indian market
According to Dr Francesco Pensabene, Trade Commissioner & Director, Trade Promotion Section, Italian Embassy in New Delhi; & Coordinator of Trade Offices Network in India, Nepal, Bhutan, Sri Lanka, Maldives and Bangladesh, Indian market has a significant potential offering prospects of high profitability and favorable regulatory regime for investors which makes it a most sought after investment destination. "India has definitely been an attractive destination for global investments. It is commendable that the country from being ranked at 142 in 2014, 130 in 2015 and 2016, has recently jumped to 100 in the Ease of Doing Business (EODB) ranking, as FDI in the country grew considerably in this period," he adds.
As per the data available for the financial year 2017-18, proceeds Pensabene, India received FDI inflows of more than US $44.8 billion, registering a growth of 3 percent, whereas the FDI inflows for the previous financial year 2016-17 were more than US $43.4 billion, which was 9 percent more than the previous financial year 2015-16. "Italy is the 16th largest investor in India, having a share of 0.69 percent," he shares.
Staying true to its job, Pensabene knows which Indian sectors have attracted FDIs: "In terms of percentage, top sectors that attracted investments during the period April 2000 – March 2018 are: services (17.56 percent), computer software and hardware (8.18 percent), telecommunications (8.0 percent), construction (6.59 percent), automobile (4.98 percent), trading (4.92 percent), food processing (2.24 percent) and industrial machinery (1.29 percent).
Growing in collaboration
India and Italy have taken to each other as natural partners. Italy has been actively contributing to the "Make in India" movement with its manufacturing know-how and expertise. "Almost 43 percent of Italian exports to India include machine tools, woodworking machines, textile machines, marble and stone machines etc.," he informs.
Intensive promotional programs carried by the Trade Commission of the Italian Embassy in New Delhi, throughout India, have paved the way for new successful and joint initiatives. "Our experience here reinstates the fact that Indo-Italian bilateral trade and investment relations would be built by complementing strengths and skills in key areas. India's large population of highly educated youth and numerous raw materials, and Italy's technological and design expertise, along with a world-renowned acumen to transform things, make us a perfect match for trade and investments," notes Pensabene.
There are more than 400 Italian companies present in India. Major locations of presence include city-clusters of Delhi-Gurgaon-Noida, Mumbai-Pune, Chennai and Bangalore. In addition to this, Italian companies are also exploring newer locations for Italian plants in India such as states of Gujarat and Rajasthan. In fact, machinery accounts for almost 4.5 percent of the total Italian investments made in India which will surely increase in the years to come given the competence of Italy in the sector.