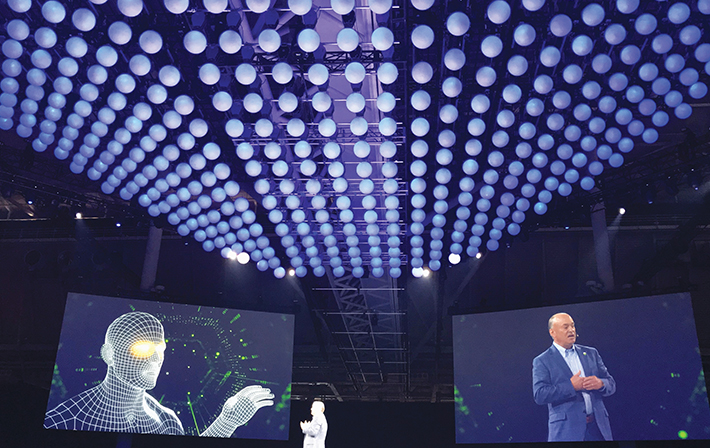 LiveWorx Digital Transformation Conference, held from June 17–20, 2018 at Boston Convention and Exhibition Center (BCEC), kicked off with what could aptly be termed as a breathtaking visual treat. Packed with spectacular performances and a surreal blend of sounds and lasers, the four-day show organized by PTC, was no less than an out of the body experience, leading to a thrilling journey of innovative and disruptive technologies that included augmented reality (AR) / virtual reality (VR), IoT, Industry 4.0, product design, robotics, AI, data security and blockchain.


Place to a Pace
The show was unveiled by Jim Heppelmann, President & CEO, PTC, who explained the connect between this year's theme: "Place to a Pace" and the way a company transcends innovation at the product level embracing the perspective in all aspects of business. He elaborated, "It's how we think about our role in the technology universe, how we work with partners, where our headquarters should be, how our business model works, the way we drive technology innovation, how we evolve our culture, even the way we think about security and privacy." Further he added that the Industrial IoT is moving from a 'place to a pace,' as embedded sensors, PTC's software suite, and augmented reality interfaces, such as the HoloLens from PTC partner Microsoft, accelerate the convergence of the physical and digital worlds.
Change, the only constant
In his opening remarks Heppelmann reinforced, "To compete and succeed today, companies and their employees need to embrace a 'constant state of change'. We need a mindset where clock speeds are short, innovation is continuous, and where a willingness to react quickly and change frequently is viewed as a core competency." He then quipped that the PTC acronym could actually stand for 'prepare to change'.
Partnerships create value
If embracing fast-paced change was reiterated as a must to success, partnering with other industry leaders was a major buzz at LiveWorx. Speaking of company partnerships and how they are critical to tech innovation, Heppelmann said, "No one company can do it alone."
The event was a witness to several major partner announcements. PTC announced its collaboration with ANSYS, the global leader in engineering simulation for working together to integrate ANSYS' Discovery Live real-time simulation capabilities into PTC's Creo® design software, enabling engineers to immediately see implications of every design change they make. Against this backdrop, Ajei Gopal, President & CEO, ANSYS, said, "We believe it's the only way to develop the products of the future."
Kalyan Sridhar, Vice President & Country Manager, PTC (first from left) along with customers from India during LiveWorx 2018.
A major strategic agreement between PTC and Rockwell Automation was announced where Rockwell Automation will make a US$ 1 billion equity investment in PTC, and the companies will align their respective smart factory technologies. Blake Moret, Rockwell Automation Chairman & CEO, said, "Customers were asking us to do this. They know that when they combine IT and OT data they can use analytics to both optimize processes and to prevent unexpected downtime."
The show also served as an apt platform for PTC and Microsoft to discuss the expansion of their strategic relationship. More than 100 partners and sponsors took part in LiveWorx 2018 such as Accenture, Capgemini, Deloitte Digital, Infosys, Cognizant, Hewlett Packard Enterprise (HPE), Larsen & Toubro Infotech (LTI), Microsoft, and Tech Mahindra.

Top IoT Tips from LiveWorx
Focus on areas that show immediate business value.
Deliver quickly to get buy-in from senior management.
Don't be afraid of the cloud.
Gain insight into customer experience; Enhance the experience with technology.



Tech playground
LiveWorx 2018 featured both stage and show floor, with more than 85 exhibitors offering a catalytic marketplace of ideas and solutions built for the outer limits of digital transformation and product development. PTC partners also collaborated on X-Factory, an immersive, highly interactive digital thread and Industry 4.0 experience demonstrating how they change the way humans and machines interact in a manufacturing environment.

The show was a testimony to the fact that engraining innovation in the company culture is the way to success.
The X-Factory was a complete, immersive experience highlighting the manufacturing lifecycle, from front office to shop floor.