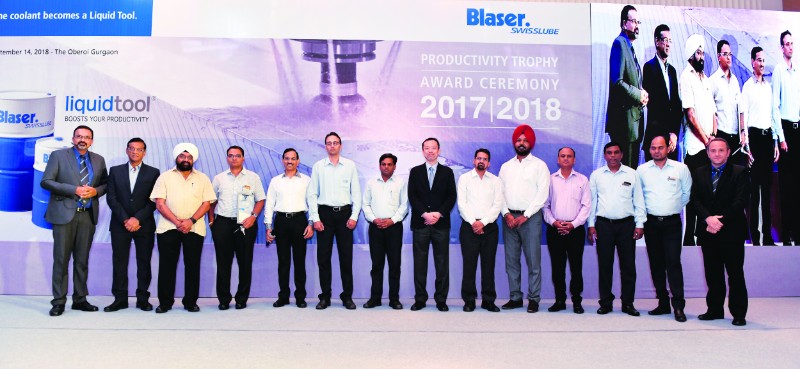 Gurugram, Haryana – Blaser Swisslube India recently organized an award ceremony of the Productivity Trophy 2017-2018 to acknowledge and honor its customers' cooperation and celebrate mutual success. The winners in the following categories were evaluated: Tool optimization – Bajaj Motors Ltd; Total costs of ownership – OSG (India) Pvt Ltd, Carbide Cutting Tools Pvt Ltd; Metalworking fluid optimization – Highway Industries Ltd; Productivity increase – Mahindra Vehicle Manufacturers Ltd; and Process optimization – Cummins Technologies India Pvt Ltd.
The Chief Guest was Rajiv Gandhi, Sr. Executive Director – Production, Maruti Suzuki India Ltd who spoke
on 'Productivity & Competitiveness in the Automotive Industry'. Patrick Mathys, Managing Director, Blaser Swisslube APAC spoke on what takes to 'Being a True Partner in the Industry'.
Harbhajan Singh, Director – General & Corporate Affairs, Honda Motorcycle & Scooter India Pvt Ltd also addressed the audience.
Punit Gupta, Managing Director, Blaser Swisslube India, said, "The power of Liquid Tool is that it helps our customers be competitive. If they are more competitive, they succeed and if they succeed then we have a chance to work with them on a long term."
"All processes, machines, tools, and the people who are operating the machines are all unique. The key element is how strongly, transparently, and holistically we can make an analysis and dive deep into the customers' process." he added.