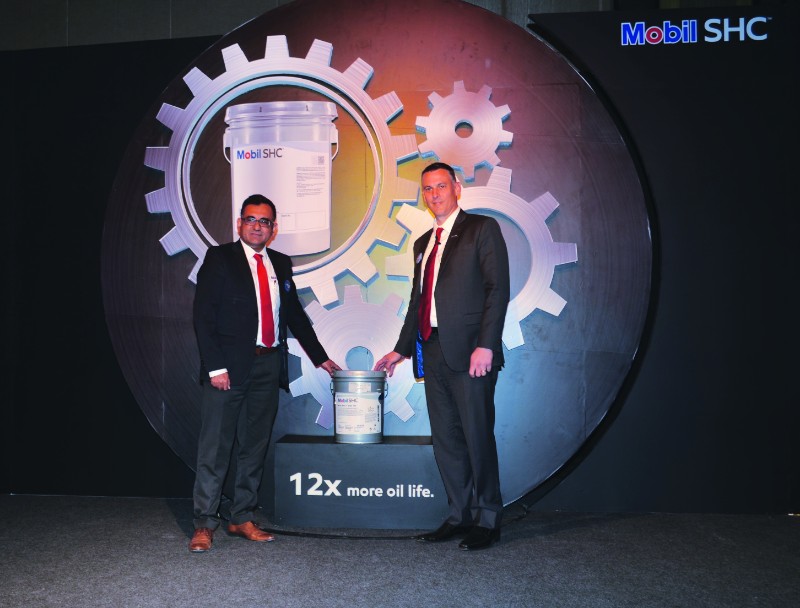 Elite
Pune, Maharashtra – ExxonMobil™ recently launched Mobil SHC™ Elite, a breakthrough synthetic gear and bearing circulating oil that is specifically engineered to deliver long lasting protection for machines operating under extreme temperatures in industries such as general manufacturing, metals, energy, and pulp and paper.
Extensive testing shows that Mobil SHC Elite can deliver 12 times the oil life of mineral oils and double the oil life of Mobil SHC 600 synthetic oils in continuous operating temperatures as high as 130°C (266°F), potentially replacing glycol-based lubricants in high temperature systems. This helps reduce the potential risk of mixing glycol-based products with incompatible mineral oils and most synthetic lubricants.
The oil also protects equipment during intermittent temperature spikes of up to 150°C (302°F) and provides up to a 3.6 percent energy efficiency benefit versus mineral oils.
"Protecting advanced equipment from high in-service temperatures can be a major challenge for industrial operators, especially if that equipment is difficult to access or take offline," said Glen Sharkowicz, Director of Brand Strategy - Commercial Marketing, South Asia Pacific, ExxonMobil Asia Pacific Pte Ltd. "With Mobil SHC Elite, equipment owners now have an advanced lubricant that can deliver much better oil life and the assurance of extra protection during high temperature excursions during peak production rates."
India is the first country that the company has introduced the product this year. "This is the place to be. Technology is evolving here, and the market is very exciting. We feel Mobil SHC Elite series is the right product for India," added Sharkowicz.
Imtiaz Ahmed, General Manager - Marketing Deployment (Commercial marketing), ExxonMobil Lubricants Pvt Ltd, seconded him, "Our Indian industry is an extremely dynamic one and that's what makes it interesting. It's receptive and open to change."
Mobil SHC Elite is the newest member of the Mobil SHC™ family of synthetic lubricants that provide performance advantages far exceeding the capabilities of conventional oils. These lubricants can help extend equipment longevity and generate potential energy savings, while their significantly longer life lowers maintenance costs and reduces worker exposure during oil changes.