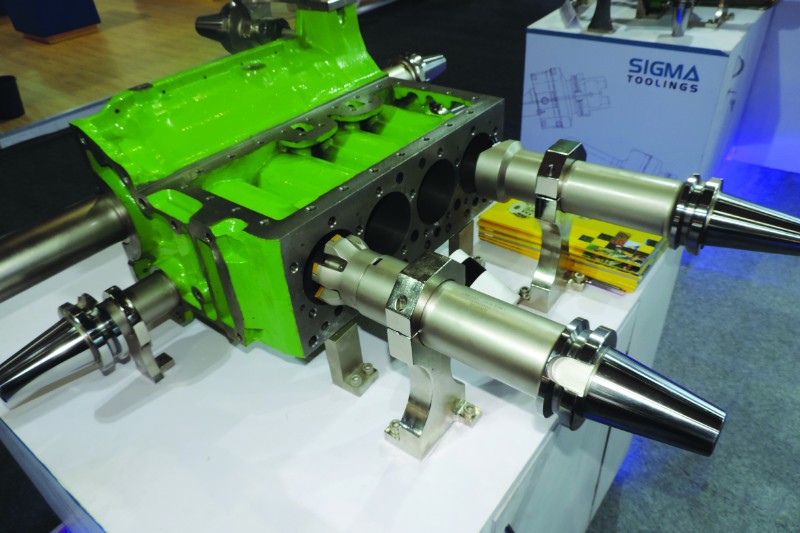 The leading manufacturer of comprehensive high-end tooling solutions, Sigma Toolings, has upped its game by catering to unique customer needs with a unique approach for each. Armed with experience and knowledge, and a keen insight into the market demands, the company has been keeping up with the daunting task of customization through constant innovation.
Founded by Shashi Thete and Sukhesh Vinchurkar as a fixture and holding systems manufacturer on India's 53rd Independence Day anniversary, August 15, 2000, it did not take long for Sigma Toolings Pvt Ltd to climb up the growth ladder. The company in mere two years since its inception delved into the development of custom tools and emerged as one of the most sought-after tooling providers. "The recognition was marked with the development of the Boring Head for Rotary Boring bars, with a 2 and 10 micron accuracy, that could be directly shrink fitted on to the tool," says Shashi Thete, Director, Sigma Toolings, narrating Sigma Toolings' tale of remarkably rapid growth.
However, that was just the beginning. With its gaze fixed firmly on the ever-evolving market needs, the company, with consistent innovation, shortly developed its own range of Fine Boring Units (FBU) used in Finish Boring Bars by 2008. "Soon after dominating the market in 2010, the manufacturing set-up was swiftly expanded, and with the development of Light Weight Boring Bars, the Farm Equipment and Automobile Sectors contributed to our growth as the second largest custom tool manufacturer in India," he adds.
Today, the company houses a 0.5 acre facility in Aurangabad, and sales offices in Pune, Bangalore, Chennai, Delhi and Kolkata respectively. With an awe-inducing client list including TELCO, Ashok Leyland, DANA India, American Axle, TAFE, CNH (New Holland Tractors), Sonalika International Tractor Ltd, Swaraj, Honda, Kirloskar, Mahindra, TATA Motors, etc., Sigma's present turnover stands at `84 Cr with the next year's target of `115 Cr.
For a bevy of sectors
Elaborating on the wide array of industry sectors that Sigma caters to, Thete explains, "A major part of our revenue comes from the Farm & Agricultural Sector, which is 40 percent of our business as our Auto Tuned Anti-vibration Boring Bars with their ability to operate for the extra-long boring application are of cardinal value to the sector. The Automotive sector contributes to 20 percent, whereas 25 percent is generated from the Oil & Gas. Earth Moving and Heavy Engineering sectors provide 10 percent along with 5 percent from Defense Engineering."
Personalized manufacturing
One of the primary reasons why the company is favored by its customers is the option of having it their way. The company caters to their demands of one-of-a-kind products, tailored just for them. "Customization can be found around every corner at Sigma Toolings. Our tools are developed and tested using custom software; our supply chain is governed by custom ERP and CRM tools, tailor fit to our needs," explains Thete. "Similarly, every project we work on is unique with its own varied requirements, which needs a new approach for each component," he adds.
According to Thete, the company is ready to innovate for India's dynamic needs for tooling. With experience, knowledge and extensive market research it gauges the needs of the Indian market. Stressing on Sigma's focus on customization and innovation, Thete says, "Around 90 percent of our tools are customized and 10 percent standard."
A step ahead
With a thorough insight into the current needs of the Indian market, Sigma, says Thete, has positioned itself to estimate what future will be like and is all prepared to meet the forthcoming market demands. "Take electric cars for example; they are going to be all the rage very soon with their lightweight components and widespread demand. For this, we have already planned for a new Light Weight Boring Bar made of composite materials to increase cutting corners of ours inserts and to find solutions for composite and titanium machining to be able to achieve the critical finish and high operating parameters. We are also planning to enter the PCD tool market and penetrate more sectors with our newly designed variable boring bar – the Duo Boring Bar," he shares.
Project management services
Speaking on Sigma's project management services that take care of its clients from scratch to final execution, Thete states, "We provide support in cutting tools, holding systems and various gauges while assisting in the manufacturing process. Sigma's special service helps companies calculate their tentative cost-per-component and achieve their GD&T requirements." This is achieved by Sigma's technical experts who arrest the machining and holding problems by constructive prediction and analysis to address any issues during the planning stage itself. "This enables us to run on the principles of FTR (First Time Right) while maintaining development schedules of components and keeping the pecuniary interests of our clients in mind," he sums up.
For Sigma Toolings, IMTEX 2019 & Tooltech 2019 presents a significant opportunity to showcase its latest innovations and have a better understanding of its demographics. You can find it in Hall 3C, Booth C102 at BIEC.