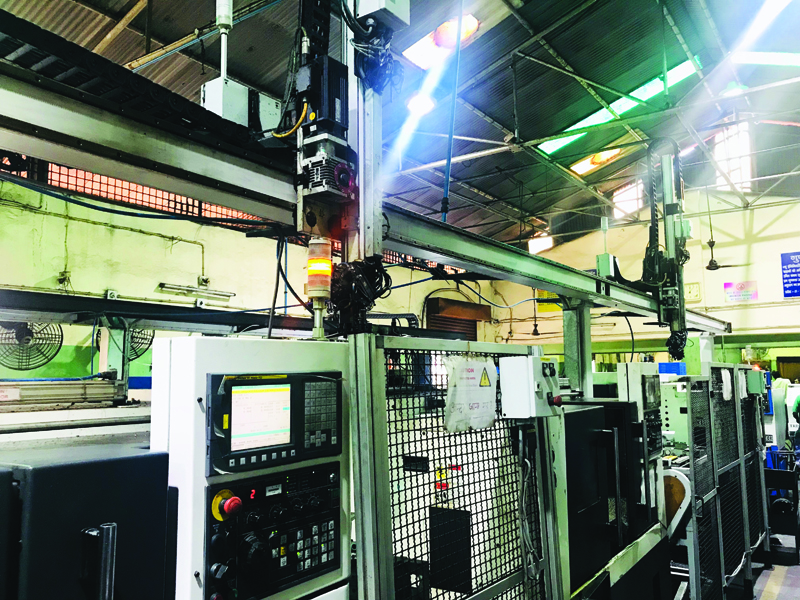 SMEs are slowly but surely taking cognizance of the advantages automation brings to the table. Sure of the inevitable automated future, New Engineering Works has adopted it into its processes with the aim to evolve and grow.
Automation has been transforming factory shop floors for some time now, hugely impacting economics and efficiency of the manufacturing sector. There has been a deluge of technologies that encourage humans and machines to work side by side and bring out the best in each. The Indian manufacturing sector too has begun reckoning the value automation ensues. Warming up to it, our major players, such as Tata Motors Ltd, Maruti Suzuki India Ltd, Bajaj Auto Ltd, and Ford India Pvt Ltd, have adopted large-scale automation.
Paving the Way
However, it's the SMEs that compose most of the Indian manufacturing industry and a favorable change will be realized only when they start to embrace and adopt it. On the bright side, some Indian SMEs have been paying heed to what the future holds and have begun their journey with automation. Incepted in 1996, New Engineering Works is an SME who has come out of its comfort zone and has woken up to the fact that the future belongs to Automation.
The company manufactures various auto components for commercial vehicles and its major customers include Tata Motors, Cummins India, and Brakes India. In the near future, it would also start supplying to Automotive Axels. Steel City Metal Products and Autotec Engineering are two of New Engineering Works' other plants.
Tryst with Automation
Along with conventional machines, the company's setup also includes 48 CNCs, 16 VMCs and 3 VTLs. The company bought its first robot in 2017, which worked on two machines. The results were highly encouraging; along with economic benefits, it was observed that there was a spike in the operators' interest at work.
Divesh Debuka, CEO, New Engineering Works, speaks on the company's decision to opt Automation, "The future is of Automation. It is something that none of us will be able to do without going ahead. The issues that will make it a necessity include dearth of skilled labor, stringent timelines, and quality standards, etc. Hence, we thought it was better to start early on and become a market leader in terms of automation and have deployed robots, cobots, and gantries on our shop floor."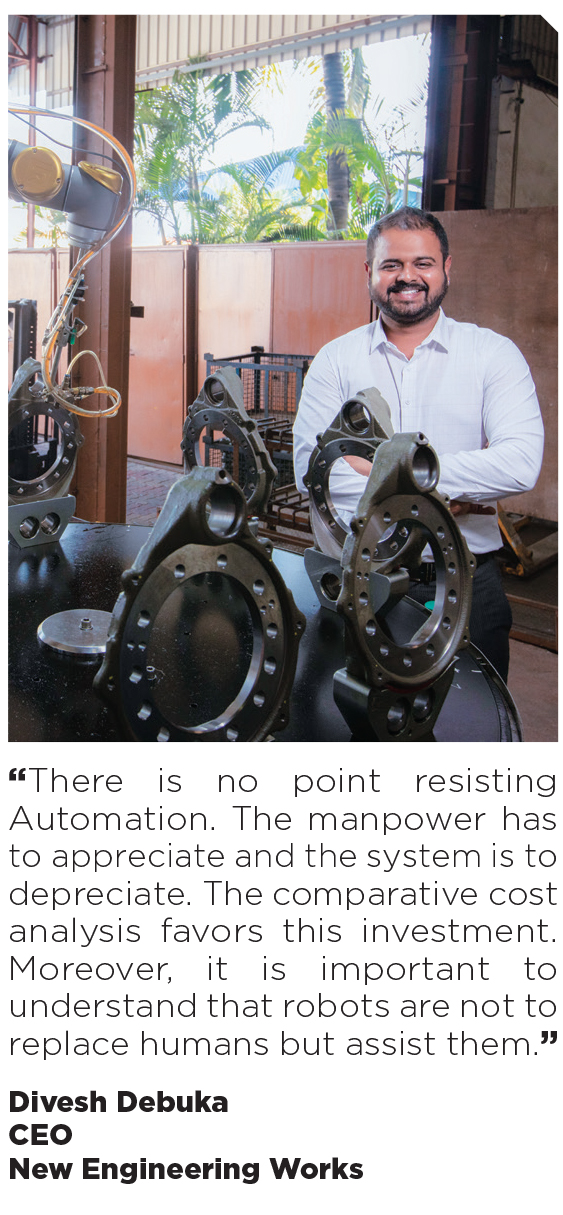 Present Scene
New Engineering Works bought six cobots from Universal Robots (UR) over a period of two years. "As an SME, we are UR's biggest customer in the country. Since we procured so many machines in a short period of time, the company gifted us a special edition cobot which they call 'golden robot'. We have deployed this cobot in an anti-rust application, whereas the other six cobots are deployed on CNC machines for machine tending applications," he informs.
As of today, the company has two Gudel Gantries catering to six CNC machines, six UR Cobots for 12 CNC machines, and two Yaskawa Robots for four CNC machines. "The plans are on for a new fully automated plant which will have three cells, with each cell having four machines and two robots, and more to come in the near future," he adds.
Benefits Galore
Below are a few advantages of automation that New Engineering Works has experienced over a period of time:
Increase in productivity : "There has been a substantial increase in our productivity while using cobots. The efficiency of the labor is inconsistent but it is not the case with robots. Hence, the output from the machines is consistently high," shares Debuka.
Easy to deploy : Cobots are extremely easy to deploy on the shop floor. In the company's case, UR cobots did not occupy a very large space. The space between two machines in a regular shop floor is more than enough for the cobots to be installed. These cobots do not even require fencing as they are human-friendly.
Easy to use : For the company, operating cobots turned out to be as easy as using a smartphone. The operators on the shop floor had to be given a minimal training initially, without requiring a special person for automation.
Better utilization of manpower : Tending operations are boring and monotonous. With robots around, one does not need an operator for each and every machine to tend to it. Deploying a cobot for two or three machines and getting one person to manage them is sufficient. That way one can reduce workforce by hundreds if they have a large machine shop.
Consistency : In the long run, one needs to be consistent to emerge on top of their game. "Consistency in quality, quantity, delivery, etc. is a key requisite in successfully catering to the ever-changing market demands. Automation can be a major aid in ensuring that you do not fail on your commitments," says Debuka vouching for the company's cobots.
Cost savings in the long run : "One person can easily manage a cell with two cobots and four machines. Additionally, one saves a lot by the way of fewer rejections and increased productivity," he adds.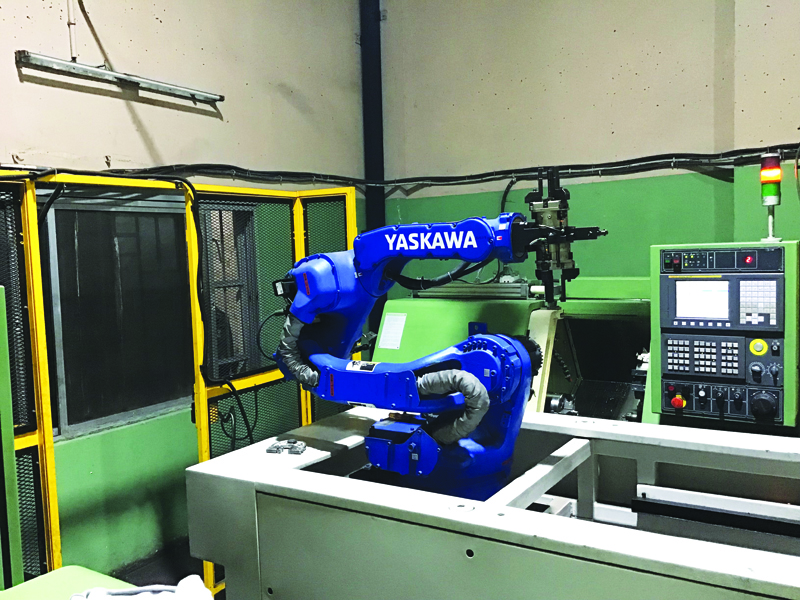 If one diligently plans on automation, one can substantially reduce manpower cost and deliver better quality.