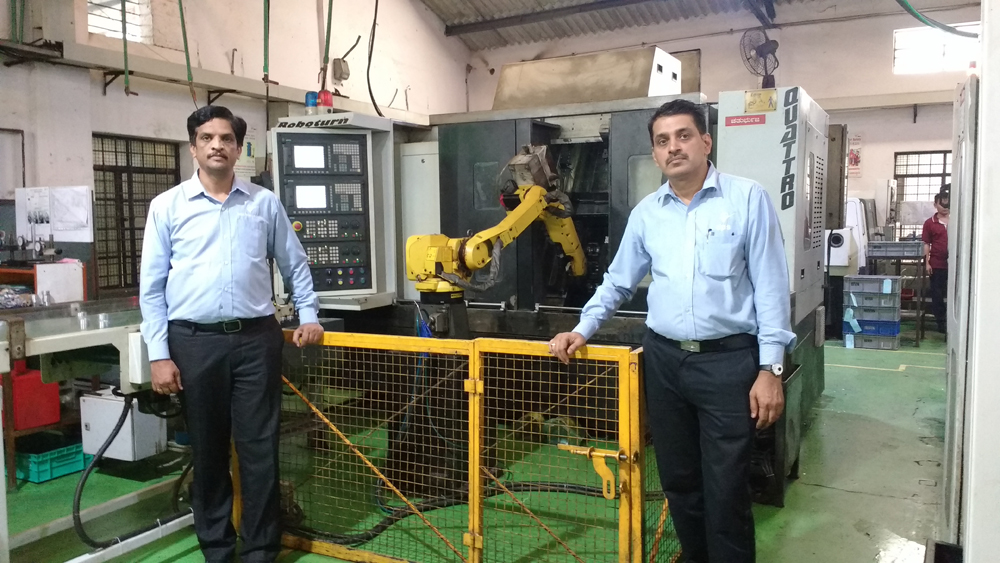 A compelling account of how the implementation of an innovative and unmanned robotic system helped Distinct Productivity Solutions, an SME, to earn customer delight.
Established in 2004, Distinct Productivity Solutions (DPS) at Bangalore is recognized as a competent player in the areas
of Precision Component manufacturing, Design & Development of Jigs & Fixtures, and Training in CNC & Automation.
The starting phase of the business saw the founders leveraging their experience in the application engineering of machine tools with leading Indian machine tool companies, and foraying into entrepreneurship with the selling of a few leading brands of cutting tools. This led to the design and development of fixtures, which was followed by DPS executing several projects of fixture design and development integrated with the tooling solutions before finally launching its own precision component manufacturing machine shop.
Scaling Up
The tools selling and the fixture making experience came in handy for the company to adopt the most productive methods to profitably cut metal. The approach added a significant value to DPS' products and earned the company its customers' confidence to develop their critical components as import substitutes.
"This was a high-volume, low-variety situation. While productivity approach is important to be profitable in any machining scenario, high-volume situations are easier to realize the results. We, therefore, decided to manufacture the parts in the best competitive way possible, yet not compromising on flexibility, reliability, accuracy and adaptability to digital technology," explained DR Sudheendra, Director, DPS.
Challenges Cropping Up
"We were in such a situation where a highly critical part was to be made in high volume by sophisticated CNC machines. The operator was expected to produce one part at an interval of 20 sec, which is the takt time," shared Ramprakash Holla, Director, DPS.
The physical fatigue due to the short cycle time, and the mental fatigue due to the repetitive nature of the component hitting a cutting time to non-cutting time ratio of 60:40 led to the manpower productivity going down considerably, affecting the OEE (Overall Equipment Efficiency).
Robotic System as the Solution
To overcome the challenge, the DPS team started looking at various options of automating the manufacturing process. "Automation is not new to the manufacturing industry. Several frugal automations are in practice that use pneumatic actuators and are controlled through PLCs. But these systems are relatively rigid in nature. In the current scenario of fast-changing customer demands, compromising on flexibility is not advisable," noted Holla.
Although rigid automation could have been economical for DPS, it was not the solution the company sought. "We decided to go with an automated system which was robotic with suitable grippers, and infeed and outfeed strategy," he added.
DPS opted for a flexible CNC Machine with 4 spindles in which 2 spindles faced the other 2 (Fig. 1). It was possible to load and unload on 2 spindles while the machining was being carried out on the other 2 spindles. With this, 40 percent of the loading unloading time was completely removed, thereby using the machine only for machining. It was precisely similar to a pallet changer concept adopted in a special turning center. A Fanuc Robot was integrated with a suitable slat conveyor as infeed strategy, and a belt conveyor as outfeed strategy. The system became completely unmanned. The uncertainties related to manpower productivity, performance and quality issues creeping due to that were also eliminated. This upped OEE by about 15 to 18 percent.
Factors that Matter
"The whole journey was not as easy as we have narrated. Several other challenges were also faced and overcome before the system finally got stabilized," stated Sudheendra.
Other factors that were taken into consideration include:
Reliability of the Whole System : Generally, robots have a very high reliability factor clocking MTBF of at least 2 years. Indian machine tools have come a long way and are also fairly reliable but the accessories like infeed systems, outfeed conveyors etc. have also to be equally reliable.
End Effectors : End effectors play a vital role in successful implementation. There is a general tendency to buy global robots and local end effectors. The end effector design, keeping in mind the locations and orientation concepts, helps effective clamping without damaging / denting the component.
Robot Teaching : Robot teaching is relatively easier than CNC Programming. However, its initial learning is expensive as there is a dependence on OEMs.
Robot Installation : As big masses move at a high speed, a lot of inertia is generated. To withstand that, proper grouting of the robot should be planned otherwise it results into vibration and improper operations of the system.
Input Components : Input components need to be clean and burr-free. Operators can understand these aspects and avoid while loading, but robots do not. A consistent infeed component profile and quality is very important for collision-free operations. However, software techniques and logics are available in robots to make a system collision-free.
Safety : Safety aspects should never be compromised. Generally, operators, visitors, and customers have a tendency to watch systems closely. Proper interlocks, electronic curtains, physical fencing etc. are to be implemented before putting robots into operation.
Conclusion
Robotic automation is preferred over frugal automation as robots can be employed for any type of work by changing the end effectors. The manpower cost reduction cannot be a reason for robotic implementation. The real reason is to address the manpower performance factor in OEE.
"The implementation of this innovative, futuristic, flexible, accurate, unmanned robotic system helped us demonstrate our commitment to our customer. This transformed him from being a satisfied customer to a delighted one, which is the very purpose of emerging SMEs like us to be in the business," summed up Holla.
Generally, robots have a very high reliability factor clocking MTBF of at least 2 years. Indian machine tools have come a long way and are also fairly reliable but the accessories like infeed systems, outfeed conveyors etc. have also to be equally reliable.