Hosted in the bustling Innovation District of Boston, this edition of PTC's flagship event, LiveWorx witnessed a conglomeration of 6,500 attendees from all parts of the globe. Housed in the high-tech Boston Convention & Exhibition Center (BCEC), the conference ran for four days packed with interactive workshops, cutting-edge demos and latest innovations making digital transformation a reality for the manufacturing fraternity.
A plethora of disruptive technologies and topics including augmented reality (AR) and virtual reality (VR), the industrial internet of things (IIoT), Industry 4.0, digital engineering, artificial intelligence (AI), and robotics were presented at this mammoth digital transformation meet. Kickstarting the event, Jim Heppelmann, President & CEO, PTC, said, "There is a growing awareness that disruptive innovation happens at the intersection of multiple advanced technologies such as IoT, AR, AI, and Digital Twin. Powered by these complementary technologies, companies now have the tools they need to completely transform the way they generate value through improved efficiency and productivity across products, processes, and people."
Success speaks volumes
To make understand how these above ideas are being put into practice for driving digital transformation and innovation across the industrial enterprise, Heppelmann shared insightful customer success stories.
In order to realize potential efficiency savings, Volvo Group needed to reimagine the design of its SuperTruck, a state-of-the-art tractor + trailer combination. The weight of the engine mount bracket needed to be reduced without compromising the performance of the vehicle. With PTC, Volvo created business value from engineering to manufacturing – realizing the digital thread, from real-time simulations in CAD (Creo) via product variability management in PLM Windchill to delivering AR-based operator work instructions through Vuforia.
The wooden table placed in PTC's headquarter in Boston is made of a 200 year old wrecked ship. The interior is as impressive as the building from outside.
Oshkosh Defense's JTLV was displayed to demonstrate collaboration between PTC and Oshkosh for AR and industrial IoT.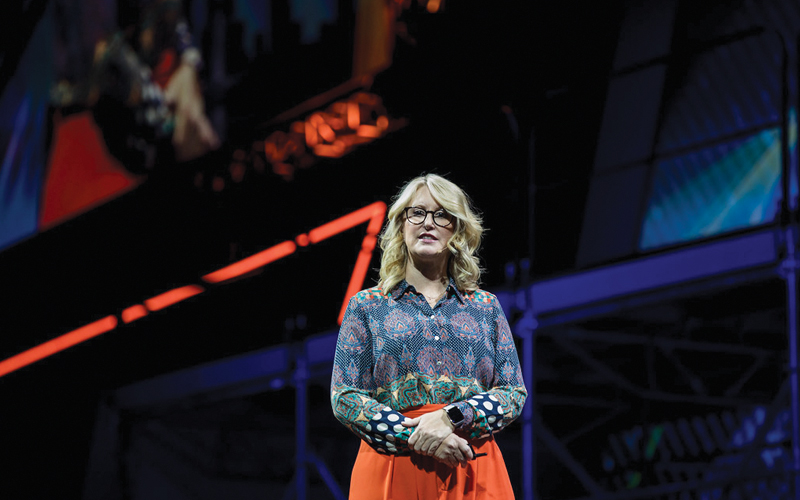 Michelle McKenna-Doyle, Senior Vice President & CIO, National Football League, pointed that large-scale collaboration and microservices facilitate enterprises to collaborate.
Sharing his experience, Bertrand Felix, Senior Research and Technology Development Manager, Volvo Group, said, "PTC brings in a strong knowledge and experience on CAD-PLM and also stands as one of the world's leading experts on IoT and AR. This is a huge differentiation: the digital continuity and connection with our own systems is possible only with the PTC value chain."
Similarly, Dr Maria Wilson, Global Leader of Data Driven Advantage, Howden, shared the digital twin strategy for their innovative product, a diaphragm compressor, used in hydrogen production for fuel cell electric vehicles. She explained how the company uses Vuforia Studio to create AR content based on IoT data from ThingWorx and calculate business cases for AR.
Changing trends
Michelle McKenna-Doyle, Senior Vice-President & CIO, National Football League (NFL), spoke on the four key trends that are changing the way teams work together: location independence; new ways of measuring employees in real time; a new level of intense, large-scale collaboration; and microservices that enable enterprises to collaborate. Pointing to the NFL's distributed data centers that manage NFL games' activities and communications remotely, she spoke on how NFL measures athlete performance, such as speed and acceleration, through the use of sensors placed on the athletes' shoulder pads.
Collaboration is crucial
Acknowledging the importance of choosing key strategic partners in digital transformation, PTC made several announcements in terms of alliances, investments, and a strategic acquisition such as:
New AR Acquisition: PTC ac-quired TWNKLS, a Netherlands-based company that develops tailor-made AR applications, experiences and services to solve specific challenges faced by enterprise companies.
Technology Partner Investment: PTC has invested in and partnered with Matterport, a company that offers immersive 3D technology and spatial capture solutions.
2019 Microsoft Partner of the Year: PTC has been recognized as the 2019 Microsoft Partner of the Year in two categories: 'Manufacturing and Resources' and 'Mixed Reality', and finalist in the 'Internet of Things (IoT)' category.
Rockwell and PTC's collaborative offering, FactoryTalk InnovationSuite, allows industrial enterprises to optimize factory operations and enhance worker productivity by leveraging powerful data and insights.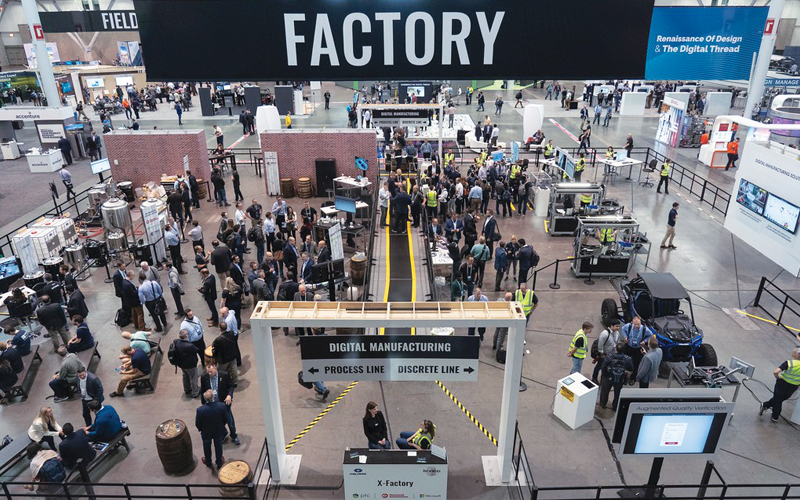 The Xtropolis show floor was compartmentalized according to industry tracks such as 'Field,' 'Office,' and 'Factory' to help attendees find the demonstrations, workshops, and hands-on experiences relevant to them in one place.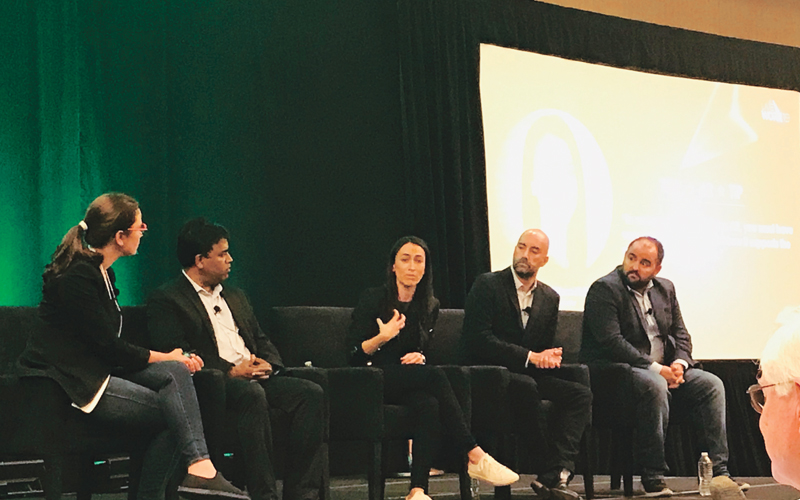 Panel Discussion featuring Senior Members from Aggrekko, Fujitsu, Global Foundries, and Howden highlighted on ways to bring digital technology such as AR to the enterprise.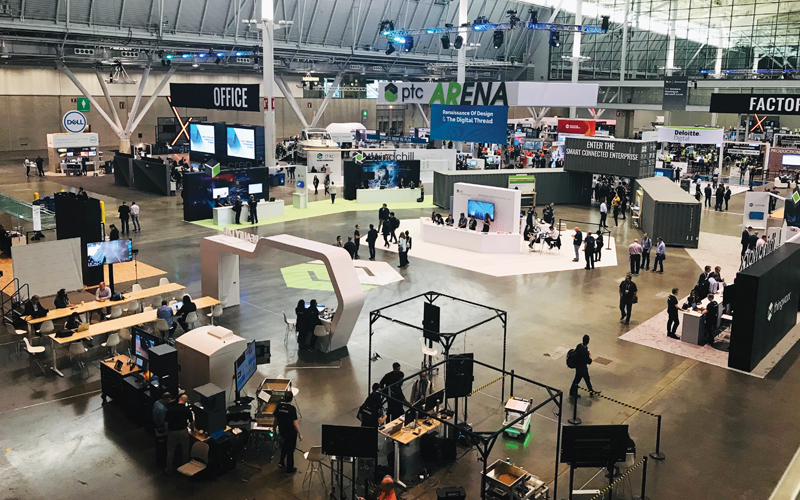 The 200,000 sq ft Xtropolis showcased some of the most advanced applications of digital transformation available for the industrial enterprise.
Key takeaways
It can be concluded that manufacturing companies must use what they have, adopt the best of what's new, and apply that to drive innovation across their products, processes, and people to succeed in digital transformation and innovation.
To be part of the next edition of LiveWorx, save the dates from June 08-11, 2020; the show will be co-located with a new event from Rockwell Automation at BCEC.
Top AR Tips from Experts
An innovation journey is non-linear. We need to embark on it and take the zigzags to arrive at the value grounds

In order to drive value from AR, one must have very clear cases about how it supports the enterprise digital journey

Understand the business problem you are trying to solve and measure as you go

Collaborate and build cases for AR across your value chain. No one is alone on this journey.
PTC has been recognized as the 2019 Microsoft Partner of the Year in two categories: 'Manufacturing and Resources' and 'Mixed Reality'.