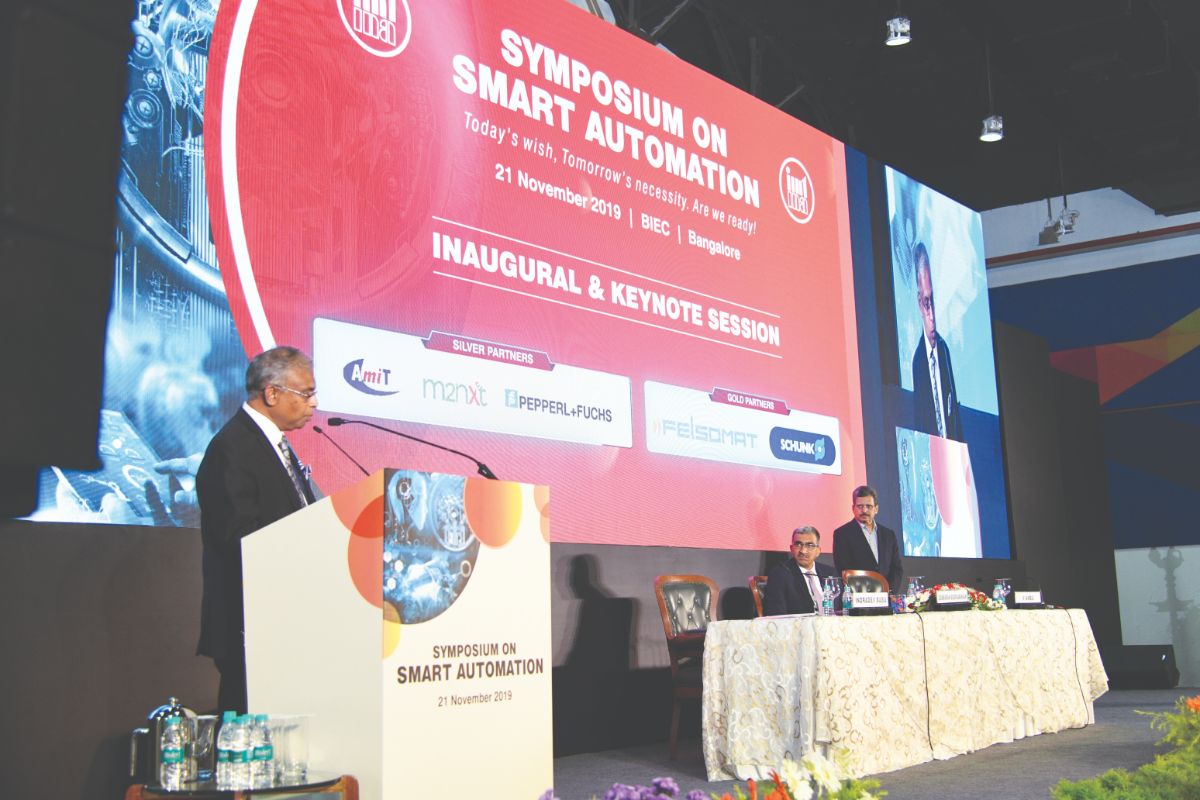 Indian Machine Tool Manufacturers' Association (IMTMA) organized a symposium on Smart Automation on November 21, 2019 at Bangalore International Exhibition Centre (BIEC), Bengaluru. Highlights…
For the past two decades, automation has been changing the manufacturing scene, heralding technologies that demand limited human intervention. Of late, there is an emergence of a new automation era comprising advanced technologies such as Robotics, Artificial Intelligence (AI), Industrial Internet of Things (IIoT), which need to be leveraged by manufacturers to enhance their processes and maximize their productivity.
With the view to converge industry players who have already embraced automation and edify those who are yet to adopt it, IMTMA arranged a 'Symposium on Smart Automation' that featured presentations and discussions on the various facets of automation with case studies and panel discussions. Over 300 delegates from around 125 companies participated in the day-long symposium.
The Indian Angle
Easwaran Subramanian, Partner, Deloitte Touche Tohmatsu India LLP, did the honors of inaugurating the Symposium on Smart Automation 2019. In his keynote address on 'Smart Automation in the Indian Context', he called upon industries to capitalize on new technologies for targeting self-steering production systems. He said that industries should think big, start small, act fast for deploying smart automation solutions and for achieving rapid results.
"Smart factories enable companies to be more responsive to customer demands, achieve greater operational efficiency, and speed up product innovation. Setting the vision for smart automation, today's factories need to adopt smart automation to become factories of the future," he added.
Highlighting the importance of automation, Indradev Babu, President, IMTMA, noted, "The path for realizing the vision of 'Make in India' calls for a paradigm shift in our manufacturing process. This necessitates adoption of automation and smart technologies not only in our respective manufacturing facility, but also across the entire manufacturing value chain."
Engaging Presentations
The sessions were divided into parallel tracks: Robotics & Automation, and Digitalization, which ran concurrently, followed by a panel discussion on 'Overcoming Obstacles in the Journey to Smart Automation'.
Thought provoking presentations made by technocrats at the Symposium covered subjects including Workplace Automation, Smart Automation in Assembly and Testing, Using Augmented Reality for Maintenance and Operation, Smart Automation in Tool and Work holding, Gantry- and Robot-based Automation, Digitization of 3D Measurement, Smart Sensors, Automated Information Capture and Analysis, Machine Transparency, and Collaborative Robots.
A day before the Symposium on November 20, 2019, IMTMA also organized technical tours for the dele-gates to witness automation
on the shopfloor of leading manufacturing companies including Sansera Engineering, SKF India, TVS Motor Company, and Titan Engineering and Automation.