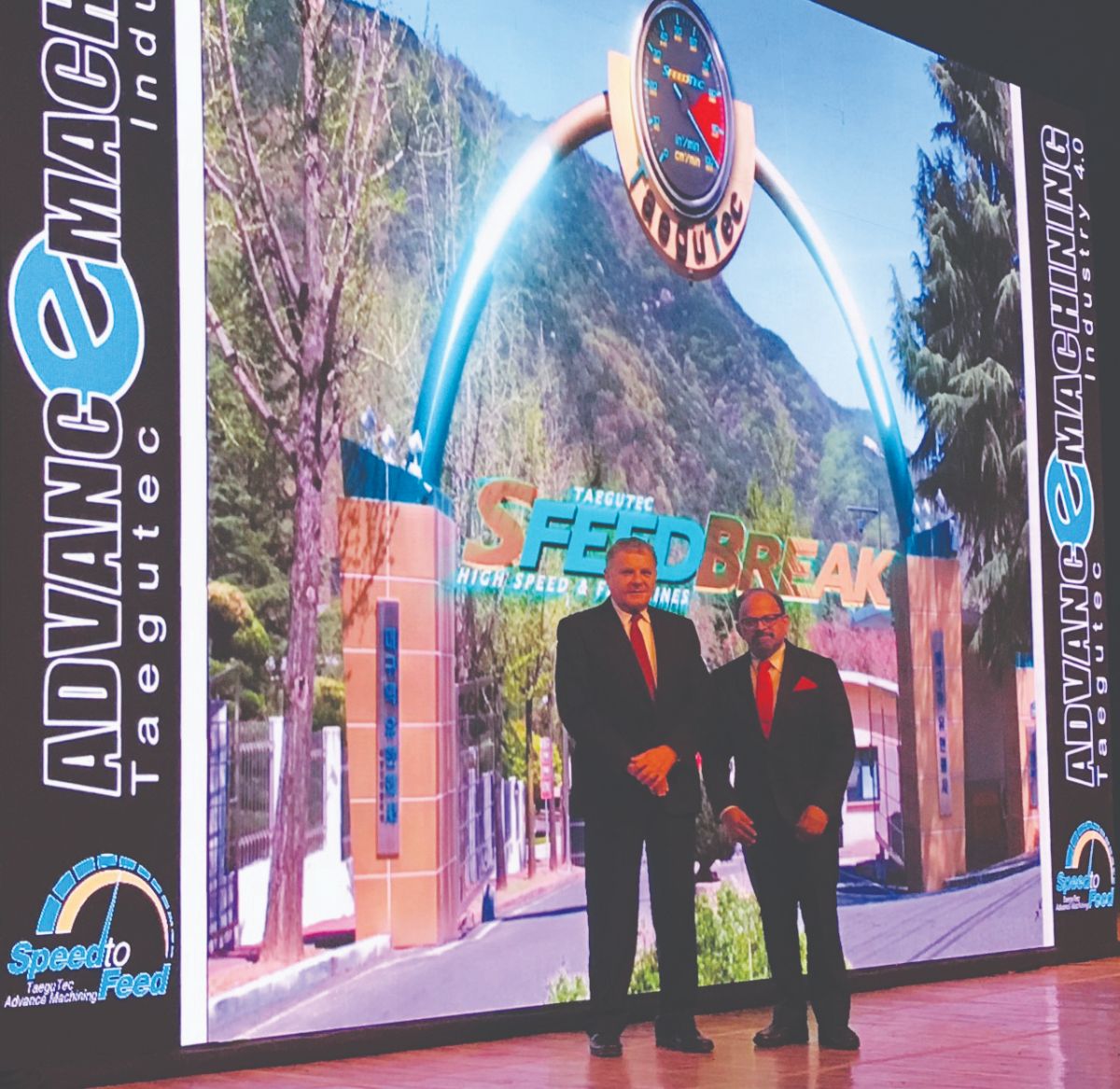 TaeguTec, since inception, has been consistently striving to aid its customers in setting up optimal manufacturing processes with least costs and downtimes.
To this end, the company has come with its latest innovation, an exclusive range of SFEEDTEC solutions which was recently launched across the country at four venues by Jacob Harpaz, Chairman and President, IMC Group.
SFEEDTEC High Speed and Feed Lines, categorized into SFEEDTURN, SFEEDCLAMP, SFEEDMILL and SFEEDDRILL, are high-productivity, high performance solutions engineered to meet the most complicated challenges in machining, be it surface finish requirements,
high feed rates, high accuracy or close tolerances.
Leaders Affirm
Harpaz, undiminished in his energy at each venue, spoke about the onslaught of Industry 4.0 and dwelt on the company's capabilities to take it on and stay on course with TaeguTec's highly evolved range of technologies and solutions.

L Krishnan, Managing Director, TaeguTec India Pvt Ltd, noted, "TaeguTec's dedicated efforts are aimed at upgrading manufacturing in the age of Industry 4.0 and debottlenecking difficult machining areas. As part of these efforts, we have launched a new range of products and solutions to address a wide range of applications including turning, milling, grooving, holemaking etc. SFEEDTEC is all set to raise the bar in the machining world, and we hope for our customers to benefit the most from it."
Product Highlights
A few highlights from the extensive range of high-performance, high-productivity SFEEDTEC solutions:
TURNSFEED: TURNSFEED enables high-feed turning up to 3 mm/rev. This is important because machining depths are progressively decreasing in the manufacturing milieu. This tool enables customers to turn with low to moderate depths of cut at ultra-high feed rates.
The TURNSFEED Tool holders come with the provision for supplying pointed coolant to cutting zone, thus improving tool life and chip evacuation efficiency.
DOUBLE-TAKE: TURNSFEED also has a special capability to machine in two directions!
MILLSFEED: End milling operations for diameters below 12mm is a common productivity bottleneck in many a manufacturing set up.
Generally, only solid carbide tools are used for these operations, which come with their own set of limitations. In the age of precision forging and casting, depths of cuts are progressively reducing. MILLSFEED effectively addresses these applications with many options of indexable-insert endmills covering dia range 6mm – 14mm.
DOUBLE-TAKE: The unique insert design enables light, moderate and high feed milling. Its special insert seating surface ensures rigid clamping of insert in the pocket.
DRILLSFEED: TaeguTec's Drill Rush helped the industry to significantly increase productivity in drilling performance. With the launch of DRILLSFEED, the company is raising its bar. DRILLSFEED effectively uses many unique features of Drill Rush and tops it with self-centering 3 flute geometry. This helps customers to reduce setup time and increase drilling feeds in
rigid setups. Available in dias 16mm - 20mm range bracket to start with.
DOUBLE-TAKE: The triple cutting of the inserts imply high productivity in addition to excellent hole accuracy.
SFEEDTEC High Speed and Feed Lines are engineered to meet complicated challenges in machining – surface finish requirements, high feed rates, high accuracy and close tolerances.