Dear MMI Readers,
Indian Machine Tool Manufacturers' Association (IMTMA) is happy to bring to you the July-August edition of its Modern Manufacturing India (MMI) magazine. We thank you for your continued interest in our endeavor.
As you all know we have been facing difficult situations with the outbreak of the coronavirus pandemic and the economic slowdown. However, industries have adopted well and learnt to operate and manage Covid challenges. They are working aggressively towards generating orders and increasing their capital utilization and retaining their trained workforce.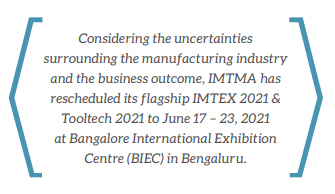 Our MMI editorial team, with its rigorous research and analysis, continue to bring forth the latest information on the developments in the manufacturing industry. This month's edition focuses on aerospace. Additionally, there is an opinion piece by IMTMA that aims to provide a quick peek into the revival and growth of the machine tool industry.
Considering the uncertainties surrounding the manufacturing industry and the business outcome, IMTMA has rescheduled its flagship IMTEX 2021 & Tooltech 2021 to June 17 – 23, 2021 at Bangalore International Exhibition Centre (BIEC) in Bengaluru. Shifting the show to June 2021 will provide the much-needed room for the machine tool and the manufacturing industries to recover, the economic situation to improve, and allow exhibitors and visitors to participate with their innovative products and solutions with a stronger resolve.
As we continue to share inspirational stories from the industry, we also reach out to you for your feedback, comments and thoughts to make MMI more insightful and interesting. This will help us understand your requirements and enable us to meet your expectations.
I thank you once again for your interest in the activities of IMTMA. You can download previous issues of MMI from the IMTMA website.
V Anbu
Director General & CEO
Indian Machine Tool
Manufacturers' Association