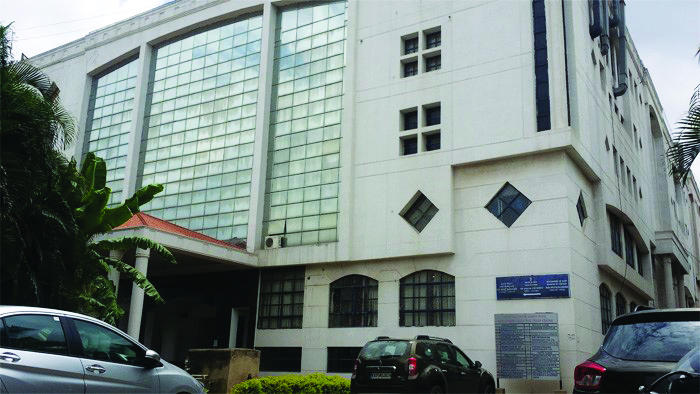 Givi Misure has been growing consistently while holding on to its unique core values of focusing on high quality of its offerings, bolstering innovation, and striving relentlessly for customer satisfaction. Here's sharing a snapshot of its success story…
It's been over 17 years since the establishment of Givi Misure Pvt Ltd in India, it having made a significant progress in raising awareness of the company in the industry. "The journey of Givi Misure in India has been one of sustained commitment to its customers. We have been a major contributor to the much-needed development of Agro and Auto industries in India," says Lokesh BM, Director – Technical, Givi Misure Pvt Ltd.
The company's journey has been marked by consistent high performance which reflects in the expansion of its automotive and non-automotive businesses. With customers as its core focus, it has been relentlessly striving towards catering to their diverse needs by introducing ground-breaking technology products and setting a benchmark in the industry. "We have set industry standards by never compromising on our quality and customer support," he adds.
With a facility spanning a total area of 10,000 sq ft, the company has bagged top players of the domestic and international industries including the TATA Group, Hitachi, BHEL, BEML, HMT, Bajaj, Hyundai, Ford, and Kia.
Focus on R&D
With its sharp focus on the ever-changing market demands, Givi Misure has always ensured timely introduction of customer desired indigenous and cost-effective innovative products and solutions, as well as cutting-edge technologies to meet specific needs of the industry.

Its product range comprises self-aligned optical scales, magnetic scales, rotary encoders, digital readouts, position controllers, and its export destinations are Italy and China. "In this competitive business, we are here to introduce plug and play solutions for specific consumer needs. We have come up with innovative technologies after years spent on quality R&D," shares Lokesh.
Givi Misure is placed globally with the main R&D unit based out of Italy. "The R&D unit in India is a much smaller setup which contributes to the ongoing research and development. It mainly focuses on providing suitable technological solutions and improved efficiency for different applications. The outcome of these programs is shared with the main unit on an ongoing basis," he adds.
For a range of industry sectors
Givi Misure caters to all kinds of industries, tells Lokesh. "We are both in conventional and non-conventional business sectors. Conventional business sectors are those where all the applications with automation solutions and machine tools are involved. We are the most accurate in the business wherever online position measurement is required. Non-conventional business sectors, which we have forayed into recently, involves controlling quality of various safety applications," he explains.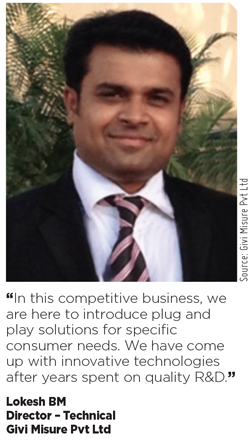 Coping with competition
When asked regarding the ways the company resorts to in order to compete with domestic players in terms of product efficiency and cost effectiveness, Lokesh explains, "It is indeed difficult to compete with the local manufacturers who hold dominant positions in protected markets. Having said that, we have devised strategies to carefully handle the ever-evolving customer preferences. The survival and competitiveness of manufacturing firms depend on their practices and capabilities to adapt to change, which largely depend on the changes in customer preferences."
"We have reached this far through hard work and our focus on innovation, operational excellence and building a performance-driven culture. We have come up with innovative features in our products which have proven to be superior in all aspects and, thus, have continued to gain traction in the marketplace," he notes with evident pride.
Mapping the future
Givi Misure has chalked out clear plans for its future course. "To support our growth and goals in the times to come, we will need to shift our focus from building and positioning our global brand to improving our go-to-market execution and the productivity of our marketing investments," states Lokesh.

He shares the company's vision which is to create solutions that can fulfill all precision measurement needs of its customers. "We have integrated our enormously talented teams across the globe and brought our innovations closer to our clients. We have set new goals this year and identified new opportunities to further integrate our capabilities, technologies and expertise," he adds.

To support our growth and goals in the times to come, we will need to shift our focus from building and
positioning our global brand to improving our go-tomarket ex- ecution and the produc- tivity of our marketing investments.



He commends the Government of India's offering INR 3-lakh crore collateral-free automatic loans for MSMEs to combat the impact of the ongoing pandemic on their businesses. "This is a good initiative by the Government to provide relief to millions of small businesses reeling under the impact of the Covid-19 lockdown. It has been considerate to the concerns of the MSMEs and acknowledge the fact that MSMEs are the pillars of the Indian economy, contributing significantly to the country's growth," he concludes.
Source: Givi Misure Pvt Ltd