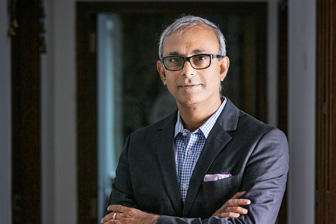 Dear Readers,

Policy changes in India are always expected to have a lasting impact on the Manufacturing industries worldwide. India's response to fiscal, monetary, and health adversities has helped it mitigate many uncertainties.

The country's manufacturing PMI (Purchasing Managers' Index) has been consistently hovering over 50 PMI points for many months, indicating an economic expansion and improvement in manufacturing. India's services activities also expanded rapidly, moving to 59.2 PMI in June, according to S&P Global India Services PMI Business Activity Index.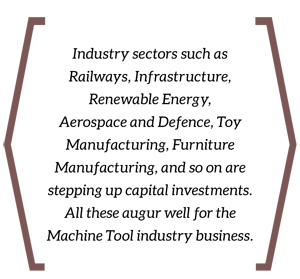 With regard to technology and product development, industries are reaching out to work closely with the Ministry of Heavy Industries, Government of India, besides self-funded R&D initiatives.

Under the Scheme of 'Enhancement of Competitiveness in the Indian Capital Goods Sector – Phase II', companies are developing products and technologies to enhance manufacturing competitiveness. I urge industries to make optimum use of the scheme.

Globally, with the geopolitical crisis unfolding, the increasing cost of raw materials is posing challenges. However, industries, especially the Auto sector in the electric two-wheeler and three-wheeler segments, are doing satisfactory business.

Industry sectors such as Railways, Infrastructure, Renewable Energy, Aerospace and Defence, Toy Manufacturing, Furniture Manufacturing, and so on are stepping up capital investments. All these augur well for the Machine Tool industry business.

The recent successful trade shows held at our Bangalore International Exhibition Centre (BIEC) have rejuvenated business confidence and the Exhi-bition industry outlook. The industry now eagerly awaits IMTEX 2023 & Tooltech 2023, along with Digital Manufacturing, which is scheduled for January 19-25, 2023, at BIEC, Bengaluru. There's a significant optimism and interest among industries, and IMTEX 2023, in its physical avatar after a gap of four years, is expected to further fuel India's aspirations of becoming a global manufacturing hub.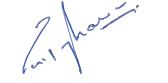 RAVI RAGHAVAN
PRESIDENT
INDIAN MACHINE TOOL MANUFACTURERS' ASSOCIATION (IMTMA)