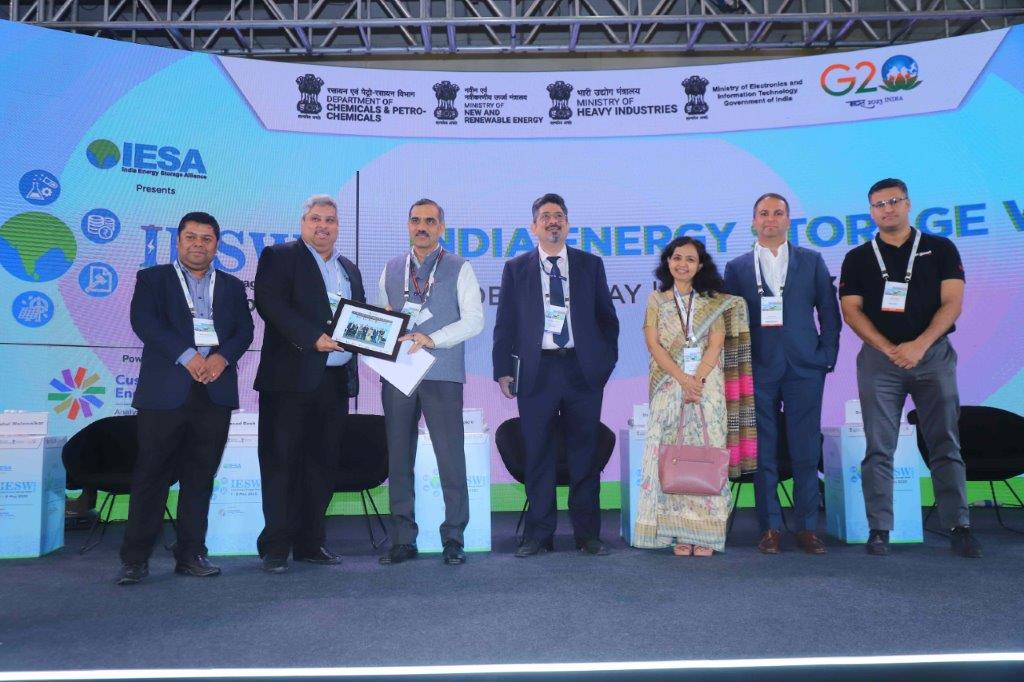 New Delhi, India – Bureau of Energy Efficiency (BEE) Director General, Abhay Bakre, emphasized the need to generate high-decibel public awareness for the adoption of electric vehicles (EVs) during his address at the e-mobility day as the guest of honor at India Energy Storage Week (IESW), a flagship international conference & exhibition by India Energy Storage Alliance (IESA).
With concerns over worsening climate change, EVs are expected to play a major role in the future of transportation, and their sales have more than tripled to 10.54 lakh units in India in 2022. The increasing adoption of EVs in India and globally has prompted the BEE to promote the benefits of e-mobility to the public.
Emphasizing that the biggest challenge for e-mobility is to replace a well-established ICE vehicle system, Bakre stated, "A major concern is how we shift a widely distributed, well-managed, and strong distribution network of fossil fuel, gasoline, or diesel to e-mobility. And, the solution lies in a robust public charging infrastructure. With wide adoption and the economy of scale, we can bring down the costs of batteries, EV charging components, etc., and make the EV transition a success story just as India did with the smartphone revolution."
Internationally acclaimed EV experts, manufacturers, and government representatives participated at e-mobility day, including Vishal Kapoor, CEO, Energy Efficiency Services Limited (EESL); Vikram Gulati, Country Head & Sr V P (Corporate Affairs & Governance), Toyota Kirloskar Motors; and Anirudh Arun, Co-founder, Vikram Handa, MD, Epsilon Advanced Materials; Dr Preeti Banzal, Adviser / Scientist 'G', Office of the Principal Scientific Adviser, Govt of India; and Anant Misra, Vice President, Lithium Business, Livguard COO, Blu Smart.
The Government has also been playing its part with schemes like the Faster Adoption and Manufacturing of Hybrid and Electric Vehicles (FAME) to boost the EV ecosystem in the country and encourage more people to switch to cleaner modes of transportation. Demonstrating the country's commitment to sustainable and green solutions, more than 500 world-class organizations from over 25 countries, including the UK, USA, UAE, Australia, China, Germany, Singapore, France, Italy, Israel, and Sri Lanka, and 60+ CXOs from the e-mobility and green hydrogen ecosystems, 100+ start-ups, 50+ women energy leaders, and 8+ ministries are participating at IESW 2023.
Delivering the welcome speech at e-mobility day of IESW 2023, Dr Rahul Walawalkar, President, IESA—a leading industry alliance focused on the development of advanced energy storage, green hydrogen, and e-mobility technologies in India—said, "With the support of the government and policies such as FAME 2, India's electric 2-wheeler industry has grown exponentially in the last few years. Promising startups in the EV space are now leading the way in innovation. Indian OEMs are also stepping up and have introduced path-breaking EVs. This is an opportune time for industry and academia to collaborate and make India a global hub for R&D, manufacturing, and adoption of e-mobility. The potential to export solutions to other countries also presents a significant opportunity for companies involved in this sector. Together, we can create a sustainable future for ourselves and contribute to the world's transition towards clean energy."
Speaking as the Guest of honor at IESW 2023, the CEO of EESL, commented, "Electric Vehicles have become increasingly relevant in the transport sector due to their indispensable role in reaching net zero emissions. To build a flourishing EV ecosystem in India, we must ensure that complete charging infrastructure pervades the market—from battery production units to service centers and even charging stations." To this, Gulati added, "Collaborative efforts between government and industry led to the birth of FAME, a pilot with a small INR 800 crore corpus. We are beginning to see serious numbers in 2w & 3w, 4w is going to be a bit tougher, but going ahead, momentum has been created. Critical is the backend infra that needs to be upgraded."
Image Source: India Energy Storage Alliance (IESA)