Manufacturers of solid carbide tools are facing strong price pressure, mostly from the regions where lower wage costs mean that tools can be produced more cost-effectively. However, the end customer's buying decision is not solely determined by the price of carbide tools, but increasingly by criteria such as the quality, performance and lifetime. High tool quality gives a decisive competitive edge, especially for difficult tasks encountered in the aerospace and automotive industry, and also in machine construction and tool making.
The demands placed on carbide tools are also constantly increasing: innovative cutting-edge geometries with excellent surface finishes and minimal cutting-edge chipping are a prerequisite for producing solid carbide tools with superior lifetimes. In order to be a successful carbide tool manufacturer, optimal technical conditions such as a modern machine fleet and a wide variety of measuring devices must be paired with the lowest possible process costs. For expensive CNC machines, in particular, what counts is keeping non-productive time, e.g. for dressing the grinding wheels, to an absolute minimum in order to maximise productivity.
Innovative solutions
In this backdrop, Tyrolit one of the world's leading producers of bonded grinding, cutting, drilling and dressing tools, facilitates in providing precision tool manufacturers a competitive edge. The grinding spindles can not only be equipped with the proven STARTEC flute grinding and cup wheels, but also with the STARTEC XP-F polishing wheel. This enables tool manufacturers to set themselves apart from low-cost suppliers particularly with respect to lifetime and tool quality.
"Our application engineers work on site with our customers worldwide and focus on process optimisation in terms of cost reduction, quality assurance, reduced non-productive time and scrap."


Martin Pilz,
Marketing Manager,
Tooling Industry, Tyrolit
Flute grinding accounts for an especially high proportion of the overall costs of solid carbide production. Even the grinding tool is always an important factor with regard to cost efficiency. As one of the world's leading manufacturers of grinding solutions, Tyrolit has for many years offered grinding wheels in a wide variety of shapes, dimensions and specifications. The STARTEC XP-P flute grinding wheel, with its high cutting performance and long intervals between sharpening cycles, has established itself in the flute grinding field. The company's customers have successfully used the STARTEC XP-P cup wheels for grinding the face geometry and clearance surfaces. They are ideal for grinding geometries requiring the best possible surface finish and lowest possible cutting-edge chipping.
Low grinding forces
The development of the STARTEC RC product line was driven by specific customer requirements from the area of special tool production. The main focus of development was reducing the normal grinding force produced during flute grinding. This is the main cause of the friction and, therefore, generation of heat in the process. Excessively high temperatures and adverse tool geometries can also result in cracks in the tool, increasing the scrap rate.
The new STARTEC RC combines special diamond grades with good cutting ability with unique bond architecture. This combination permits a low normal grinding force and low profile wear, while still offering easy dressing of the grinding wheel.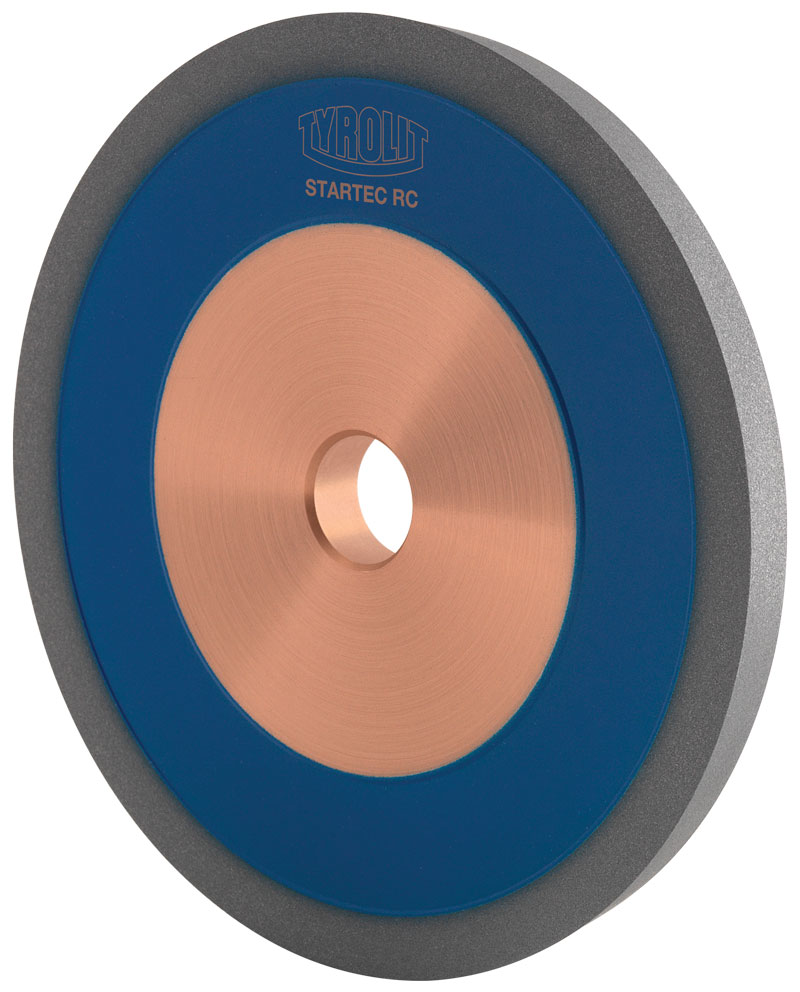 The STARTEC RC from TYROLIT for producing standard tools.
Polishing wheels
The company's engineers have succeeded in developing an innovative specification with new diamond grades and a new bond system for polishing. These polishing wheels are adaptive, in other words they enable selective stock removal of up to 0.2mm. Apart from a precise tool shape, a surface with a mirror finish is produced. As was already the case with the proven STARTEC XP-P flute grinding wheels, high feed rates are also achieved with the new polishing wheels. At the same time, the high profile stability and low grinding forces of the new specification ensure long-lasting profile accuracy.
Tool manufacturers can now optimally equip their grinding spindles as appropriate to the required tool properties and process parameters. STARTEC XP-P wheels offer a proven standard product for flute grinding. The low grinding forces of the STARTEC RC grinding wheels make them ideal for producing tools requiring large stock-removal. Especially good results are achieved in the production of stepped tools for the aerospace and automotive industry, as cracks are avoided. They are also very well suited to the production of tools made from very brittle cemented carbide types. The STARTEC XP-F polishing wheels, which are available ex stock and in customer-specific designs, can efficiently polish chip flutes and clearance surfaces and significantly improve tool quality.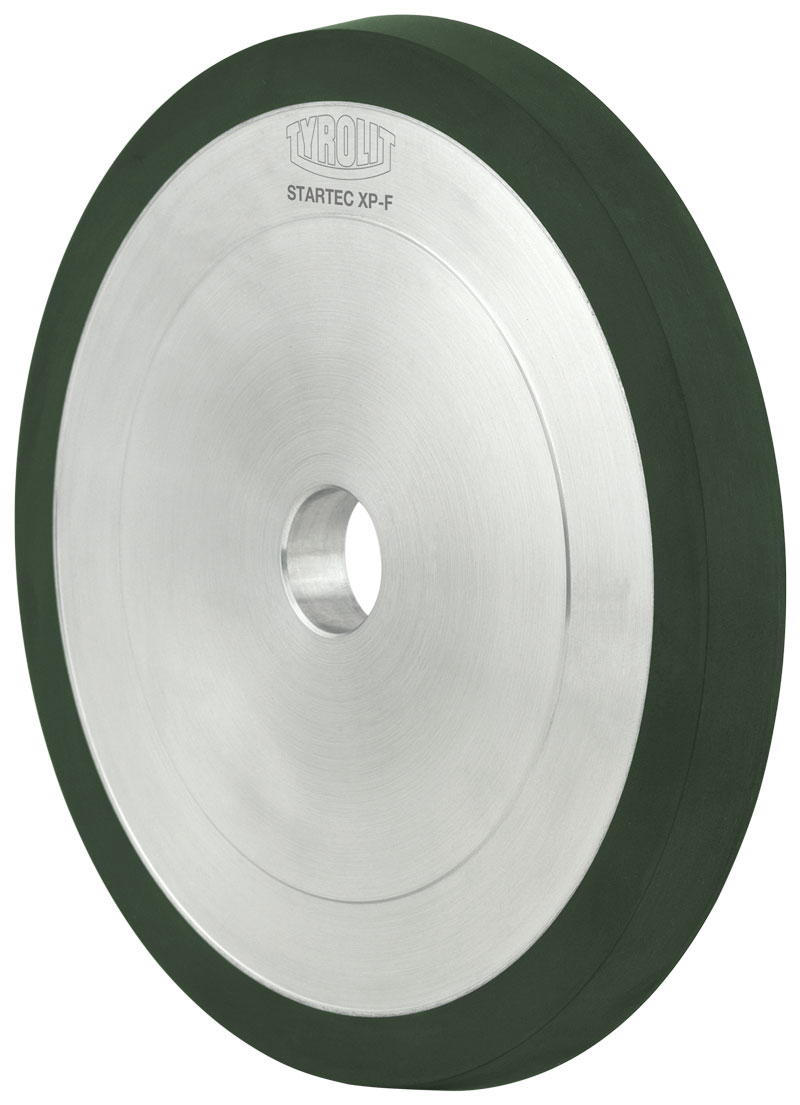 A. The new STARTEC XP-F grinding wheel for polishing chip flutes on shaft tools made of tungsten carbide.
B. The semi-matt chip flute of a VHM drill bit produced by STARTEC XP-F polishing wheels.
In the face of competition from low-cost suppliers these are the best preconditions for tool manufacturers' market success.