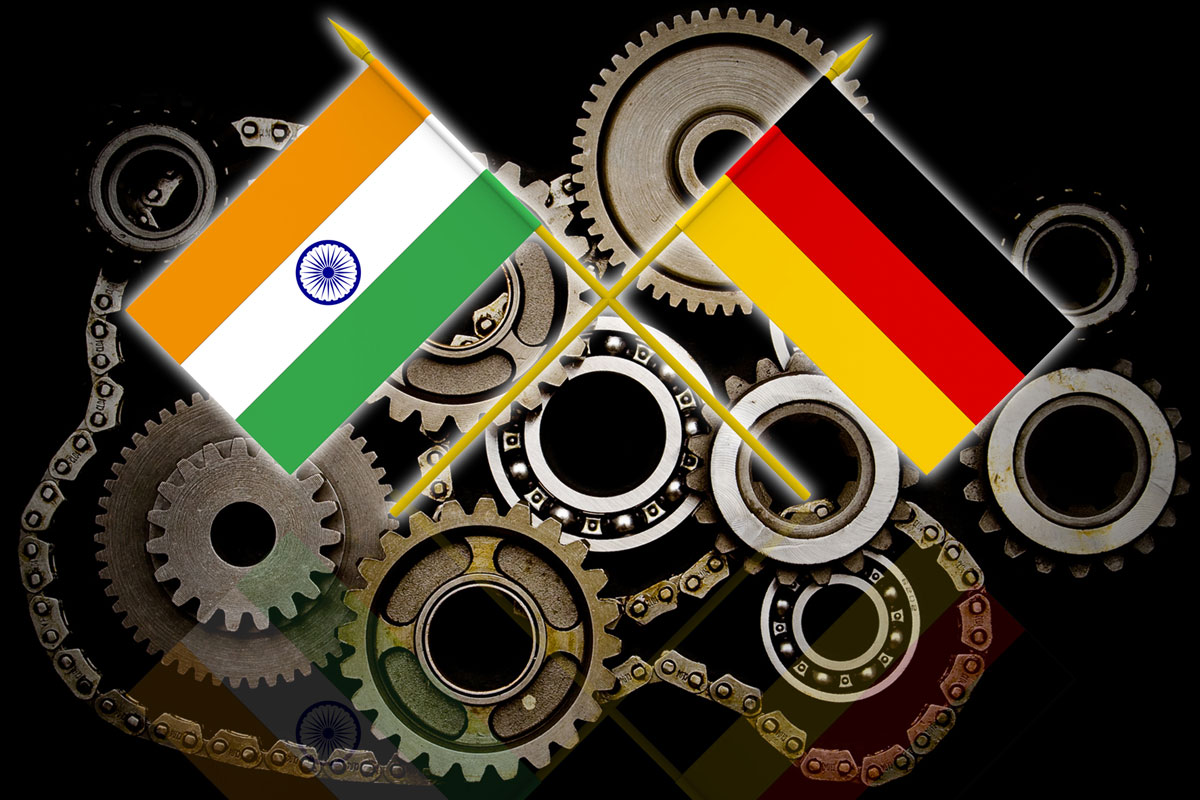 With Germany being India's largest trading partner in Europe, the two countries have been consistently engaged in sharing each other's strengths. Visible progress in this mutual give and take is optimistic and a definite sign for a lot to look forward to in the machine tool space.
"India is one of the world's largest machine tool markets. In 2017, machines worth almost €2 billion were consumed. The country imported 60 percent of this," says Dr Wilfried Schäfer, Executive Director, VDW (German Machine Tool Builders' Association), pointing out to India's potential in machine tools and its trade with Germany. Based in Frankfurt, the association represents the interests of the German machine tool industry and is well suited to comment on the growing exchange between the two countries.
"With a share of 16 percent, Germany ranks third among the most important suppliers, after Japan and China. In 2017, German deliveries increased by more than a fifth. In the first three quarters of 2018, they lost slightly, 3 percent to just under €150 million. It was mainly parts and accessories, gear cutting machines and machining centers that India's industry had ordered."
Optimism Prevails
Dr Heinz-Jürgen Prokop, Chairman, VDW, offers his take on the growth expected from Asian countries, especially India, in terms of machine volume orders in the near future, "Compared to 2018, general economic data in 2019 is below the previous year's results. However, it still signals growth. The driver is Asia with an increase in gross domestic product of 4.4 percent, followed by the Americas with 2.1 percent and Europe with 1.4 percent."
"In terms of investment and machine tool consumption, Asia is the driving force of the triad with growth of 2.7 and 2.6 percent, respectively. Particularly in the smaller countries of Vietnam, Thailand and Indonesia, consumption is expected to rise disproportionately," he adds.
According to him, the strongest increase was recorded in the subcontinent of India, where the consumption of machine tools is significantly higher than the Asian average. In China, the largest market, machine tool consumption is slightly above the moderate level of Asia as a whole. "China will continue to be strong in terms of volume in the coming years. Taiwan and South Korea, on the other hand, are struggling with falling rates in the current year," he informs.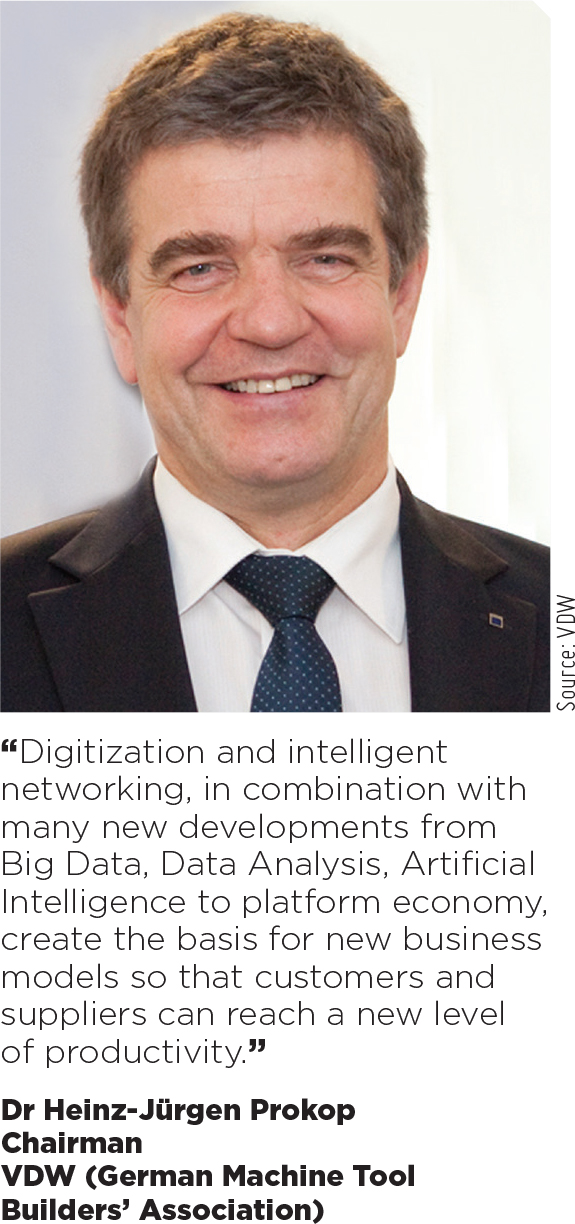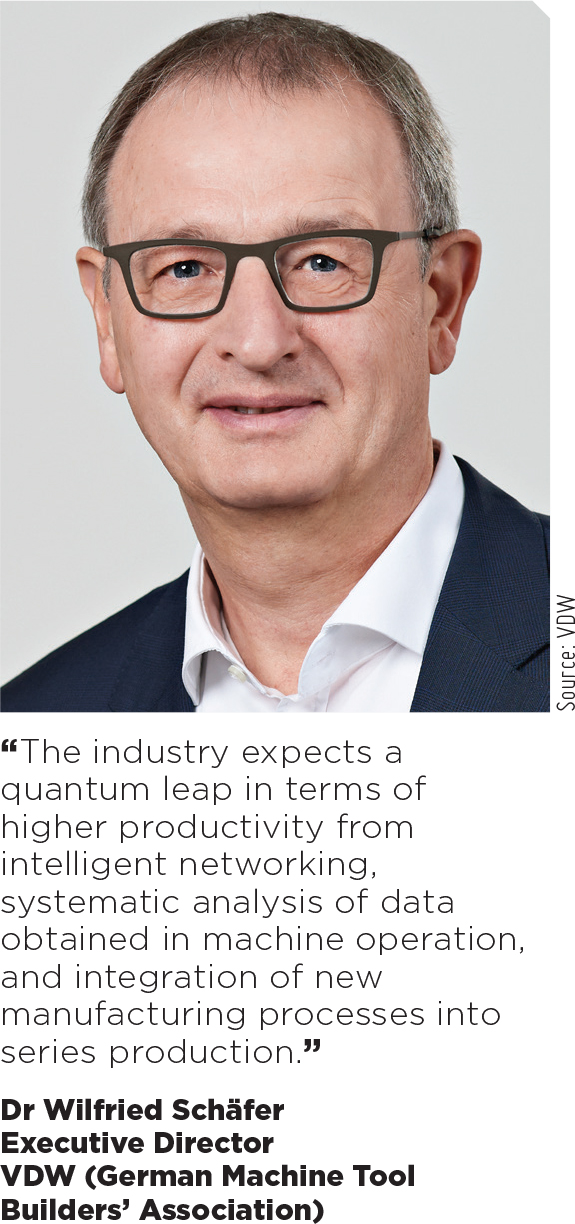 EMO Hannover 2019
In alignment with the rising significance of Industry 4.0 in the global manufacturing industry, VDW-organized this year's world's leading trade fair for metalworking, EMO Hannover, to be held from September 16-21, 2019, has chosen the motto 'Smart technologies driving tomorrow's production'.
Elaborating on the event's focus, Dr Prokop says, "The focus of industrial production is no longer (only) on being 'better, faster, more accurate', but the development and implementation of new functions within the framework of Industry 4.0.
Digitization and intelligent networking, in combination with many new developments from Big Data to Data Analysis, Artificial Intelligence and platform economy, create the basis for new business models so that customers and suppliers can reach a new level of productivity. Nevertheless, optimized machines, technologies and processes in the classic sense will of course also be presented at EMO Hannover 2019."
Dr Schäfer adds in, "The industry expects a quantum leap in terms of higher productivity from intelligent networking, systematic analysis of data obtained in machine operation, and integration of new manufacturing processes into series production. Integrated processes not only in one's own production and at the customer, but also in the value chain, fewer machine failures and downtime, targeted maintenance, new offers at the basis of data analysis are some of the key things that describe the potential of Industry 4.0."
EMO Hannover 2019 has chosen the motto 'Smart technologies driving tomorrow's production'. World's leading trade fair for metalworking has long since demonstrated that Industry 4.0 has arrived in the machine tool industry.
Technology Transfer
Drawing attention to the technologies from Germany that can help the present Indian manufacturing sector to upgrade its processes and set-ups, Dr Schäfer notes, "Customers who are exposed to international competition such as the automotive industry or major suppliers, or who are confronted with high-quality demands such as medical technology must constantly improve to survive. Automation, which is closely related to these fields, is witnessing high demand due to quality requirements. German manufacturers specialize in high technology and individual solutions for production requirements of all kinds. Their strength also lies in linking the various components to form complete solutions. For the Indian customer, this means that he does not have to talk to countless individual suppliers but can receive a largely all-round carefree package including training and education."
German Machine Tools Exports to India

2016

2017

1-3Q 2018

Total Metal Cutting Machine Tools

1000 EUR

97,807

1,55,722

90,173

Units

1,528

1,925

1,755

Total Metal Forming Machine Tools

1000 EUR

57,423

40,726

35,874

Units

652

594

594

Total Machine Tools

1000 EUR

1,80,574

2,20,538

1,49,434

Units

2,180

2,519

2,349