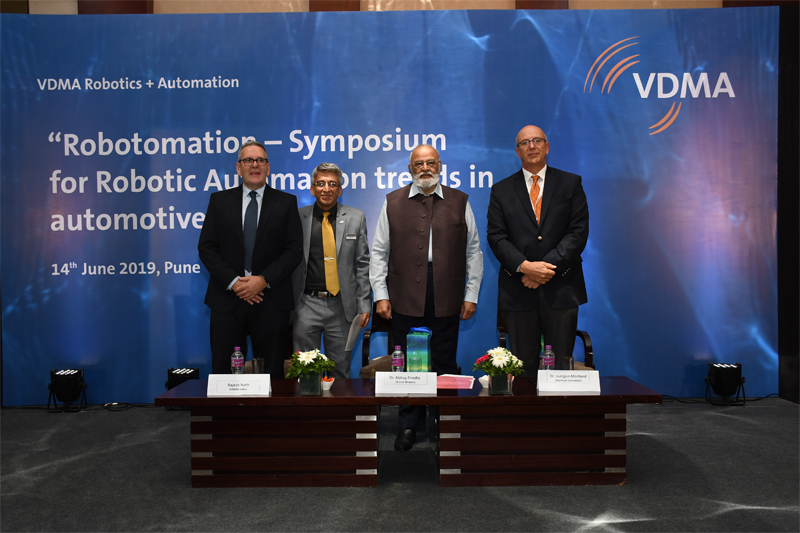 The VDMA Robotics + Automation Association of German Mechanical Engineering Industry Association (VDMA) organized 'Robotomation – Symposium for Robotic Automation Trends in Automotive Industry' on June 14, 2019 at The Hyatt Regency, Pune. Highlights…
The prestigious event that had its focus on the global robotics and automation trends for the Indian automotive industry brought together more than 235 players from the Indian industry. Speaking on the importance of robotics to the Indian industry, Rajesh Nath, Managing Director, VDMA India, said, "Robot sales in India is expected to reach 6,000 units in 2020 and 7,500 in 2021 with a staggering CAGR of 19 percent. This is almost double the sales in 2017 which is 3,412 units. While auto OEMs are prime drivers of robots in India, their suppliers (tier 1, 2, 3, 4) are also investing in advanced robotic technology to maintain their competitive edge and scale new heights."
Seconding him, Patrick Schwarzkopf, Managing Director, VDMA Robotics + Automation & Member of the Executive Board of the International Federation of Robotics, noted, "India has made great progress in harnessing the benefits of robotics and automation technologies for its manufacturing sector. In 2018, the country increased its installations of industrial robots by 39 percent."
Also present were Dr Juergen Morhard, the Consul General of Federal Republic of Germany, Mumbai, and Dr Abhay Firodia, Chairman, Force Motors Ltd who was the Chief Guest.

Varied Insights
The symposium also addressed on the joint initiative of VDMA and OPC Foundation's Unified Architecture (OPC UA) on Industry. Well-known VDMA members namely Baumer, Durr, Festo, Kuka Robotics, Schunk, Siemens and Zimmer GmbH presented application-oriented technology presentations.
The topics included 'Integrated Robotic solutions for machining'; 'Enhancing Automation in collaboration with Robots'; 'Flexibility in Robotic automation with Tool Changers'; 'Latest technologies and Innovative Solutions for Automotive Paint Applications'; 'Technology trends in Engine Shop & Electrical Vehicles'; 'Manufacturing excellence through robotic automation'; and 'Efficient Sensor Solutions in Automotive-related Production Environments'.
Panel discussions on 'Efficient Handling Solutions for Automotive Industry' and 'Collaborative Technology for Automotive Manufacturing' were moderated by Dr Ranjit Date, President & Joint Managing Director, PARI; and Sudhir Gurtoo, Managing Director & CEO, Leadec India, respectively.

Awards for the Deserving
VDMA Robotics + Automation division acknowledged deserving candidates who have been serving the Indian automotive industry. The awards were in recognition of their commitment for being efficient and effective, inculcating time, cost, quality and scalability possibilities in their organizations.