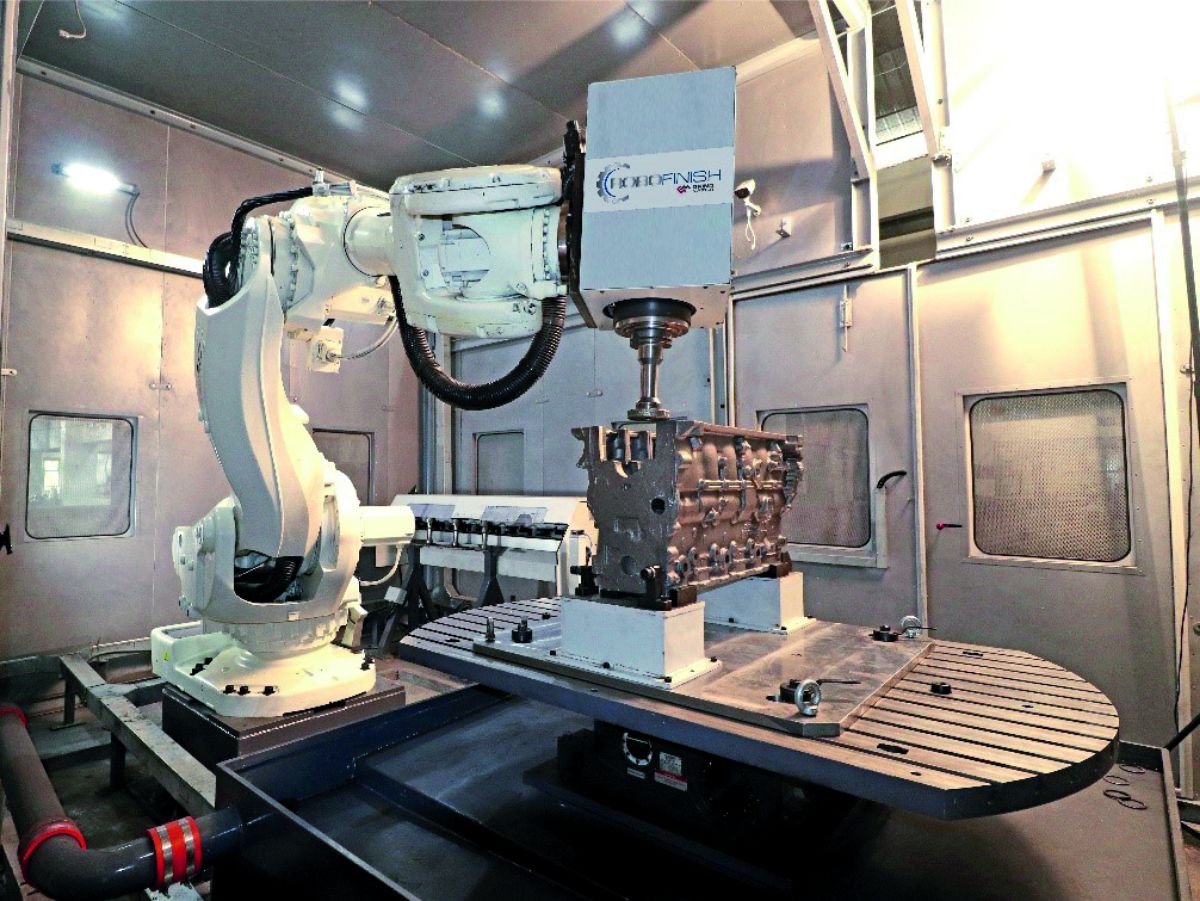 Robotic Machining is a highly user-friendly revolutionary technology which is taking the machining world by storm. ROBOFINISH by Grind Master Group is vitally contributing to it by delivering flexible automation solutions and resolving major bottlenecks in the foundry industry.
Robotics, today, is one of the most sought-after technologies across the globe. The demand for Industrial Robotic Automation systems is rising exponentially. It was in the early 1970s that CNC machining processes like Milling, Grinding, Turning, etc. started to evolve. This was also the time of the evolution of Industrial Robots for applications including Handling and Welding.
However, there were some limitations to CNC technology such as flexibility, scalability, complexity of motion and cost. These factors were overcome by Robotics. Moving on, these two technologies combined, giving rise to Robotic Machining in the early 2000s.
Understanding Robotic Machining
Robotic Machining is a very wide spectrum. It includes Robotic Milling and Sculpting, Robotic Trimming and Cutting, Robotic Grinding and Deflashing of Castings and Forgings, Robotic Finishing and Polishing, and Robotic Deburring. These systems consist of an industrial robot and controller, spindles and tool changers, tool rack, fixtures and programming software.
Robotic Machining is a major leap from Industry 2.0 to Industry 4.0, heading towards Next Generation Manufacturing. This transformation towards smart manufacturing practices has a deep impact on productivity, enhanced and consistent quality, health and safety, flexibility/multitasking, reduction in cycle time, and cleanliness on the shop floor.
Robotics has some key technologies that include Application/Process Development, Tooling and Fixtures, Controls and Programming Software. There are two app-roaches in Robotic Machining. The first one is Robot Moving Tools where one or multiple tools are mounted on the Robot Wrist and the workpiece is clamped in the fixture. This approach is suitable for a wide variety of large parts. The second approach is Robot Moving Parts where one or multiple tools are fixed in the cell and the workpiece is moved by Robot and gripper. This approach is suitable for small parts made in dedicated production lines.
Robotic Fettling
Robotic Machining is the use of industrial robots to automate and standardize repeatable manufacturing processes or tasks. Automation of a process brings several key benefits to manufacturers of castings like increase in productivity, upgradation in quality, and creation of a healthy and safe working atmosphere. The technology behind Robotic Fettling and how it may be successfully deployed across the iron casting industry serves as a guide of dos and don'ts for successful executions. Iron castings of manufactured parts have the most complex shapes. And here is where automated robots come to rescue by delivering quality with accuracy.
Robotic Grinding/Fettling gives tremendous improvements in the consistency and completeness of fettling. Manual operations are subject to numerous variations through the days, weeks and months of the year since different operators work in different styles. Multiple operators work on one component leading to handling damages. Manually operated cutting tools invariably cause scratch marks and dents, which are a major cause for the rejection of castings. Tool selection in Robotic Grinding is highly critical because process reliability, cycle time and running cost of the system are majorly based on the type of tools used. In certain cases, it is observed that selecting the most advantageous tool can reduce the cycle time and the running cost by as much as 90 percent. The most commonly used tools in Robotic Fettling include diamond-plated wheels for cutting and grinding.
Robotic Fettling have various costs associated with it which have to be considered while calculating cost per piece over the long run such as the maintenance cost (annual maintenance, spares etc.), energy cost, consumables cost (use of customized tools for robotic application can save significantly), retooling and reprogramming cost, and labour cost (including future rise in the same). Significant improvement in quality is considered while calculating the investment returns of a robotic fettling system. A drastic reduction in the rejection rate and removal of rework/checking stations also brings space savings. Correct selection of application and wise implementation can ensure a return on investment on Robotic Fettling Systems within one or two years.

Robotic Sculpting
Robotic Sculpting is creating sculptures using heavy-duty industrial robots instead of human hands. It automates the sculpting process and maintains the aspect ratio and proportions (scalability) of the sculpture. It eliminates the chances of errors and drastically reduces the pattern-making process in large sculptures. Small sculptures can be created directly in one go from a raw block of material.
The prototype/sample is scanned and designed, after that the robot is programmed using specialized software and the block is then sculpted using the robot. Robotic sculpting includes operations like Rough Milling, Finish Milling and Engraving. It is the most advanced technology that can sculpt wood, thermocol, foam, graphite stone, granite and marble, brass as well as copper.
Grind Master's Contribution
Grind Master Group (GM) is a global technology leader in specialized turnkey machines for Metal Finishing, Deburring, Microfinishing, Robotic Machines and Abrasives, providing total solutions for surface finishing requirements. With over 5,500 machines across six continents, serving a wide range of industries, the Group brings a world of experience of over 35 years in machine technology and process knowledge. It has strong IP bank of over 30 patents, over 30 registered designs and three trademarks.
Grind Master Group has seven manufacturing facilities and three state-of-the-art innovation R&D centers across the globe. The group companies in India, China, France and the USA constantly strive to exceed customer expectations with innovative and trustworthy solutions created with passion and expertise. It established its Robotic Machining Technology Unit in 2011 to diversify the product range, and over the last seven years it has delivered over 100 robotic milling / grinding / finishing / deburring solutions.
Robotic Machining is a very wide spectrum. It includes robotic milling and sculpting, robotic trimming and cutting, robotic grinding and deflashing of castings and forgings, robotic finishing and polishing, and robotic deburring.
---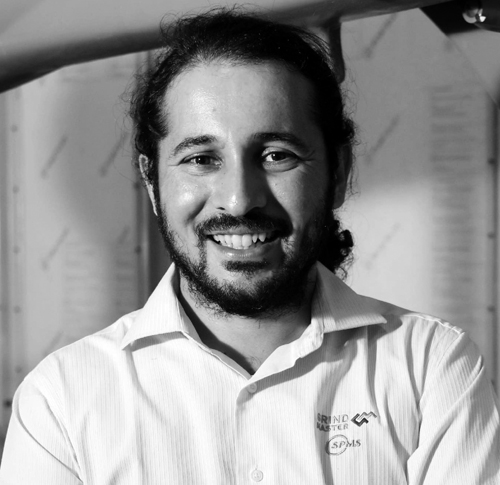 SAMEER KELKAR
CEO & R&D Head
Grind Master Group
---