Until a few months ago, the term 'Global Pandemic' was perceived as a futuristic sci-fi movie concept. Then the Covid-19 crisis hit that changed businesses and the way of working across the world, leaving us with no choice but to adapt to the 'New Normal'.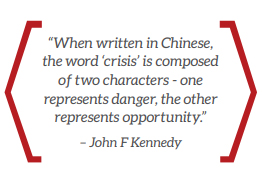 The usage of extensive technologies, an integral part of the new normality, has become essential for our regular work life. Remote working, digital meetings, and witnessing virtual reality events seem the most normal extension of work life suddenly. It is believed that most organizations worldwide are encouraging their task force to work remotely. They are looking at it as an opportunity of working sustainably and weighing the benefits that can be reaped out of this setting.
The pandemic has brought about an unprecedented change in our means of communication, collaboration, learning, and evolving. It has hastened the deployment of advanced technologies to integrate the production, supply chain, marketing, and sales together.
Digitally-adept companies are at an advantage of adjusting faster to this crisis. It is slated that in the coming days the manufacturing industry will rely more on advanced automated technologies and benefit from it. The changing work landscape calls for more innovative ways to stay afloat in the competitive market.
We have curated this issue against this backdrop and collated industry experts' take on how they view the situation and ways to cope with it. As always, we have included success stories from the industry. We, once again, solicit your feedback as that is what has made MMI the most sought-after trade publication.