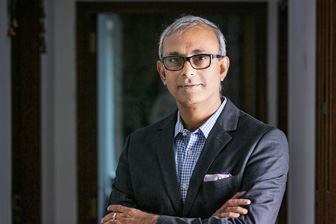 Dear Readers,
We are on the cusp of a new financial year, with things looking promising for businesses. Industries were able to withstand the consequent waves of the pandemic with resilience. They have continued to grow in all verticals of manufacturing and are expected to reach the pre-pandemic levels of growth, which is very encouraging.
The recent Union budget has been a significant one for the Machine Tool and Manufacturing industries. The increase in capital expenditure on infrastructure projects by the Government is extremely encouraging; this helps in maintaining the growth momentum. It is important to note that Capital Goods not only result in direct employment but make for a big multiplier for indirect employment. Capex spend is a big driver for the demand for Capital Goods. Furthermore, from an economic point of view, these are direct and indirect multipliers. It is also important to highlight that the Government held extensive interactions with all major sectors to understand the pain points and the needs of businesses while preparing the budget.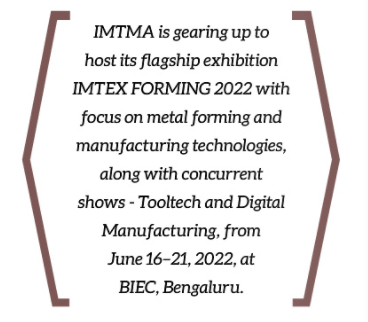 Indian Machine Tool Manufacturers' Association (IMTMA), one of India's leading sectoral industry associations, celebrated 75 years since its formation. It is a matter of immense pride for IMTMA to have achieved this milestone in its endeavor to keep the Machine Tool industry of the country close-knit.
Now, as the pandemic recedes, the Association is gearing up to host its flagship exhibition IMTEX FORMING 2022 with focus on metal forming and manufacturing technologies, along with concurrent shows - Tooltech and Digital Manufacturing, from June 16–21, 2022, at Bangalore International Exhibition Centre (BIEC), Bengaluru.
IMTEX 2023 – with focus on metal cutting and manufacturing technologies, along with concurrent shows - Tooltech & Digital Manufacturing, is scheduled from January 19–25, 2023, at BIEC, Bengaluru.
I wish all readers of MMI magazine happy reading and a great time ahead.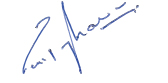 Ravi Raghavan
President
Indian Machine Tool Manufacturers' Association (IMTMA)