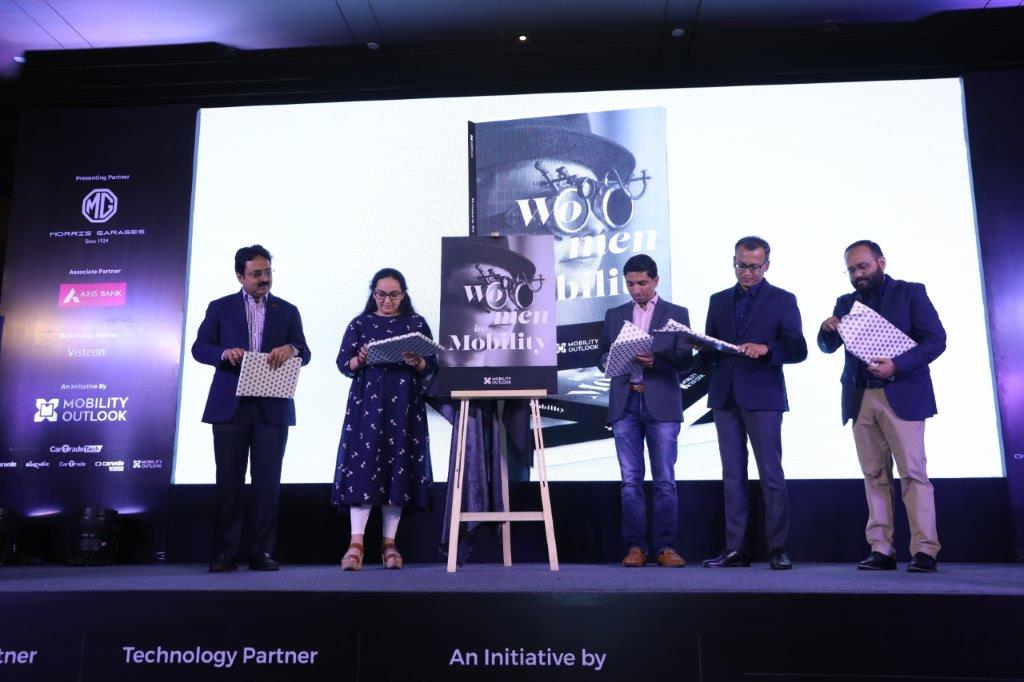 Mumbai, India – Mobility Outlook, CarTrade Tech's mobility-ecosystem focused platform that provides insightful perspectives on the automotive, aviation, railways, and maritime sectors, commemorated the spirit of women in the mobility industry recently by hosting the first edition of 'Women in Mobility'.
With mobility undergoing daily shifts across social, technological, and economic parameters, women are now at the forefront of leading successful mobility-based organizations. While the world celebrates International Women's Day on March 8th, Mobility Outlook believes that women should be celebrated every day, not just on one day. The event's goal was to put women at the forefront of changing mobility needs, as they are thought to have unique transportation requirements. Keeping in mind the contributions of some of the most successful and powerful women in the automotive industry, Mobility Outlook launched a Coffee Table Book capturing the triumphant and empowering women's success stories.
Over the last year, Mobility Outlook has featured 24 women leaders, including Rashmi Urdhwareshe, President, SAEIndia; Pamela Tikku, Chief Business Officer, ICAT; Gowri Kailasam, President, Rane Madras India; Dr Rupali Sharma, Co-founder & Chairperson, Okinawa Autotech; Deepa Sathiaram, Executive Director, En3 Sustainability Solutions; Dr Manaswini Rath, Vice President & Global Head, Autonomous Driving, KPIT; Shakshi Vij, Founder & CEO, Myles; Saritha Iyer, Head of Finance, Visteon India; Ujjwala Karle, Deputy Director, ARAI; Shuba Kumar, Managing Director, Natesan Synchrocones; Sulajja Firodia Motwani, Founder & CEO, Kinetic Green Energy; Ekta Bhardwaj, HR Leader, AMIEO Region, Nissan Motor Corporation; Jyotsna Sharma, CFO & Head Of IT, Bridgestone India; Nirmala Behera, Executive Director – Group HR, RSB Group; Anjali Pandey, Vice President, Cummins India; Dr Ranjana Bansal, Managing Director, Ashok Group of Companies; Suman Mishra, CEO, Mahindra Electric Mobility; Daisy Chittilapilly, President, Cisco India & SAARC; Anupama Raman, Global Head Software Academy, Continental Automotive; Pooja Bansal, Chief Human Resource Officer, Piaggio Vehicles; Padmaja AR, Senior Vice President & XC Divisional Key Account Manager, Bosch Global Software Technologies; Julie Adkins, Sr Manager – Lean Transformation, Continuous Improvement & Operational Excellence, BorgWarner; Garima Misra, Managing Director, Group Landmark; and Roopa Bhokare, Head Of Digital Products, AXIS Bank.
Women in Mobility was supported by MG Motor India as the Presenting Partner, Axis Bank as the Associate Partner, and Visteon as the Technology Partner.
Delighted to host such an event on the Mobility Outlook platform and commenting on the event, Banwari Lal Sharma, CEO, CarTrade Tech, said, "This is a great way to felicitate, as well as bring together, the women of change in the automobile industry and thank them for their contribution. Understanding women in other fields has just begun, and the automobile industry is not far behind. I hope that the Coffee Table Book curated by Mobility Outlook inspires millions of other women and girls out there to be a part of the automobile industry in the country and across the world because women are the future, and we need to celebrate them every day."
Against this backdrop, Gaurav Gupta, Chief Commercial Officer, MG Motor India, asserted, "Diversity has always been one of the key pillars for MG right since inception. Mobility Outlooks's Women in Mobility initiative resonates with our values and culture. As part of our commitment toward gender diversity, MG Motor India has successfully integrated 37 percent of women employees into its workforce including the factory and aims to achieve 50 percent by Dec 2023. Some of our key initiatives—Drive Her Back, Genesis, Neem, MG Changemakers, Womentorship, and Worth Waiting For—are all testimony to our commitment to gender diversity. We extend our support to Mobility Outlook and wish them luck for the next season of Women in Mobility."
Image Source: Mobility Outlook India