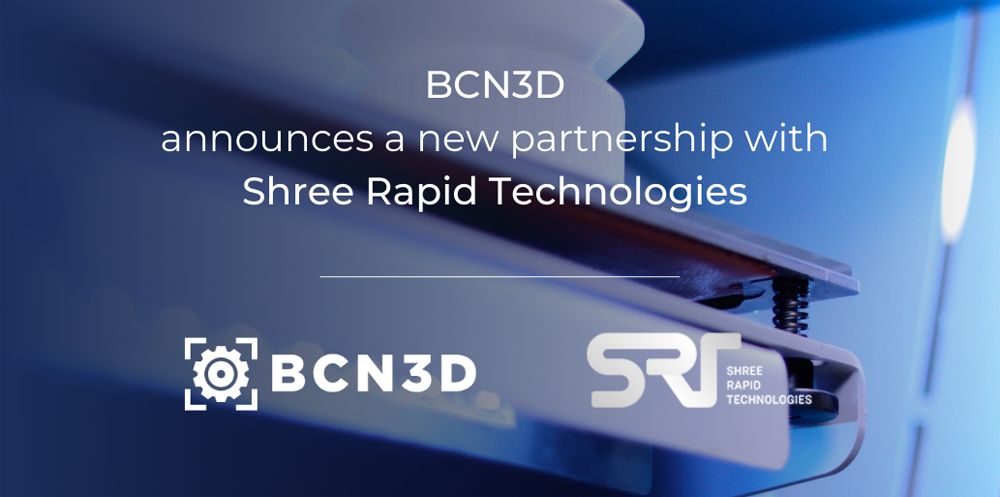 Barcelona, Spain and Mumbai, India – Shree Rapid Technologies, one of India's largest providers of 3D Printing and 3D Scanning solutions, has announced a partnership with the Barcelona-based 3D Printer manufacturer BCN3D Technologies, Inc. A collaboration that will use advanced 3D Printing technologies from BCN3D to help manufacturers drive innovation, double productivity, cut costs, and streamline workflows.
By providing a platform for creation, BCN3D has been at the forefront of developing technologies to assist innovators in materializing their ideas. It has been able to double productivity, reduce costs, and help manufacturers grow their businesses exponentially with their exclusive IDEX technology-based (Independent Dual Extruder) FFF 3D Printer.
Shree Rapid Technologies saw a synergy with BCN3D in growing the Indian Additive Manufacturing industry by providing a technology that would catapult manufacturers into the future of AM, with the backing of multiple decades of 3D Printing experience.
Nitin Chaudhari, Partner, Shree Rapid Technologies, said, "With BCN3D being the pioneer of the IDEX technology in Desktop 3D Printing, we are sure that we partner with one of the top leaders in Desktop 3D Printing in the market. BCN3D being a trusted brand globally with Engineering, Automobile, and Consumer goods industry, as well as Service Bureau market, we can offer an industrial professional desktop 3D printing in India now."
Xavier Martínez Faneca, CEO, BCN3D, commented, "It is an honor for BCN3D to partner with SRT, and I am confident their team in India will provide quality service to our customers. This is yet another example of BCN3D's rapid growth through expanding its Global Partner Network."
Image Source: BCN3D Technologies, Inc