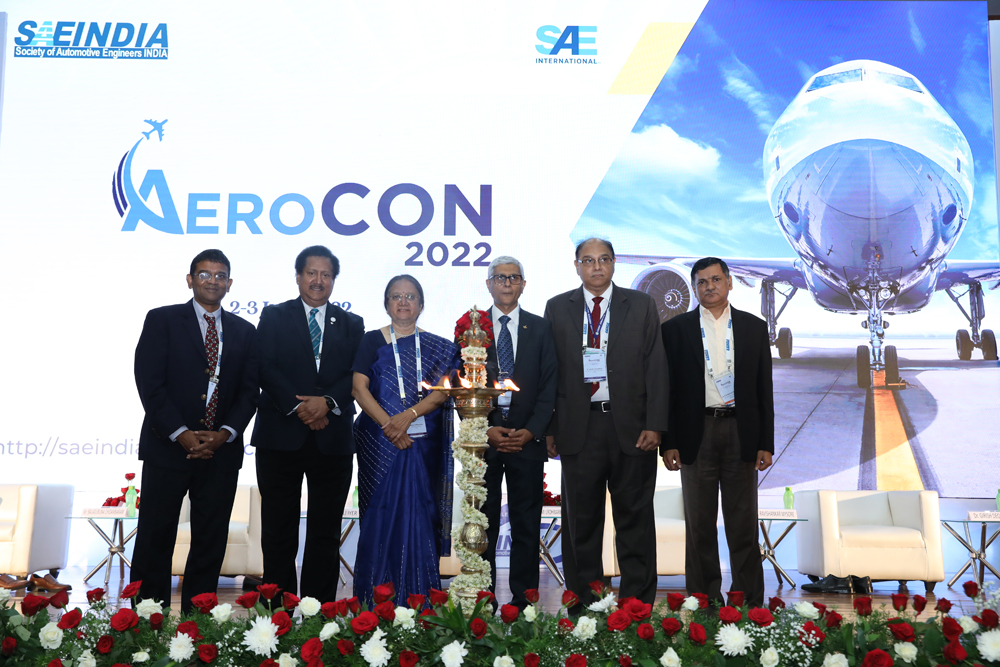 Bengaluru, India – SAEINDIA, a professional Society of Automotive Engineers, launched the 2nd edition of International Aerospace Conference in India, 'AEROCON 2022', in collaboration with SAE International. The biennial conference was held at HAL Management Academy, Doddanekundi Main Road, Marathahalli, Bengaluru, with the theme 'autonomous airborne systems, focusing on various research trends, challenges, and opportunities'.
This year's conference covered topics of great importance and interest to the industry, such as Artificial Intelligence and Machine Learning, Blended/Hybrid wing body designs, Electric Mobility, Robotics, and Industry 4.0. Furthermore, SAEINDIA partners with HAL Management Academy to provide job-oriented training to aerospace engineering students.
The ceremony was inaugurated by: Rashmi Urdhwarseshe, President, SAE India; Dr Murli Iyer, Executive Advisor Global Affairs, SAE International; Dr Ravishankar Mysore, Former Vice President, Collins Aerospace; Dr Shreekant Sharma, Chairman of General Manager, HAL; Dr Girish S Dedodhare, Director General, Aeronautical Development Agency; and Dr Balaguruna Chidambaram, Director, Boeing Research & Technology.
Image Source: SAEINDIA