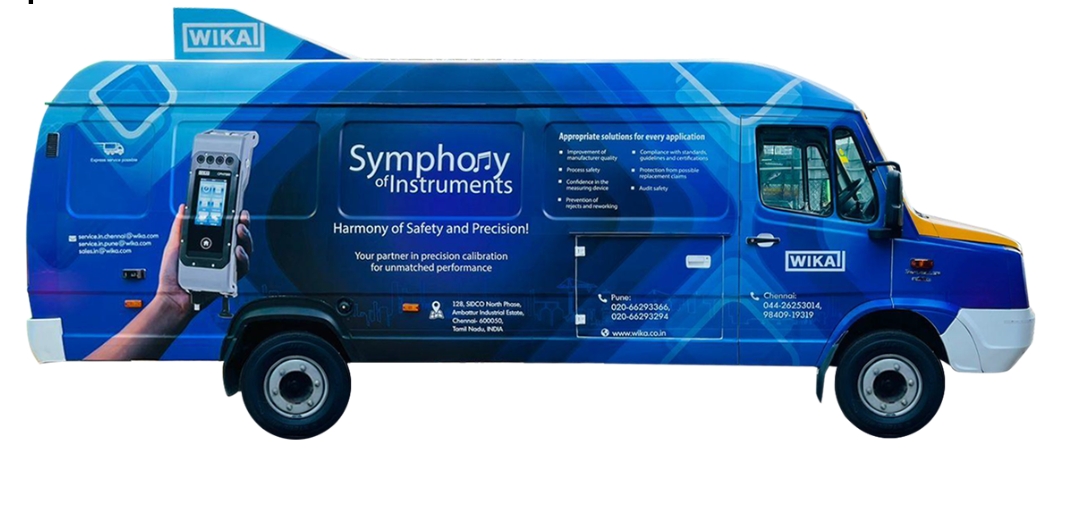 Bangalore, India – WIKA Instruments India Pvt Ltd, a wholly-owned subsidiary of WIKA Alexander Wiegand SE & Co KG, Germany, a global market leader in pressure and temperature measurement technology, has recently launched a Mobile Calibration Van for maintenance and repair at the doorstep of clients. The company has transformed an initiative born out of the need to maintain equipment during COVID-19 lockdown into a value-added service to provide services at the customer's doorstep, delivering convenience for service.
Following the success of the Mobile Calibration Van in Chennai, WIKA is now bringing it to Bangalore. The mobile vans will be strategically placed to ensure that they cover every important location. This mobile van is ideal for large, multi-site businesses with a large amount of measuring equipment that must be available 24 hours a day. The company intends to introduce mobile calibration vans in Northern and Western India.
Customers can now book appointments through various channels such as toll-free numbers, email IDs, and Web App from the comfort of their office or home, thanks to the Mobile Calibration Van's doorstep delivery of services. These mobile laboratories can travel to facilities to calibrate equipment that must be available 24 hours a day, seven days a week, optimizing costs and shipping time. At the end of the calibration, a report with the measurement error is provided. It measures the value before and after calibration, allowing clients to determine the device's functionality.
"Post sales Service and Quality of the products are always the most important parameters for acceptability and dependence on any product," says Gaurav Bawa, Managing Director and Sr Vice President, WIKA India. "In our endeavor to give the best to the customers, we came up with the concept of mobile calibration vans—to take servicing to their doorstep, instead of them shipping the machine to us, which used to be the general practice."
"COVID lockdown has taught us a lot. If you have a will, you have a way, and that is exactly how these vans were born. Maintaining calibrations of equipment in industrial units is essential for effective production. These vans are equipped with a master switch that helps in calibration services without any displacement or damage to the equipment," he further adds. "These calibration vans have been able to rule out any delay in transportation and helped us to initiate one of the best practices for WIKA India. Precision engineering market is expected to grow given the technology disruptions and call for services will also increase with it. We hope to gear up for the challenges through such innovative measures."
Image Source: WIKA Instruments India Pvt Ltd