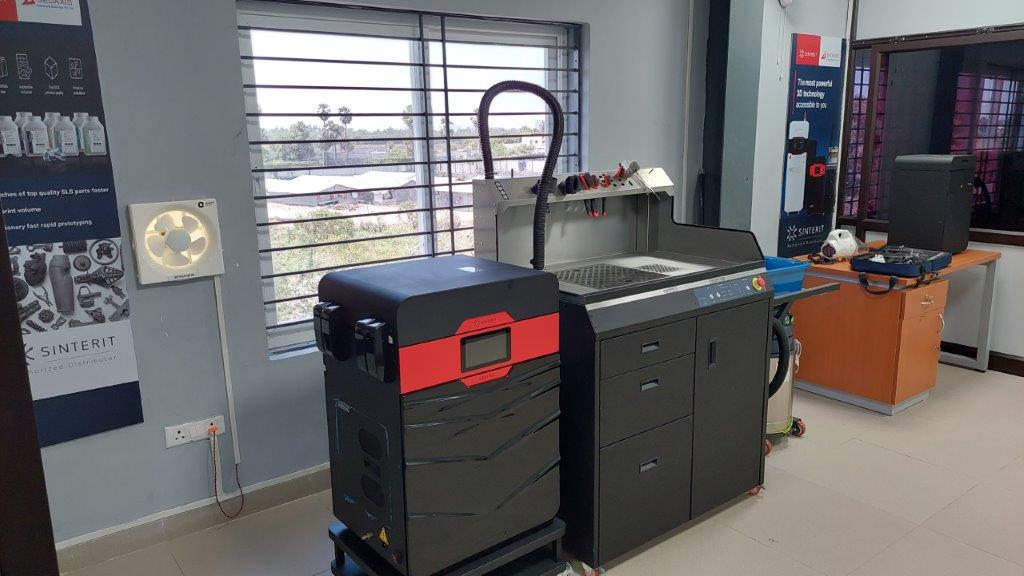 Kraków, Poland – Sinterit, a market leader in SLS 3D printing solutions, announced a groundbreaking partnership with Sedaxis Advanced Materials Pvt Ltd in India to further expand the reach and accessibility of affordable SLS 3D printing systems around the world. Sedaxis Advanced Materials will invest in the broadest range of printers in Sinterit's portfolio as part of their commitment, and will have the Lisa PRO, Lisa X, and NILS 480 in their recently launched VIT-Sedaxis AM Centre of Excellence in Chennai, India. This will benefit a large number of stakeholders in the region by assisting in the evaluation and adoption of affordable SLS printing for R&D (universities and R&D institutes), prototyping (SMEs and start-ups), tooling/jigs/fixtures, and small series production (larger MNCs and medical).
Sinterit's long-held goal of making SLS 3D printing more accessible to industry and academic users aligns perfectly with Sedaxis' goal of introducing and integrating proven and affordable 3D printing technologies and systems into India's rapidly growing academic, R&D, and business infrastructure, not to mention its world-class start-up ecosystem.
Rob Keogh, VP, Global Sales, Sinterit, commented, "We are delighted to partner with Sedaxis to bring professional, easy-to-use, 'open' SLS systems to the Indian market. We aim to closely partner with the most customer-centric and technically capable resellers globally, and Sedaxis impressed us with their professionalism, knowledge, and commitment to offering consultation with customers, to understand their needs, and to demonstrate the value and competitive advantage possible throughout our complete range of end-to-end SLS printing solutions.
In line with this, Vishwanath Godavarty, Business Head, Sedaxis, elaborated, "There aren't many established OEMs in the fast-emerging affordable SLS category in 3D printing. Sinterit pioneered this category more than 6 years back with the Lisa and Lisa Pro and has cemented its strength in this segment with the recent launch of the innovative Lisa X, and NILS 480 SLS printers in the compact and industrial categories, respectively."
"It is indeed a privilege to be the first AM solutions provider in India to bring Sinterit's entire portfolio, from Lisa Pro to Lisa X to NILS 480, to the Indian market," he further added. "The Sinterit range of printers is not just more affordable for the discerning, yet price-conscious customers in India, but with a wide range of printing powders and their open printing systems, they offer end-users an opportunity to innovate better and faster at significantly lower costs than is traditionally associated with SLS printing."
Image Source: Sinterit