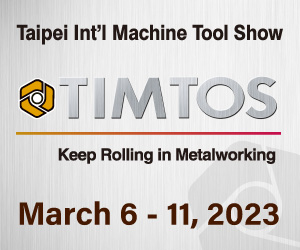 Taipei, Taiwan – Taipei International Machine Tool Show, or 'TIMTOS', is set to return from March March 6-11, 2023 in Nangang Exhibition Center, Hall 1 & 2 and TWTC Hall 1. All display spaces have been sold out, according to the organizer Taiwan External Trade Development Council (TAITRA). TIMTOS 2023 will feature over 6,000 exhibitors showcasing a comprehensive range of metal cutting machines, controllers, critical components, smart manufacturing solutions, and more. In addition, three new topic areas have been added: 'Advanced metalworking Technology', 'Additive Manufacturing', and 'Future Manufacturing'.
TIMTOS 2023 has attracted major companies in the global machine tool sector. CHMER, Fair Friend Group, FANUC, HEIDENHAIN, HIWIN, KAFO, MAZAK, Mitsubishi, Siemens, TAKISAWA, TRUMPF, TTGroup, Victor Taichung, YCM, and YOU JI are among the big names from home and abroad. The event will also feature national pavilions from Switzerland, Germany, United States, and Denmark. Every aisle of the grand show will feature the most recent models and smart manufacturing technologies.
According to the organizer, the addition of the brand-new theme areas will make TIMTOS 2023 more lively. All the most recent metal lamination production technologies will be gathered in the 'Additive Manufacturing' area. The 'Advanced Metalworking Technology' area will feature precision metal processing, which leads to brisk business potential in electric vehicles, aircraft, and low-orbit satellites. The 'Future Manufacturing' area will immerse visitors in cutting-edge technology and techniques such as 5G, AI, digital twins, edge computing, industrial metaverse, collaborative robots, and so on.
TIMTOS 2023, themed 'Keep Rolling in Metalworking', aims to connect the worldwide machine tool ecosystem and present the latest models and diverse innovative solutions to make metal processing smarter, more efficient, and more sustainable.
Image Source: Taiwan External Trade Development Council (TAITRA)