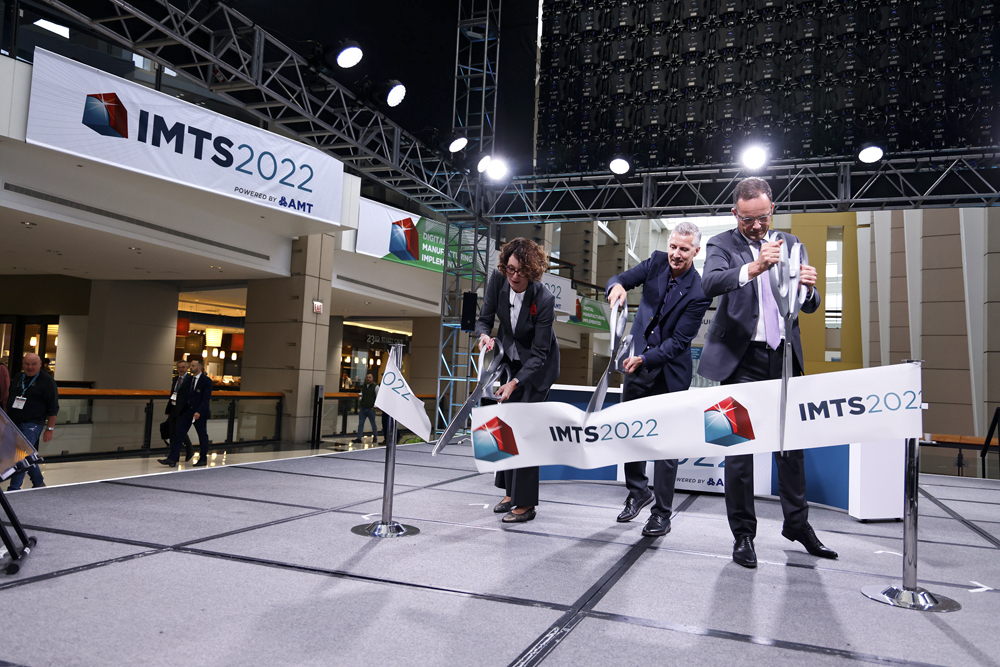 The 34th edition of the International Manufacturing Technology Show (IMTS) 2022 took place in live format from September 12-17, 2022, at McCormick Place in America's windy city – Chicago. Sitting on the shore of Lake Michigan, the venue played a perfect host to this spectacular show, connecting people from different parts of the world.
According to Douglas K Woods, President, AMT – The Association For Manufacturing Technology, the owner and producer of IMTS, though the excitement and electricity were seen in every aisle of the show, what was most gratifying for the industry was the scope of commerce taking place as visitors sought and found key technologies and productivity solutions to move their businesses forward.
IMTS 2022 stood true to its core theme: 'Digital Manufacturing.
Implemented'. The show featured many impressive advanced technologies ready to be implemented immediately on shopfloors and affordably priced to make technologies accessible to SMEs and MSMEs. This edition aimed to encourage people to start improving productivity and profitability. In this context, Peter R Eelman, Chief Experience Officer, AMT, added, "The digital technologies and other new products at this show aren't just advanced: they are accessible, inclusive, and ready to be implemented by small- and medium-sized businesses regardless of their workforce composition."
Echoing similar sentiments, Tim Shinbara, Chief Technology Officer, AMT, shared, "The automation systems at IMTS focused on ease-of-deployment, iPhone-level programming simplicity, and affordability for small- and medium-sized businesses. Visitors could find new startup automation companies and spinoffs in every hall, and every one of them introduced solutions for high-mix, low-volume applications to help job shops address their workforce and productivity issues."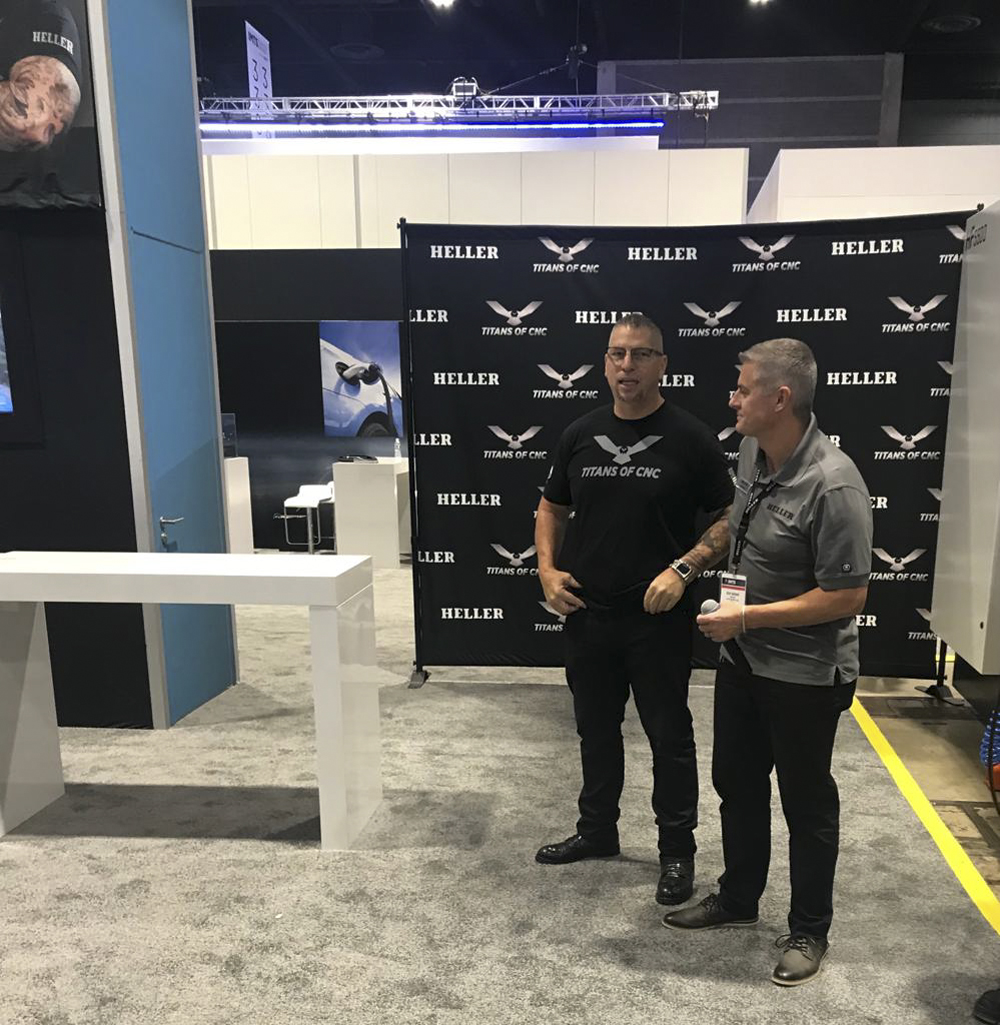 HELLER Machine Tools announced a strategic partnership with TITANS of CNC,
Inc. whereby TITANS of CNC will install two 5-axis machining centers in its
Texas facility and deliver innovative educational materials to the machining industry.
Impressive footfall
As per the record of the IMTS organizers, this edition of the show attracted 7,647 visitors to its educational and networking events. The IMTS Women Make Manufacturing Move specialty program attracted more than 1,213 people, representing 400 companies and 52 countries, to its three events.
The inaugural IMTS Investor Forum, powered by AMT, featured curated tours on additive manufacturing, digital technology, machining, and automation and was designed to help the investment community understand the opportunities in manufacturing.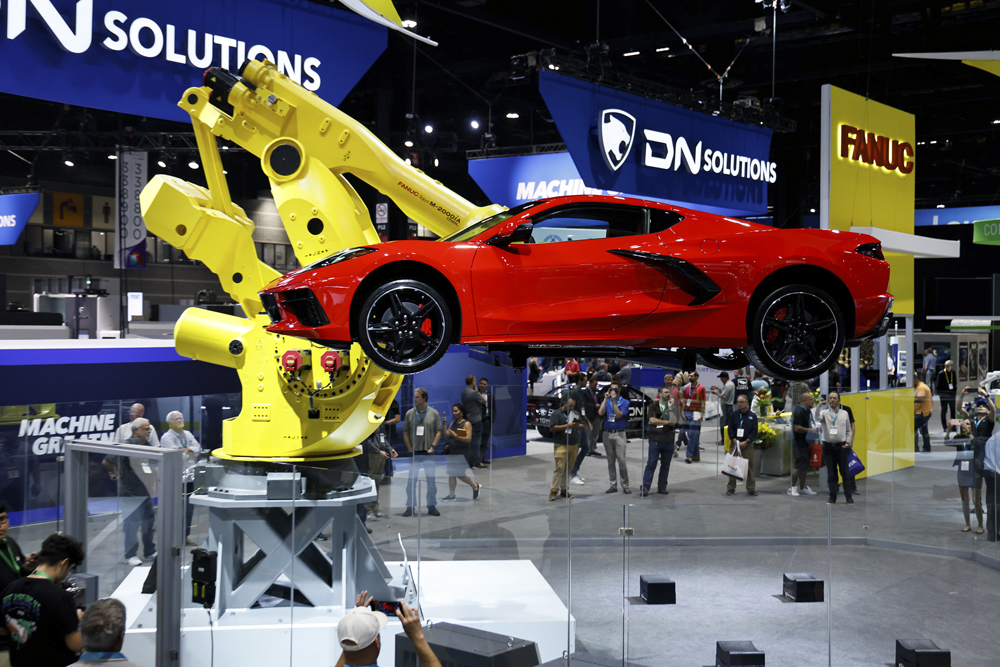 FANUC attracted visitors' attention with a demonstration of a heavy
payload industrial robot that can easily swing a car around.
Human connections with cobots
Ed Nichols, CEO, Hannover Fairs USA, shared, "The show is a leading knowledge and networking event focused on Industry 4.0, AI, robotics, automation technology, logistics IT, and industrial software."
"After a four-year gap due to the pandemic, we were happy to bring back HANNOVER MESSE USA as a co-located show with IMTS 2022. While personal emotion is not commonly associated with trade shows, this year really reinforced how much exhibitors and attendees appreciated reconnecting. Everyone expressed gratitude and grace for their support in coming to HANNOVER MESSE USA and IMTS," he added.
On the one hand, IMTS 2022 celebrated the power of human connection; on the other, it was a massive show of a thousand robots. The exhibitors integrated robots, cobots, and other automated functions into machining centers, welding systems, tooling centers, workholding pallets, inspection systems, and more.

IMTS 2022 achieved a total registration of 86,307, including 11,715 students, and featured 1.21 million sq ft of exhibit space representing 1,816 exhibitors and 1,603 booths.



Technologies showcased
According to the show organizer, the top five product categories that dominated IMTS 2022 were: Turning and Lathes, Machining Centers, Milling, Drilling, or Boring Machines, Tools and Tooling, and General Automation.
Mazak unveiled its SYNCREX Swiss-type automatic lathe. Okuma exhibited its GENOS M560V-5AX, which offers high-precision 5-axis machining, for the first time.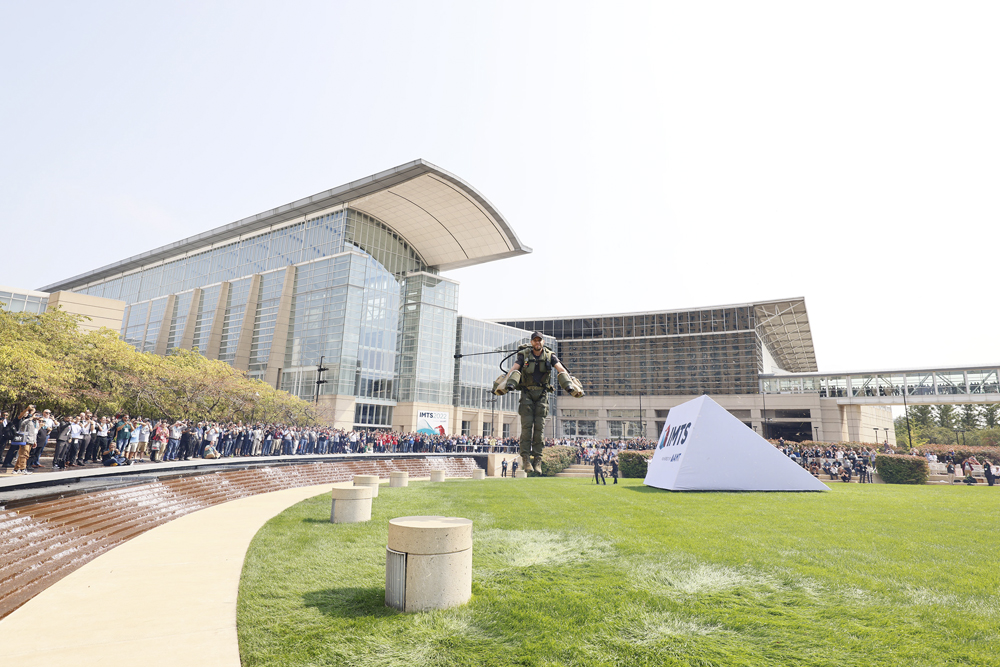 Richard Browning, Founder, Gravity Industries, flying his patented Jet Suit over McCormick Square.
The suit uses many 3D-printed components.On display were automation solutions combined with the flexibility of a collaborative robot (cobot) and an autonomous vehicle that can drive around a shop and tend to multiple machines without human intervention. To name a few, Staubli Robotics introduced the new HelMo mobile robot system equipped with multi-couplings a tool-changing system, and a tool station. Nachi Robotic Systems demonstrated a CZ10 cobot arm mounted on an EffiBOT autonomous mobile robot, simulating machine tending work.
Many companies, such as HP, Desktop Metal, and Jeol EBM, showcased new printers at IMTS 2022.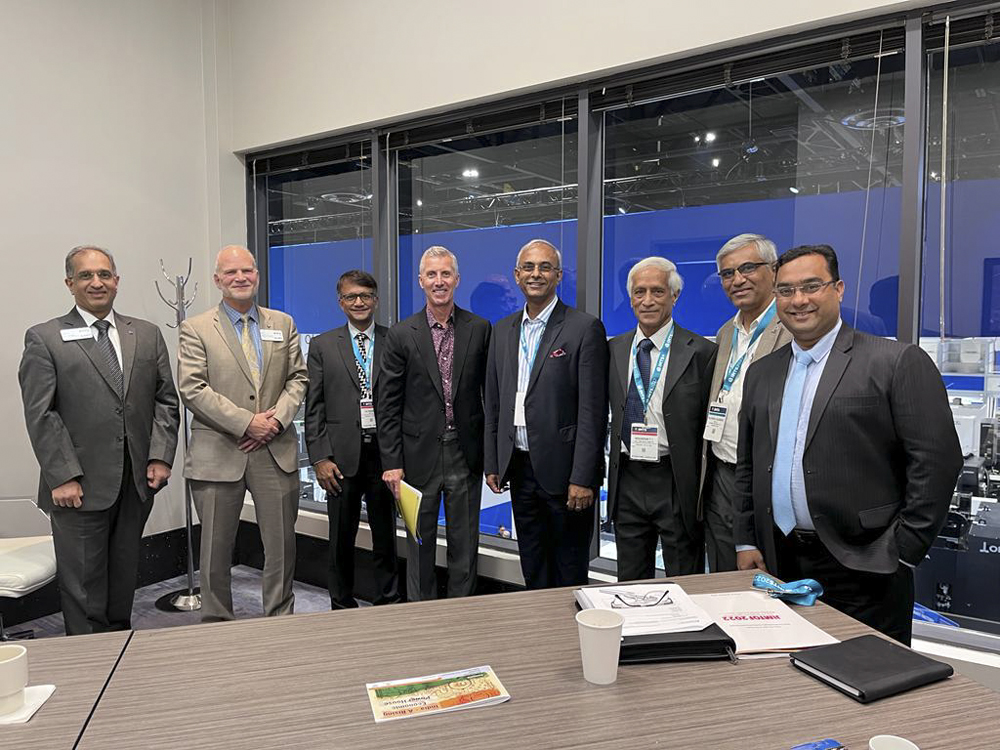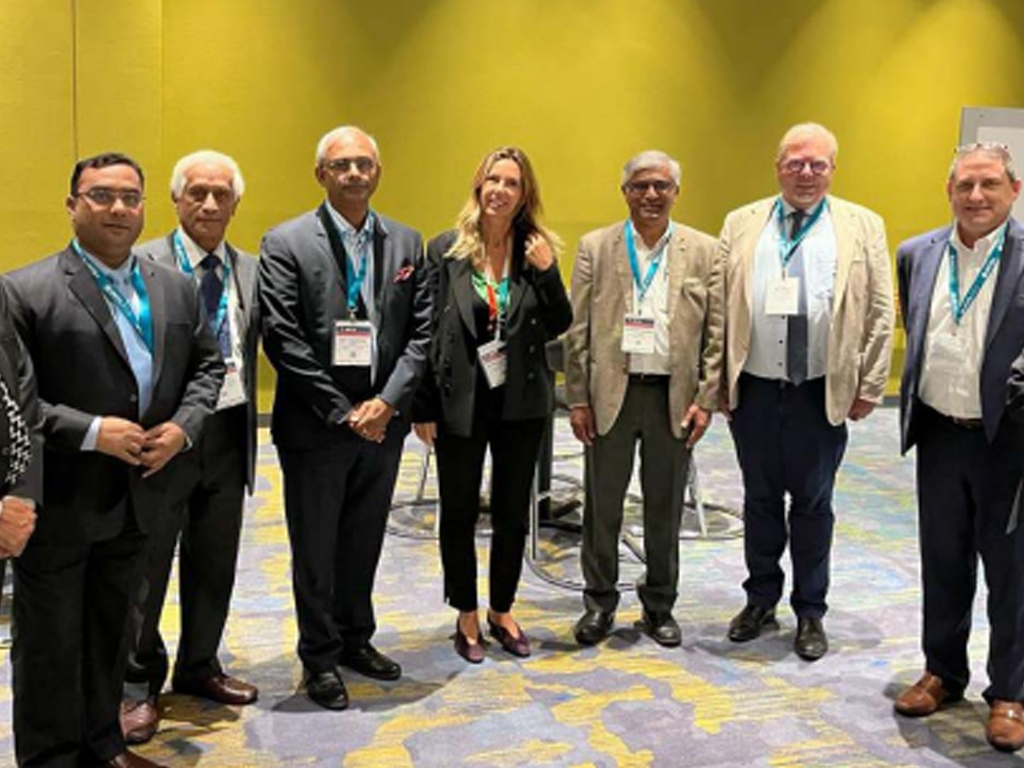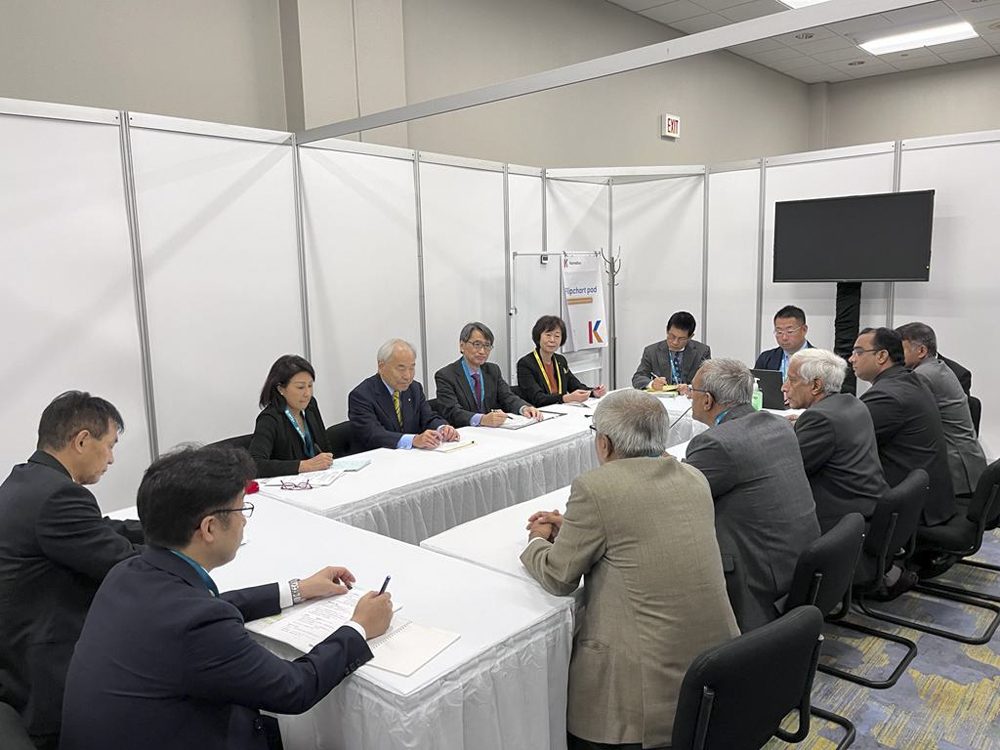 The top brass of IMTMA met the leaders of global machine tool builders' associations at IMTS 2022.
Visitors from a gamut of industries
Major visitors and delegates at IMTS 2022 were from Machine Shops and Contract Manufacturers, Metalworking Machinery and Equipment including Metalworking and Fabrication, Aerospace (Aircraft, Space, and Missiles), Automotive & Transportation, and Industrial Machinery (Assembly, Textile, Food Processing, and Material Handling).

Face-to-face shows back in full swing
IMTS 2022 witnessed the presence of machine tool builders from across the world. The global machine tool community congregated under one
roof to talk about shows that would take place on their home turf.
To this end, the top brass of Indian Machine Tool Manufacturers' Association (IMTMA) addressed select media at the show, highlighting the potential business opportunities in the Indian market and emphasizing the contribution IMTEX 2023 can make to the growth story. Ravi Raghavan, President, IMTMA, stated that the phenomenal 50-year-old IMTEX show is back after a gap of four years with more vigor, innovation, and myriad technologies that would make manufacturing smarter. IMTEX 2023 & Tooltech 2023 will take place from January 19-25, 2023, at Bangalore International Exhibition Center.
Talking about the sunshine sectors that are putting India on the global map, he shared that India is strongly gaining its foothold in mobile manufacturing as well as electronic manufacturing space.
With JIMTOF 2022 around the corner, Japan Machine Tool Builders' Association (JMBTA) organized a press conference to familiarize the audience with the show and the advanced technologies that will be displayed at Tokyo Big Sight from November 8-13, 2022.
Around 50 brands of intelligent machine tools and components from Taiwan participated in IMTS 2022. In order to promote TMTS 2023 and TIMTOS 2023, the Smart Machinery department of the Trade Bureau of the Ministry of Economic Affairs, Precision Machinery Research and Development Center (PMC), and Taiwan External Trade Development Council (TAITRA), along with five leading Taiwan machine builders, hosted a press meet.

The Smartforce Student Summit at IMTS 2022 presented 24,000 sq ft of interactive experiences, its most extensive floor plan to date, with technology and dozens of education-to-career pathways on display.



Next dates announced
IMTS 2024 will take place from September 9-14, 2024, at McCormick Place, Chicago, bringing in more eye-catching technologies for the manufacturing community.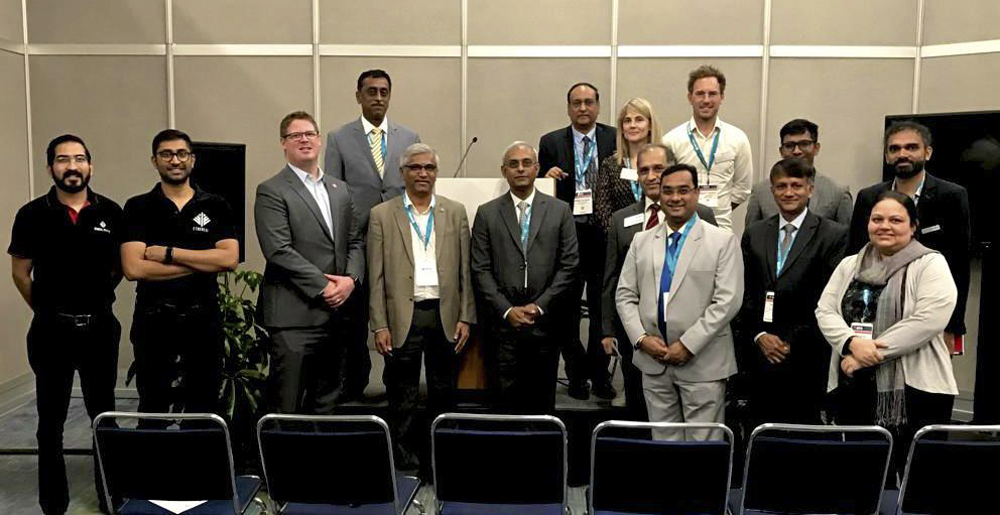 Ravi Raghavan, President, IMTMA (center); Rajendra Rajamane, Vice President, IMTMA (4th from left); Bryce Ellis, Vice President, Gardener Business Media (3rd from left); Guru Prasath, Executive Director, IMTMA (3rd from left); Dayanand M, Director, Corporate Communications, IMTMA (2nd from left); along with Arun Mahajan, General Manager, AMT (4th from left) and Vikram Salunke, Managing Director, Accurate Gauging & Instruments Pvt Ltd (3rd from right top), post media conference at IMTS 2022.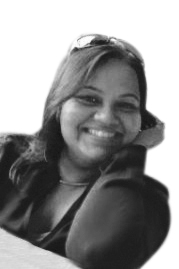 SOUMI MITRA
Editor-in-Chief
Modern Manufacturing India
soumi.mitra@magicwandmedia.in