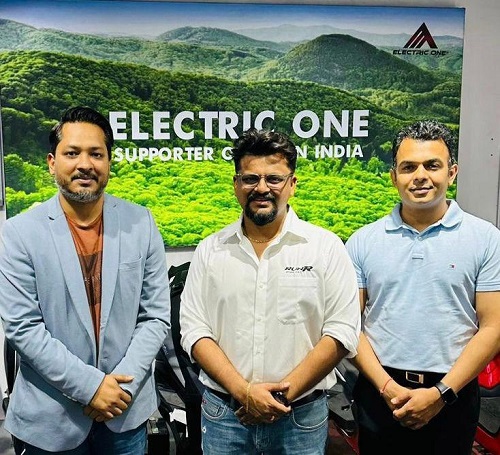 Gurugram, India – RunR Mobility from Vadodara, Gujarat, also known as MECPower Mobility Pvt Ltd, and Electric One Energy Pvt Ltd—India's largest EV superstore chain—announce a close cooperation in the area of sales of high-speed eScooters in India, making it the largest and most promising cooperation in the field of electric mobility in 2023. This unique cooperation in the Indian EV market promises an enormous win-win situation for both sides and aims to make RunR Mobility's vehicles more affordable and accessible to consumers. This partnership will enable them to avail themselves of RunR Mobility's EV scooters hassle-free. Furthermore, it will cultivate trust in the minds of Indian and global buyers who are looking forward to innovative, affordable, and 100 percent indigenous electric vehicles.
Setul Shah, Founder, RunR Mobility/MECpower Solutions Pvt Ltd and Amit Das, Founder & CEO, Electric One Energy Pvt Ltd, are convinced to make a decisive contribution to decarbonization across India. Technically high-quality eScooters are of great interest to every user. After-sales service is an essential part of this cooperation. Together, both brands aim to become pragmatic leaders in the rising market for electric vehicles with a complete ecosystem to benefit end customers. In Gujarat, Electric One will exclusively sell the high-speed eScooters in their dealer network, and all other 100+ dealers across India will also sell these high-quality eScooters, thus ensuring a strong presence.
RunR Mobility is the manufacturer of a 100 percent indigenous 2-wheeler EV that's #DesignedToSpendSmart. The complete emphasis is on affordability and also includes unique features, resolving safety concerns about batteries, insufficient infrastructure, and quality issues that are currently seen in other products that are either cheap Chinese imports or expensive. RunR Mobility is all set to introduce the RunR HS EV model of two-wheelers with great savings and provide affordable commute solutions to its customers. Meanwhile, the team is continuously working on the production of the next EV model (RunR HS plus) with unique explosion-proof swappable batteries as well as charging infrastructure.
Electric One with the motto 'Think Electric - Think Electric One!', is also present in Dubai, Sri Lanka, and Nepal. The multi-branded business concept with a wide range of top eScooters/eCycles/eRickshaws under one roof is the success of the dealership management. Electric One will grow up to 500 stores till the end of 2024. Further new concepts in training and education are coming up soon to ensure the quality of business for every dealer and employee.
Image Source: Electric One Energy Pvt Ltd