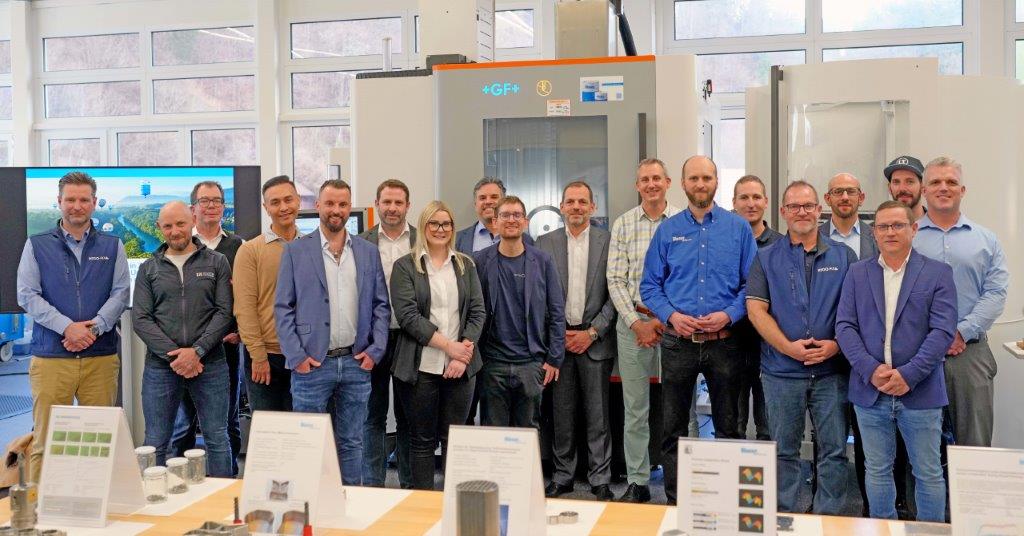 Hasle-Rüegsau, Switzerland – Recently, eight industry leaders kicked off their global social media partnership. Big Kaiser, Blaser Swisslube, DIXI Polytool, GF Machining Solutions, GRESSEL AG, OPEN MIND, REGO-FIX, and Rotoclear will contribute their metalworking expertise and marketing prowess to bring to life a multitude of custom creations, video content, and informative technical tips. To celebrate this new partnership and introduce itself to the world, the partners' first project is a unique diamond trophy, a complex 5-axis project that utilizes specialty tooling and programming to machine both metal and polycarbonate. This is the first of many projects that will be rolled-out over the next year, so follow all the partners on social media to stay up to date on their latest creations.
Big Kaiser – A global company part of the family-owned group of BIG Daishowa Seiki Co. Ltd from Japan. They develop, manufacture and distribute high-end tooling and tool holders for the metal cutting industry, such as anti-vibration boring bars or self-balanceable and digital boring heads.
Blaser Swisslube – Since 1936, they have stood for lubricant solutions that offer measurable, added-value and are gentle to people and the environment. As a family-owned Swiss company they offer a comprehensive range of premium metalworking fluids and support services.
DIXI Polytool – Based in Le Locle, Switzerland, they manufacture precision cutting tools in solid carbide, diamond-tip specialty tools, forming tools, and precision reamers. They are well-known in industries such as watchmaking, medical, bar turning, aeronautics, automotive, and even plastics machining.
GF Machining Solutions – Providing the automated 5-axis machine for the partnership, they are one of the three divisions within the Georg Fischer Group, the world's leading provider of machines, technical solutions and services to the tool and mold making industry, as well as to manufacturers of precision components.
GRESSEL AG – Headquartered in Aadorf, Switzerland, GRESSEL AG is part of SCHUNK SE & Co KG and is known for high-quality and efficient work-piece clamping technology. They started as a mechanical workshop and created the first workbench vice in 1933.
OPEN MIND – develops the powerful CAD/CAM solution hyperMILL that provides state-of-the-art strategies: from 2.5D, 3D, and 5-axis machining as well as turning strategies and solutions for additive manufacturing, HSC, and HPC machining.
REGO-FIX – Starting in Switzerland and now globally known, Rego-Fix offers cutting-edge tool-holding and automated tool set-up solutions. You can find their products used in automotive, aviation, mold construction, mechanical engineering, medical technology, and watchmaking.
Rotoclear – Their cameras and viewing panels feature self-cleaning spinning windows and are easy to install and operate. Based in Germany, they offer cameras of various calibers that allow unobstructed views to your machining operations.
Image Source: Blaser Swisslube AG