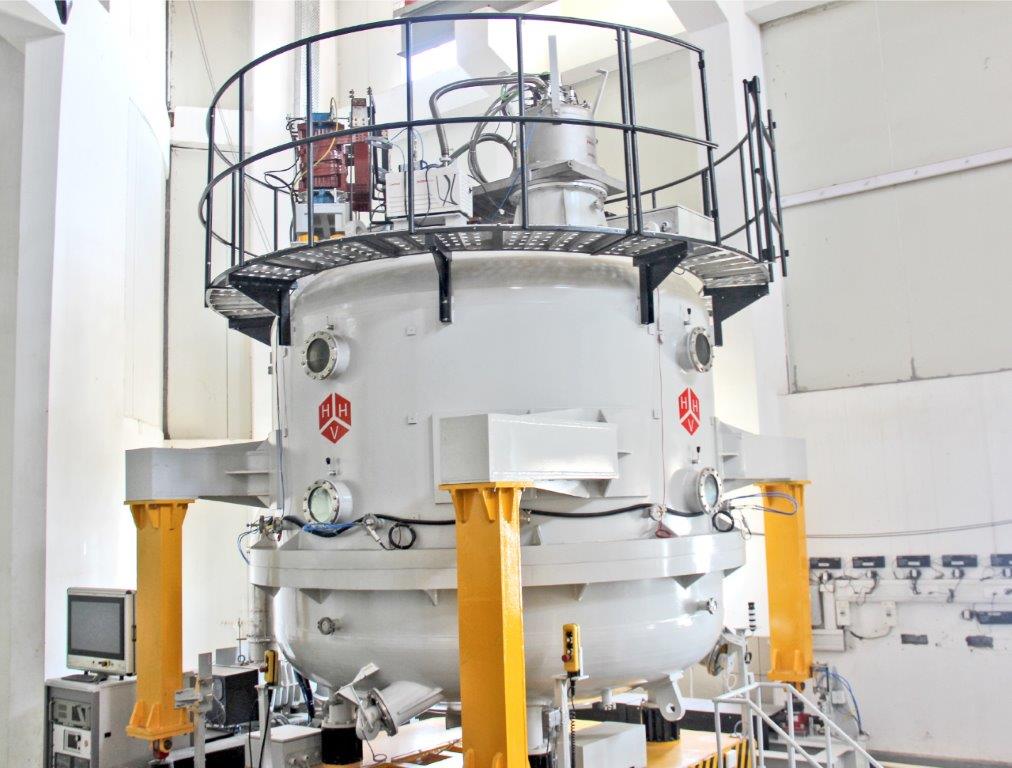 Bengaluru, India – Hind High Vacuum Advanced Technologies (HHVAT), a subsidiary of the Bengaluru-based HHV group and a leading provider of equipment's in vacuum science, thin film technology, and optics applications for high-tech electronics and machinery, has successfully completed the installation of 2.5m Telescopic Mirror Coater (TMC) in Gurushikhar Peak of Mount Abu, Rajasthan, India, at an altitude of about 5,600 feet above mean sea level. This is for the Physical Research Laboratory (PRL), a unit of the Department of Space, Government of India, to coat high reflective Aluminum onto mirrors of the telescopes.
The PRL was founded in 1947 by Vikram Sarabhai, and carries out fundamental research in physics, space and atmospheric sciences, astronomy, astrophysics and solar physics and planetary and geo-sciences. The mirrors of the telescopes are amongst the most important components for sensing radiation from distant sources. These need to be coated with a reflective Aluminum that aids efficient light collection by a vacuum deposition process to obtain the best properties in reflectivity and durability.
The TMC installed by HHVAT is equipped with a unique downward physical vapor deposition process, which demands a diligent hardware design to ensure a smooth and debris-free aluminum coating onto both a hyperbolic concave primary mirror (M1) and a hyperbolic convex secondary mirror (M2).
The key highlights and features of the 2.5m Telescopic Mirror Coater are:
Highest safety controls and interlocks to ensure safety of operator and equipment.
Modular design for easy transportation.
Earthquake resistant to ensure mirror safety.
Equipment designed considering the high humidity at site.
In-situ cameras for remote monitoring of the process.
Vibration-resistant trolley for mirror loading and unloading.
Shields to prevent debris during downward evaporation.
Whiffle tree with 9-point support system capable of rotation at various speeds.
Compatible to coat M1 and M2 mirrors without changeover.
Inline mirror cleaning system with CO2 foam.
In-situ mirror cleaning with plasma.
Telescope mirrors of size of up to 3,700 mm diameter and weighing more than 4,000 kg can be accommodated in HHV coating chambers with a maximum overall dimension of 4,000×2,100 mm. The coaters offer an automated and highly reliable process for coating mirrors with Aluminum and/or Silver-based coatings. HHVAT is the supplier of the TMC equipments for several organizations in India and across the world such as the Indian Institute of Astrophysics, Inter-University Centre for Astronomy and Astrophysics, Aryabhatta Research Institute of Observational Sciences, and Observatory of the Sternberg Astronomical Institute, Moscow State University, Russian Federation.
"Astronomical telescopic mirrors coaters require a technologically advanced high vacuum equipment design, engineering, and manufacturing, HHVAT has been globally recognized as a trusted supplier of vacuum coaters for telescopic mirrors and has demonstrated at various locations, including demanding high altitudes going up to about 14,800 feet," said Prasanth Sakhamuri, Managing Director, HHVAT.
Image Source: Hind High Vacuum Advanced Technologies (HHVAT)