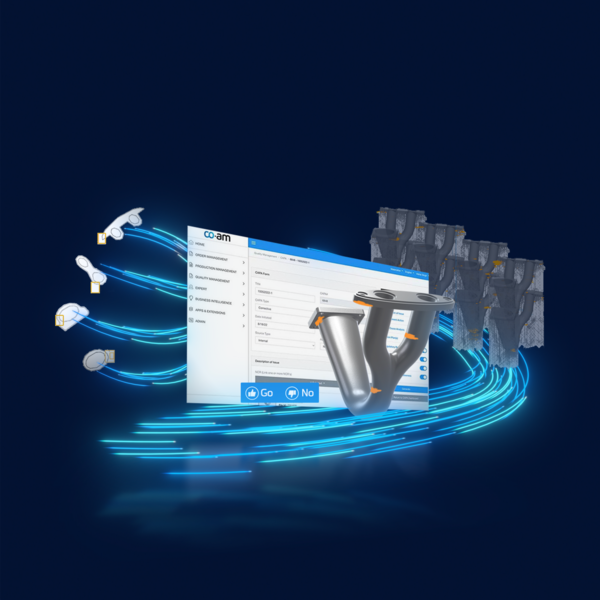 Frankfurt am Main, Germany – Materialise NV, a global leader in 3D printing software and service solutions, and HP Inc, a global technology leader and creator of solutions for personal computing, printing, 3D printing, and more, announced a strategic partnership to integrate HP's Multi Jet Fusion and Metal Jet additive manufacturing (AM) technology into the Materialise CO-AM software platform. This collaboration will enable manufacturing companies to raise the efficiency and quality of their 3D printing to match industrial requirements and use it for volume production of end parts.
"To scale additive manufacturing, the industry is in need of printers that are designed for high productivity coupled with an integrated end-to-end workflow solution—the partnership between HP and Materialise delivers this solution," said Arvind Rangarajan, Global Head - Software and Data, HP Personalization, and 3D Printing.
Manufacturers recognize the unique benefits of AM but face challenges as they onboard the technology. The speed of their 3D printing process doesn't hold up to volume production, and they often have difficulties integrating the process with existing manufacturing technologies. To support these companies, HP delivers industrial 3D printing solutions that are manufacturing-ready. In combination with the Materialise CO-AM Software Platform, manufacturers can link HP's Multi Jet Fusion and Metal Jet technology to their existing production systems and optimize the AM workflow from order entry to delivery.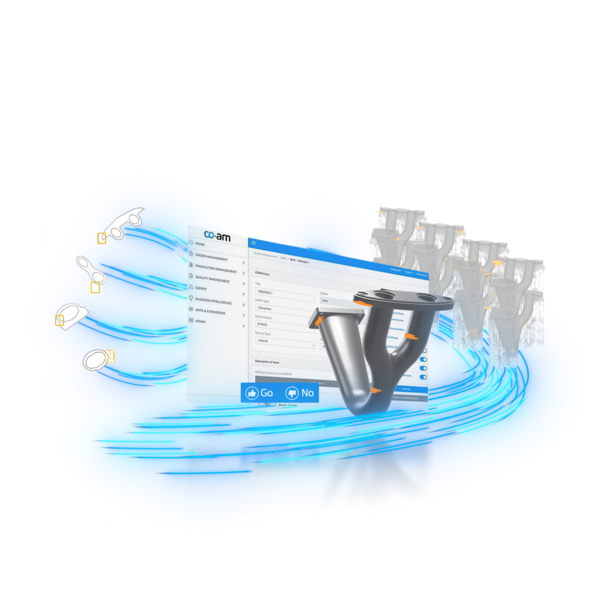 As a HP preferred partner, Materialise will provide the industry with an end-to-end manufacturing solution that is integrated with an additive technology that is designed for productivity and scale—MJF and Metal Jet systems. As part of this partnership, HP will help customers identify meaningful use cases for the software platform as well as showcase the solution at HP demo facilities and public events.
"Manufacturers are increasingly using 3D printing for end-use parts instead of solely in the prototyping and design phase," said Bart Van der Schueren, CTO, Materialise. "This partnership will help drive this shift by supporting more efficient, repeatable volume production."
The seamless connectivity between HP AM technology and Materialise CO-AM enables users to create workflows that improve traceability, quality control, and machine utilization. Optimized 3D print job management allows production leads to track planned and actual printer activities and optimize machine time. To ensure continuous production, real-time machine monitoring provides operators and engineers with critical process data, including build status, material usage, and machine sensor data. This data can be collected and stored in log files of 3D printed jobs to enhance traceability and quality control. In addition to their 3D printers, Metal Jet users can connect process-relevant HP machinery to the CO-AM platform, such as Powder Management Station, Curing Station, and Powder Removal Station. This integration allows Metal Jet users to streamline the post-processing of metal parts within the manufacturing process.
CO-AM includes Materialise's leading data and build preparation capability from Magics, which connects to HP 3D printers via the HP Build Processor. Users benefit from a proven toolset to prepare their 3D printing jobs for all major AM technologies. They can add workflow automation for repetitive tasks and use nesting to maximize the number of parts per job to increase machine utilization. Additionally, CO-AM provides access to complementary solutions from Materialise and third parties, including CO-AM partner solutions for design automation, mass customization, automated labeling, and various post-processing technologies. CO-AM enables AM users to connect and manage technologies from different machine builders over one platform.
Materialise published a case study of Extol's Digital Development Center earlier this year. Extol powers their HP Multi Jet Fusion printers with CO-AM to produce custom 3D-printed knee braces for Baretta Medical Institute patients.
Image Source: Materialise NV