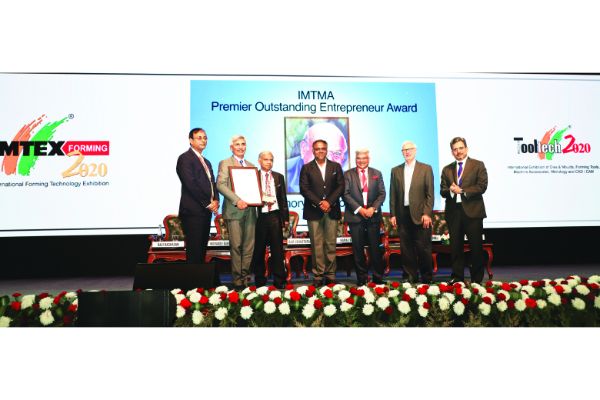 Indian Machine Tool Manufacturers' Association's (IMTMA) premier exhibition for South and South East Asia, IMTEX FORMING & Tooltech has been serving as a one-stop experience, bringing together metal forming professionals from far and wide. Raising its bar in its 2020 edition, the event turned out to be an even grander affair and covered all aspects of forming technologies. A snapshot of the show.

Poonam Pednekar
Chief Copy Editor
Magic Wand Media Inc
poonam.pednekar@magicwandmedia.in
The latest edition of IMTMA's flagship show for the Indian metal forming industry was a scaled-up event that kept to its tradition of convening quality visitors from a variety of manufacturing and ancillary industries including key decision and policy makers keen to source the newest technologies and manufacturing solutions for their product lines.
Held from January 23 – 28, 2020 at the Bangalore International Exhibition Centre (BIEC), Bengaluru, the show covered 33,000 sq mt and featured more than 500 exhibitors from over 22 countries including India. The sixth edition of the show came across as a festival of innovations in metal forming including high-speed laser cutting, sheet metal working, welding and joining, presses, metrology, and CAD/CAM.
Leaders unite
The event was inaugurated with the traditional lamp lighting ceremony by the Guests of Honour Ram Venkataramani, Immediate Past President, Automotive Component Manufacturers Association of India (ACMA) and Kamal Bali, President & Managing Director, VOLVO Group India.
Other dignitaries present were Indradev Babu, President, IMTMA; Ravi Raghavan, Vice President, IMTMA; Jamshyd N Godrej, Chairman, Exhibitions, IMTMA; V Anbu, Director General & CEO, IMTMA, along with industry titans, renowned industrial experts and academicians.
With eminent industry representatives present together, the occasion was an expression of solidarity and made for the perfect setting to deliberate on the challenging times the manufacturing industry on the whole is going through.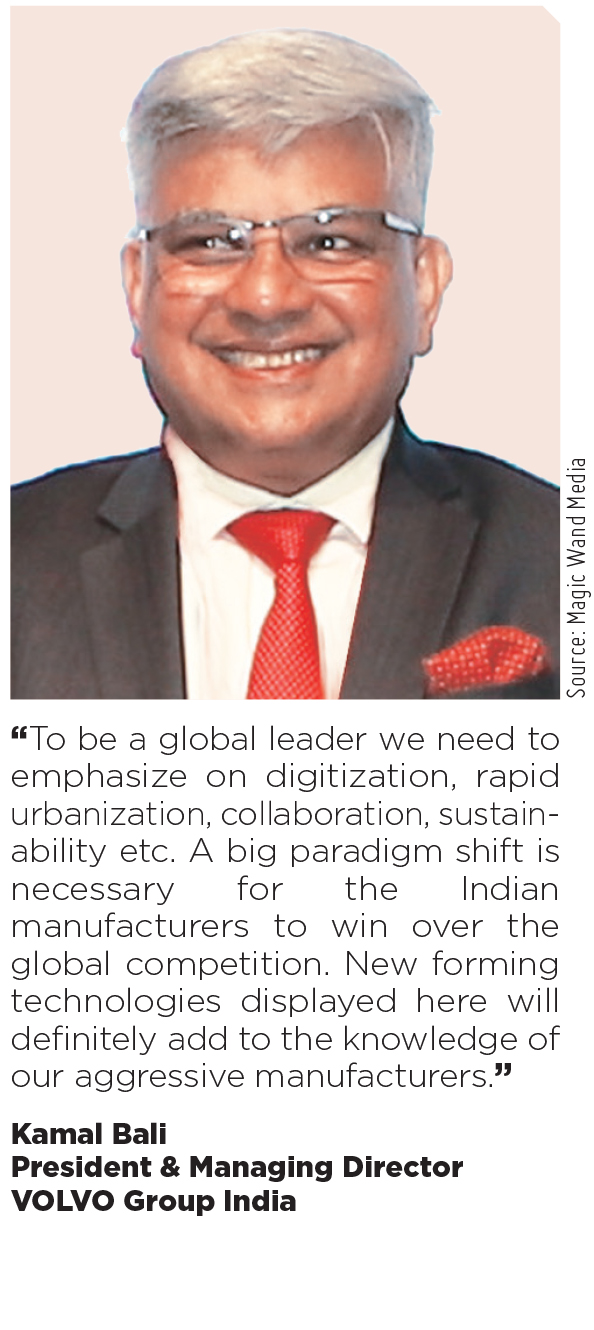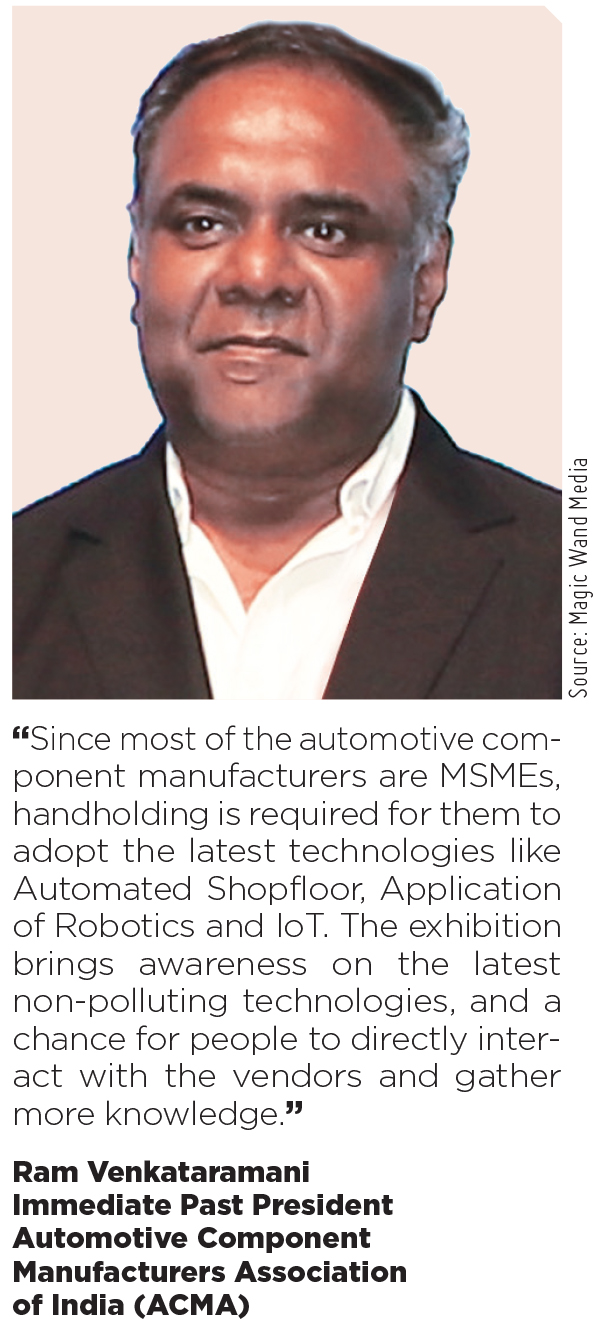 The turbulence in the auto sector, caused by the disruptions and changing emission norms, has impacted the machine tool industry too. However, equipped with experience, expertise and far-sightedness, the industry captains could see positive times following soon.
Offering his take on the situation, Venkataramani noted, "We, the automotive industry, being the major consumer of the latest machinery, are passing through a slowdown condition, which has a downsizing effect on the machine tools industry. This phase, however, is a temporary one and we have to gear up to face the global competition soon. Against this backdrop, IMTEX FORMING is expected to bring exposure on the latest forming technologies that will help our members explore ways for weight reduction, to develop composites and reduce or eliminate the use of metals."
He further added, "Since most of the automotive component manufacturers are MSMEs, handholding is required for them to adopt the latest technologies like Automated Shopfloor, Application of Robotics and IoT. The exhibition is expected to bring more awareness on the latest non-polluting technologies. Here, our people can witness them and directly interact with the vendors to gather more knowledge on the emerging technologies."
Exhibitions uplift the industry
Attesting to the fact that exhibitions such as IMTEX FORMING can help reverse the situation, Bali stated, "To be a global leader we need to emphasize on digitization, rapid urbanization, collaboration, sustainability etc. Sustainability has three components: people, profitability and environment friendliness. We need to focus on these. Opportunities will definitely increase but we may have to shift from where we stand today.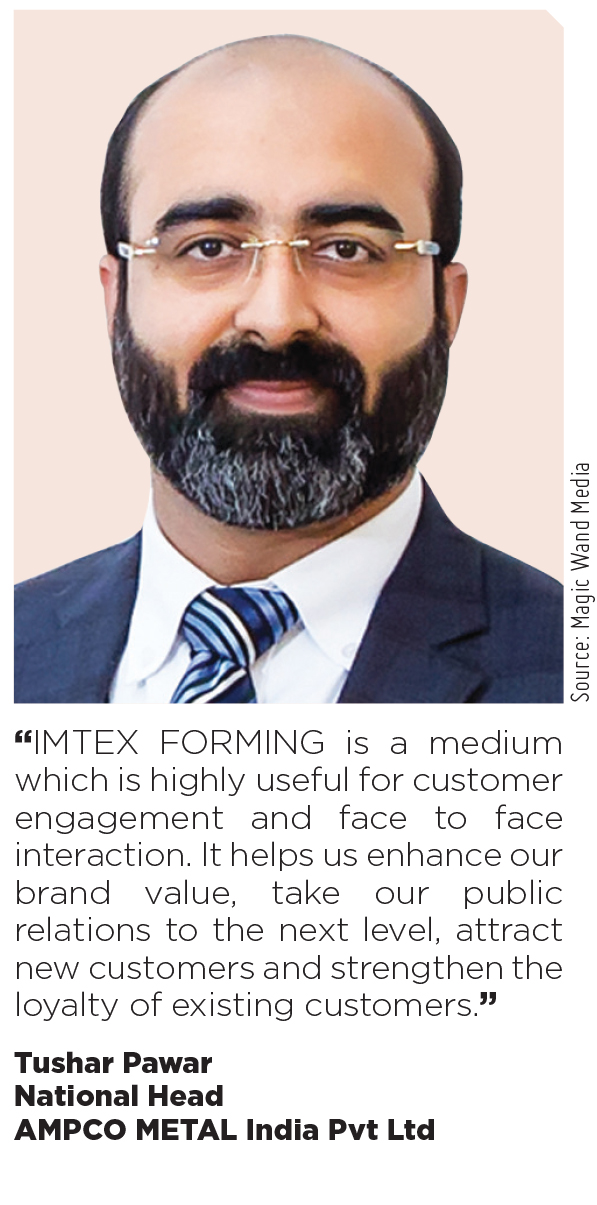 A big paradigm shift is necessary for the Indian manufacturers to win over the global competition. New forming technologies being displayed here will definitely add to the knowledge of our aggressive manufacturers who want to be in the global arena in the coming days."
Seconding him Babu noted, "The machine tool industry is a global industry. And for the Indian manufacturers to compete in the global competition, their exposure to the latest forming technologies is highly essential. The last IMTEX FORMING witnessed a record number of attendees. The current edition of the show is slated to be even better."
Acknowledging entrepreneurship
Shiva Shankaraiah, Managing Director, Trishul Machine Tools Pvt Ltd, was honoured with the highly-regarded IMTMA Premier Outstanding Entrepreneur Award. The award has been instituted in memory of Vinod Doshi, Chairman of Premier Ltd, an outstanding industrialist and one of the founding fathers of IMTMA. While reflecting on his journey and its milestones, he noted, "Looking back, I feel things could have been better. To be globally successful, two things need to be overcome: Fear of failure and the typical middle-class mentality. Traditional machine tools manufacturing countries are failing to be globally cost competitive today. Thus, we have enormous global opportunity. I believe the decade belongs to us."
Co-located shows and programs
Running parallel with IMTEX FORMING 2020 & Tooltech 2020 was a one-day International Seminar on Forming Technology that brought together renowned experts from eminent national and international companies and research institutes to share their expertise and reflect on the latest developments in metal forming technologies. Another concurrent was i2 Academia Pavilion that aimed to bridge gaps between the two entities and offer an opportunity to academic institutions to showcase their R&D capabilities to the industry fraternity. MIT, Art Design and Technology University, Pune, received the first prize; NMAN Institute of Technology (Centre for Welding Technologies), Udupi, won the second prize; and the third prize went to Dr VD Karad NIT World of Peace University, Pune. CONNECT and Reverse Buyer Seller Meet (RBSM) were other initiatives that helped facilitate network and forge connections.
Gearing up for IMTEX 2021
After this successful edition of IMTEX FORMING, IMTMA will be organizing its flagship IMTEX 2021 at BIEC, Bengaluru from January 21 - 27, 2021. The 50 years old machine tool exhibition, IMTEX, will now be a more comprehensive and extrapolated show covering an exciting assemblage of new-age technologies under one roof by remodeling itself to a new paradigm as the 'International Machine Tool and Manufacturing Technology Exhibition'.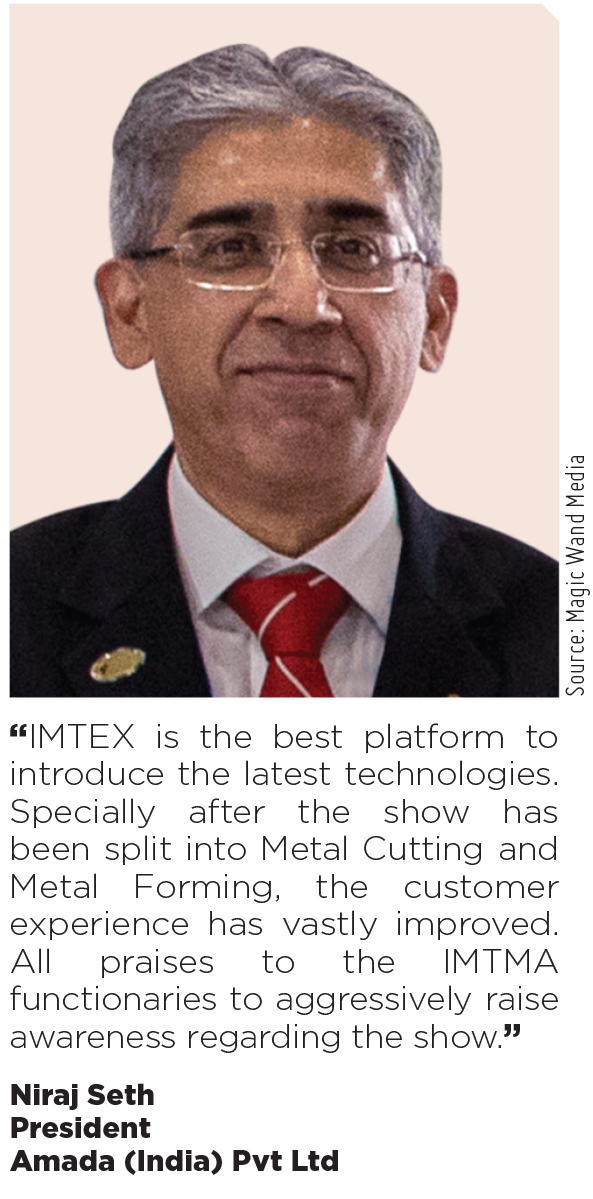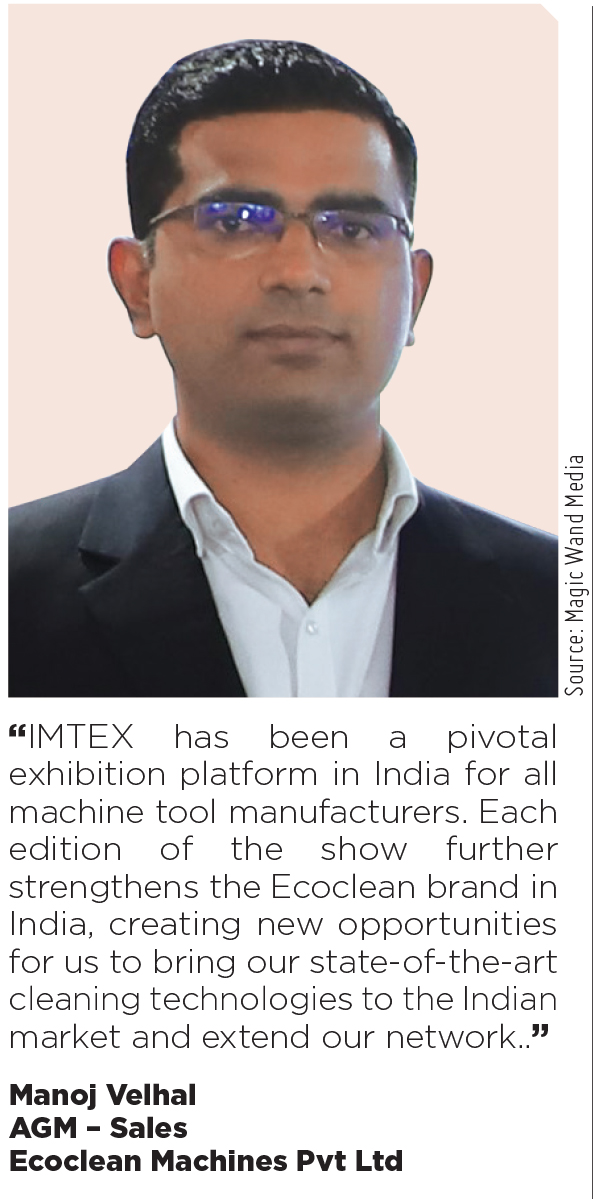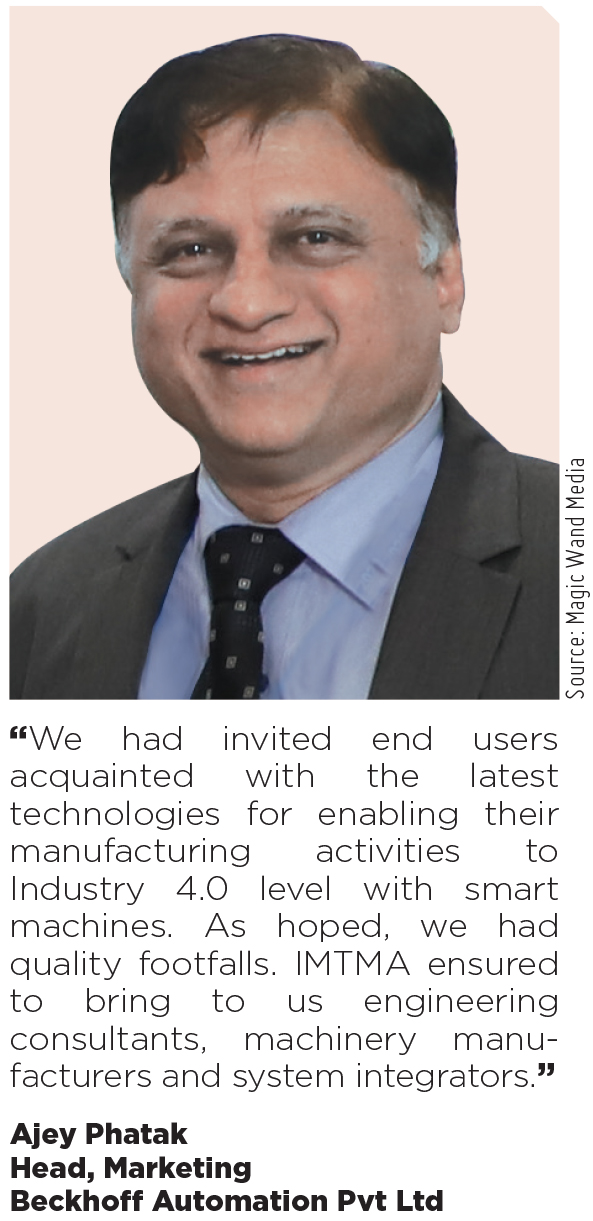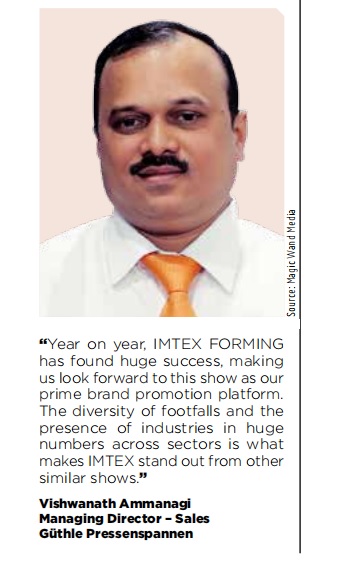 In IMTEX 2019, new pavilions were introduced to cover Additive Manufacturing under the banner 'Additive Manufacturing Expo' and Industry 4.0 under the banner 'Factory of the Future'. In IMTEX 2021, these two pavilions will converge under the banner 'Digital Manufacturing'.
IMTEX 2021 will showcase a wide range of metal cutting machine tools. The manufacturing segment will feature a broad spectrum of technologies ranging from Digital Manufacturing to Cloud, Additive Manufacturing, Digital Factory, Industry 4.0 etc.
The concurrent exhibition, Tooltech will continue and showcase the world of Parts, Accessories and Systems for machine tools and manufacturing technology. As one of the leading global machine tool and manufacturing technology shows, IMTEX 2021 will attract leading industry think-tank and industry influencers.
Hope Amidst Slowdown
IMTEX FORMING 2020 & Tooltech 2020 was witness to the Indian industry showing signs of revival with its players coming back in action and procuring new machines…
Held against the backdrop of a prolonged slowdown, the latest edition of IMTEX FORMING & Tooltech reported the exhibitors receiving an unexpected response from the visitors. They had quality visitors placing a significant number of orders with them.
ITL Industries Ltd of Indore had its circular saw machines for cutting pipes and solids for live demos. One was CNC Solid Cutting Machine for mass production in forging industry and the others were hydraulically operated machines for pipe cutting. MI Quraishi, DGM (Marketing), ITL, said, "Considering the market scenario, the response was good. I am glad to note that despite the market slowdown, people were keen to explore new machines."
Sudhir Udyavar, Asst. General Manager – Sales & Service, Mechelonic Engineers Pvt Ltd, held the same view. "There were lesser footfalls this time, which was expected. However, we received a great number of serious enquiries which we look forward to convert into business. We are hopeful that in the next few months, the industry will get back to track." The Bangalore-based company is into resistance welding machines used in the Automobile industry as well as in different government-owned factories like Nuclear Fuel Complex (NFC).
Chennai-based Airtronic Engineers showed its metrological solutions especially for the automotive and aerospace industries. V Prasanna from the company reported receiving good response. He said, "We presented machines from three countries - Italy, Switzerland and the UK. We also showed a shaft measuring machine.
More testifying
Nikul Engineering Pvt Ltd from Pune demonstrated safety products. Darryl Drego, Director, Nikul Engineering, noted, "We had a very good response this edition. At least 50 customers per day selected our products."
The company's products include safety guards for power presses and grinders. These safeguard the operators' eyes. "We also provide an LED downline so that the operator can see the job clearly. For the grinders, the customers can easily fix the guard, but for the press-guards, we need to install the product," he added.
Another company into Metrology Solutions, Noida's Hexagon Metrology (India) Pvt Ltd received a whopping 100 responses each day of the event. "IMTEX FORMING is usually not too crowded for us. This year, however, our stall positively teemed with visitors," said Lalitha Mani, Senior Manager, Marketing, Hexagon Metrology.
Ahmedabad-based Bhavya Machine Tools showcased Fibre Laser Cutting Machine Tools imported from China, with a notable speciality of zero vibration. Melo Hopefield, Company Sales Manager, explained, "This IMTEX, we had customers who were into sheet metal. We have already sold two machines."
Atul Kumbhar, Service Manager, Prima Power from Pune, informed, "We are an Italian Group. The machines that we showcased at the event were a combination machine of punch and shearing that can perform different kinds of operations - punching, tapping, forming, louring etc. It finds its applications in panel industry, switchgear industry etc. Another machine that we displayed was an electrically operated press brake. Both the machines received great response at the show. We generated a considerable number of enquiries that we await to be converted into orders."
Despite the current market scene, the exhibitors at the show received a fairly great response from quality visitors who also placed a significant number of orders with them.