The widespread growth of Covid-19 has generated economic hardships across all sectors. However, despite being severely hit by the significant impact of the pandemic, many Indian businesses are showing resilience in the face of this unprecedented adversity. They are showing high preparedness, have made contingency plans for the future, and are ready to make adjustments to adapt to the new business scene. According to HSBC's Navigator report, almost half (46 per cent) of Indian businesses covered under a survey felt 'very strongly' impacted by the pandemic, yet more than half (54 percent) felt they were as well prepared as they possibly could be.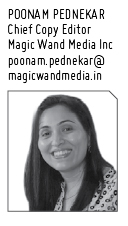 This outlook of Indian businesses has spurred us to have a peek into the Indian manufacturing industry, and gauge the economic and operational impact of the pandemic on the players and how they plan to revitalize their businesses. The common denominator among all is a highly optimistic attitude resonating with the above survey. The other is the readiness to adopt advanced technologies as is the
need of the hour.
HP's Digital Manufacturing Trend Report attests to the same. It finds that companies are increasingly investing in advanced 3D printing solutions that provide the agility, speed, and flexibility necessary to grow their business and become more resilient in an ever-changing environment.
It adds that manufacturing decision-makers are seeing opportunities for accelerated innovation, and ecognizing that 3D printing is uniquely suited for the mass personalization of new products, and by reducing waste, promoting a more sustainable economy.
Following is a round-up, where a few leading manufacturing players have candidly shared their highs and lows owing to the pandemic crisis and their approach in dealing with the same.


Concentrating on core competencies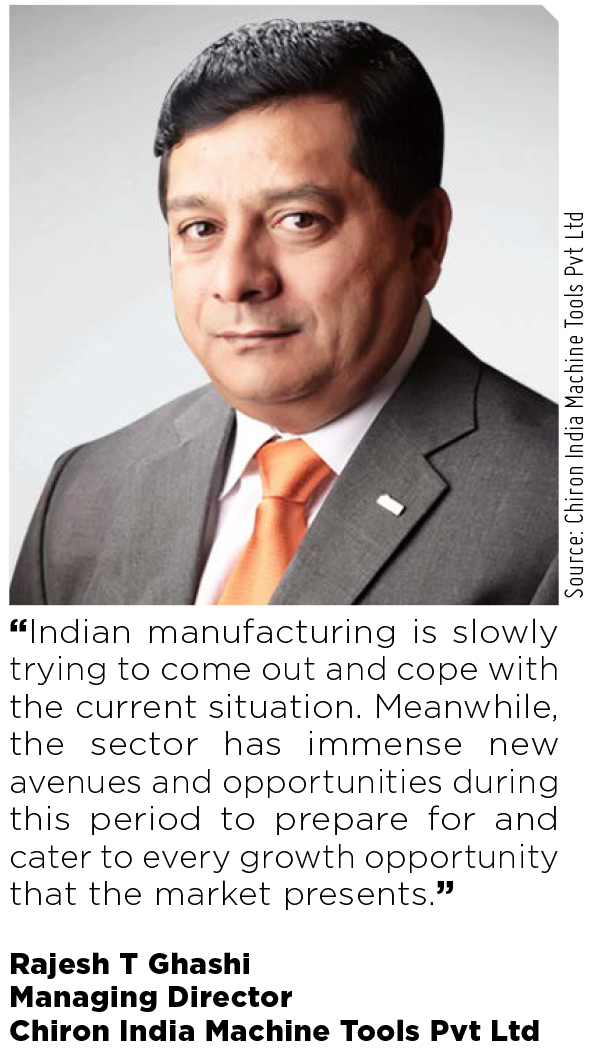 Since mid of 2019, the Machine Tool business has been seeing a downturn and the Covid-19 pandemic has surely made a larger impact on the overall Machine Tool business. Hence, it was important to re-strategize how we do our business and emerge stronger in the future and concentrate on our core competencies of business keeping in mind the interests of our customers.

"Until we do not have a sure cure/vaccine for the pandemic, our confidence level in making any plans will only remain on paper."


The Chiron Group consolidated all the German manufacturing and assembly capacities of Group products in Tuttlingen and Neuhausen o. E. plants, bundling our production capacities in one of the most modern machine tool factories in Europe which we inaugurated last year. These measures will entail cutbacks.
Further, we strengthened the precision and medical technology sector through our takeover of a Swiss company Mecatis which manufactures 5- and 4-axis machining centers for small and micro parts with their patented technology.
We are also further intensifying the successfully launched activities in the field of Additive Manufacturing. Also, the Chiron Group exited from the turning applications business by the sale of Scherer Feinbau GmbH. Founded in 1978, the company had been part of the Group since 2012 and produced CNC vertical lathes and vertical shaft turning centers at its Alzenau site.
The Chiron Group will thus concentrate on its core competencies of Milling and Mill-Turning in the future along with Additive Manufacturing.
It's time to be prepared
Indian manufacturing is slowly trying to come out and cope with the current situation. However, this is going to take some time before we see real growth. We first need to deal with the present situation and until we do not have a sure cure/vaccine for the pandemic, our confidence level in making any plans will only remain on paper. Nevertheless, the Indian manufacturing sector has immense new avenues and opportunities during this period that it can prepare for, and cater to every growth opportunity that the market presents.
---
Changing to cope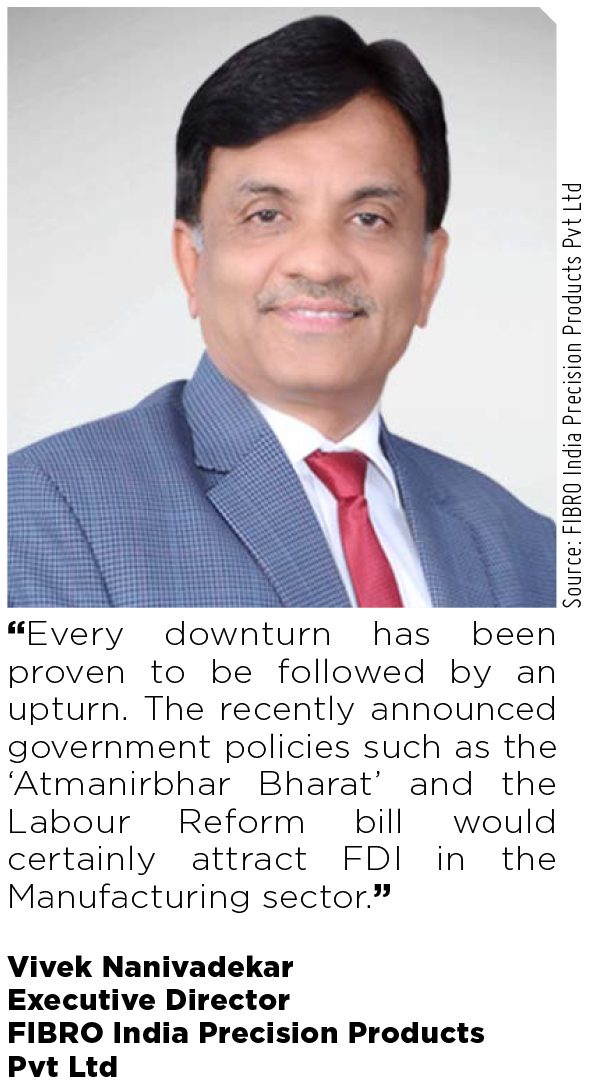 FIBRO India, a 100 percent subsidiary of FIBRO GmbH, was established in 2008 and started its operations in a rented place and then moved into its premises in 2013. We expanded our second phase of operations for manufacturing Rotary Tables for the Automation industry in 2017.
Everything was going good until 2018. Due to several reasons, the global economy started declining in 2019 and now Covid-19 has worsened the situation in 2020. To cope with the changing times, we started re-strategizing our business plans at the beginning of 2019, which were intensified owing to the onslaught of the pandemic.
Following are the changes that we have brought about:
• e-Commerce: We have developed a web shop so that customers can place orders from anywhere.
• Digital Marketing: We now have a strong presence on social media. We have started conducting webinars to educate our customers on any new offerings from FIBRO India.
• Catering to market demands: We have started developing those products that are required by the market but are not made in India.
These strategies came in handy during the lockdown period. We received an overwhelming response for the webinars introducing new offerings, and even started receiving orders for them when the industry resumed its operations post lockdown. We also started developing similar products to expand our range of offerings.
At the same time, we held back further expansion investment but developed vendors who could supply those critical components to us. Otherwise, we would have bought the machinery or equipment to manufacture those components in-house. On the workforce front, we did not reduce our manpower but halted any new recruitment.
Focused on the silver lining
I am quite optimistic for India`s manufacturing sector which would certainly bounce back soon. Every downturn has been proven to be followed by an upturn.
The recently announced government policies such as the 'Atmanirbhar Bharat' and the Labour Reform bill would certainly attract FDI in the Manufacturing sector. As per the 'Doing Business' 2020 report, India has jumped 14 places to the 63rd position in the ease of doing business rankings. This would also attract FDI in the sector. Already some European/American companies have declared their plans to shift their manufacturing activities or to create alternative manufacturing units in India.
The depreciated Indian currency is an added advantage for exporting manufactured products in India. It is an opportunity not only for foreign subsidiaries, but also for Indian manufacturing companies.
---
Closer to customer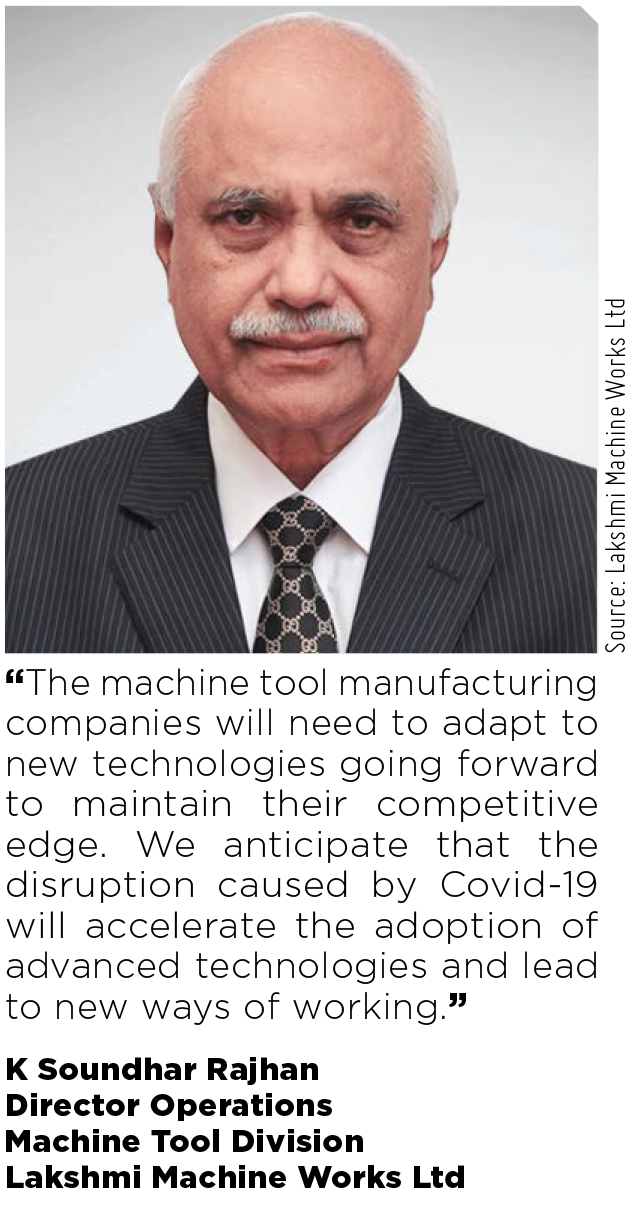 Infrastructure and products developed in the last four years will support the present surge. As a change of strategy, we had to accelerate the customer connect programs through webinars, telecalling and social media for various industrial segments. The Covid-19 effect was seen only for three months. Thereafter, there was a surge in consumption, driven by all segments, primarily auto components. To cope with the demands, safe travel of field staff had to be resumed with extra benefits and any public transport were avoided.

The key addressable issues continue to be productivity, effectiveness, cost, and customer experience across users. We must ensure employees' safety by providing them a safe workplace and securing their financial sustainability.
To develop a communicationstrategy, social media effectiveness during this crisis is crucial to maintaining customer trust, retaining market stability and also maintaining a healthy relationship with stakeholders.
Favorable changes await
The Indian Manufacturing sector has grown steadily over the last few months, with a surge in demand from major drivers including Automotive, Capital Goods, Aerospace, Defence, Railways and others. All these sectors provide immense growth opportunities.

"The key addressable issues continue to be productivity, effectiveness, cost, and customer experience across users."


The machine tool manufacturing companies will need to adapt to new technologies going forward to maintain their competitive edge. We anticipate that the disruption caused by Covid-19 will accelerate the adoption of advanced technologies and lead to new ways of working.
---
The process of reinventing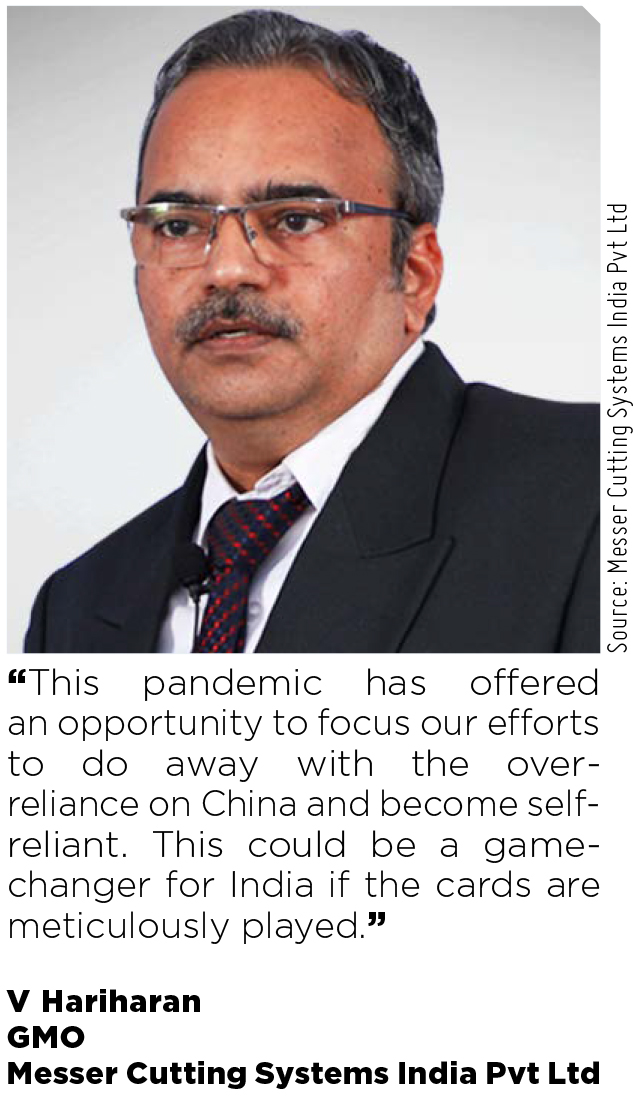 The process of reinventing In a normal course of time, we have all seen Learning, Planning and Execution taking place one after another. But this unprecedented uncertainty forced us to do all three concurrently.
At this unique juncture, the future is a mystery and the past is irrelevant history. You can't bank upon the past trends as the whole world is rewriting history once again. Hence, we found our way of seeing the unforeseen.
Our Value System is fundamentally strong and it has guided us through this tough time.
We shifted focus from P&L to the balance sheet as we fully understood the need to float first to swim later.
We had to bring forth all our faculties to the fore and do a balancing act. We re-engineered our entire business process to make it more agile, buoyant and competent. We put an effective ecosystem in place to create an innovative partnership with both our suppliers and customers. We also balanced our payables and receivables, and found avenues to lessen the fixed cost and capital expenses, but kept the long-term
plans alive.
We made our entire workforce realize that cash is the king and cost prudence is the key to survival. We sensed the K-shaped recovery happening in the economy and diverted our focus towards those sectors showing strong growth. All along, we ensured that our human resource is kept motivated to their best and firing on all cylinders. The game is far from being over and the New Normal is unveiling a new world of opportunities.
A possible game-changer

"The Government should create an ecosystem to revive those sectors that are struggling to survive or are on the road to decline."


Even in normal market conditions, India does not have enough business indexes available to predict the future market condition. We are always forced with the challenge of predicting the future market with available and unreliable information only. This pandemic has made the scenario worse. It has made every prediction go wrong and irrelevant. There is a school of thought that India will have a V-shaped recovery by mid-2021. It grossly depends on the availability of vaccine for Covid-19 by Jan – Feb 2021. But what we could glaringly see at present is the K-shaped recovery happening across the market. The Government should create an ecosystem to revive and rejuvenate those sectors which are struggling to survive or are on the road to decline. The extended credit lines and offering of loans may not be enough for the recovery of these sectors. We need stimulus packages to provide direct relief to MSMEs in terms of partial payment of interest and salary costs. If that happens, the chance for the economy to get back to the Pre-Covid-19 levels is brighter.
This pandemic has offered an opportunity to focus our efforts to do away with the over-reliance on China and become self-reliant. This could be a game-changer for India if the cards are meticulously played. Boosting consumption is a paramount part of bouncing back to growth. All of us have a very crucial role to play in this, apart from the Government. As small drops make an ocean, every penny spent by all of us in the right direction is a nation-building process. Let us do that and make the economy become buoyant again.
---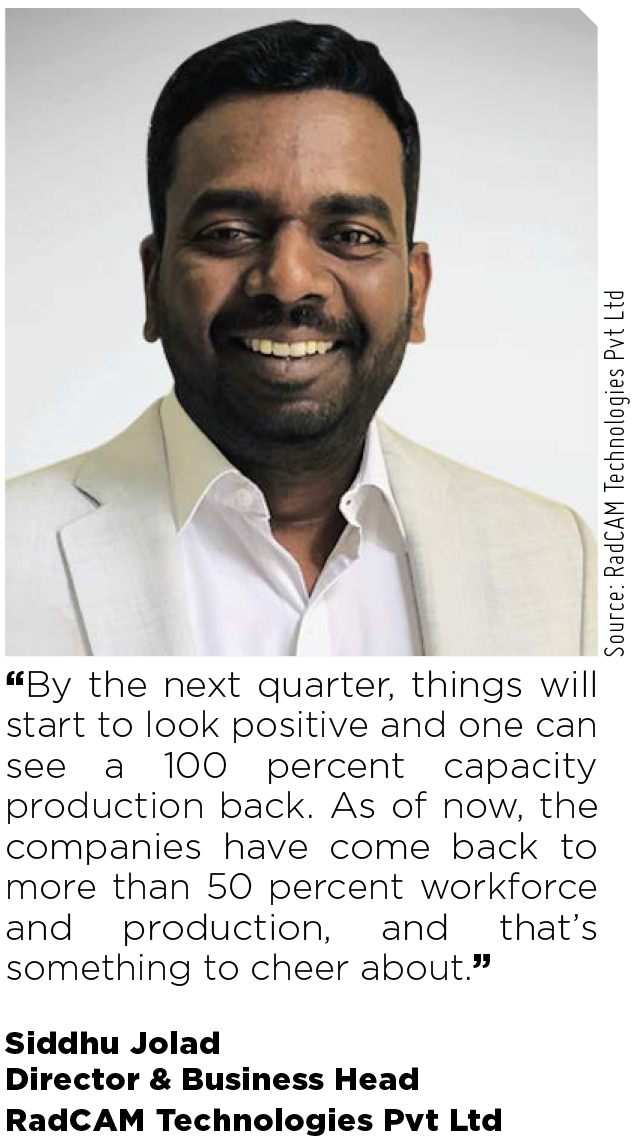 Rethinking business
We cater to a segment where capital investment comes into the picture. That was severely hit and the industry sentiment was not so good. Everyone today wants to restrategize and rewrite the game plan for 20-21 and 21-22, so we too are forced to do the same. But I feel this may be a positive move as restructuring may give companies food for thought to think about what is essential and what is not. Many of them have realized that they want more automation in the organization than ever. Many have cut a lot of unnecessary weight now. The cooling period must give all of us a breather to rethink, resurrect and remerge. There will be a fresh wave of what is to be done and otherwise. We have our fingers crossed.
Lots to cheer about
Nobody wants to buy Chinese machines anymore and the 'Make in India' move is getting a push. However, the loan that was promised by the Government for industries, seems to be taking time to get implemented. When that happens, there will be no looking back for Indian companies. There will be more smart manufacturing and the product lines will change with the need to have new designs, manufacturing, and supply. By the next quarter, things will start to look positive and one can see a 100 percent capacity production back. As of now, the companies have come back to more than 50 percent workforce and production, and that's something to cheer about.
---
Exploring unexplored areas
We at Wendt India Ltd have been extremely proactive in doing all that we can to safeguard our employees and their families from the spread of Covid-19. Our groundwork started in March itself with the announcement of the lockdown. We had a quick Senior Management meeting and formed 'Covid-19 Action Team' and 'Covid-19 Crisis Response Team', ably led by our Departmental Heads located near our facility in Hosur. We could foresee that this would be a longdrawn pandemic with considerable challenges for the business. Hosur being in Tamil Nadu, we also pre-empted that the Karnataka border would be closed, and cross border movement could be restricted. With most of the senior colleagues staying in Karnataka including me, we empowered the local team while distributing the responsibilities. We had regular team meetings since the lockdown and had focused scenario planning exercise, and we strategized, reworked our business plans, CAPEX and alternate production plans. We strategized our overall initiatives and redeployed the resources to attend to the crisis.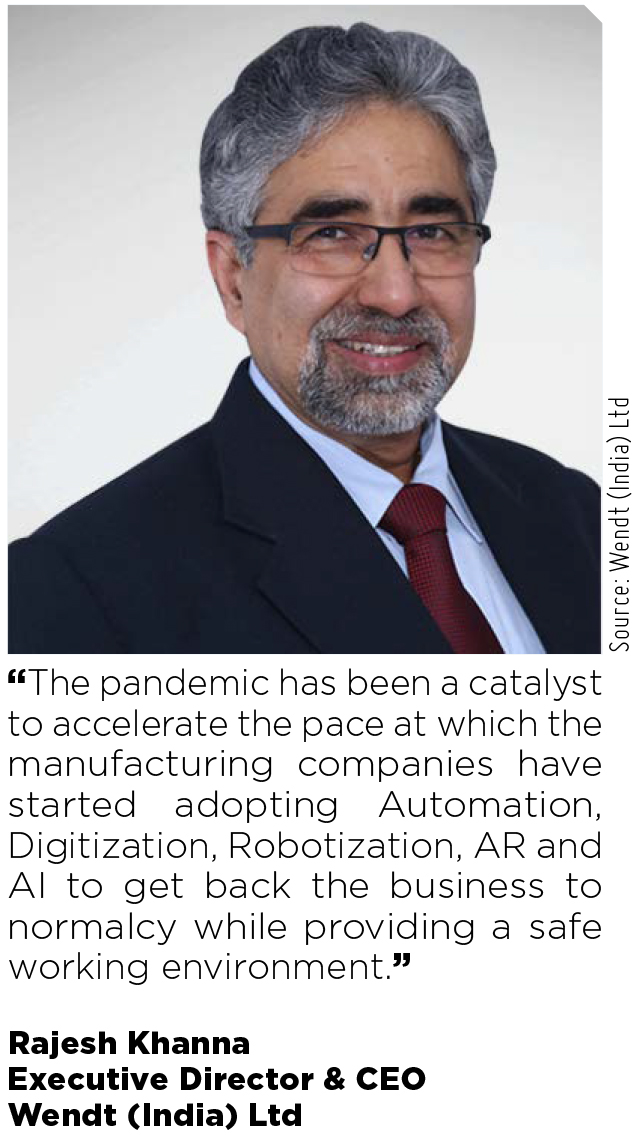 The Pre-Covid-19 economy itself had been experiencing a considerable slowdown, most effected due to Automotive, Housing, Infrastructure, Metal & Mining sectors. This slowdown was more pronounced in the Automotive sector where we mainly cater to, reeling under the pressure of the implementation of Bharat-VI norms and e-mobility drive. The resultant slowdown was experienced by the capital equipment and the demand for machine tools. The pandemic added fuel to the fire having a multiplier effect due to the slowdown.
However, the Government policies including the 'Make in India' drive, 'Vocal about Local', 'Atmanirbhar Bharat Abhiyan' have given some much-needed respite to the Indian Machine Tools and Tooling industry. This has unfolded good opportunities in unexplored areas for business in sectors like Defence, Aerospace, Railways, Steel, Engineering, and Medical. We have restrategized our business plans accordingly and have been strongly focusing on the following:
• Offering import substitute high-end Precision Grinding and Honing machines and competing against international companies on global tenders in Public Sector Undertaking in above-referred areas.
Having supplied and met the stringent requirements of these machines to industries and customers like Indian Railways – DLW Varanasi, and Aerospace – HAL has given us the confidence of addressing the Indian industry needs.
• Offering Roll Grinding and Reprofiling - Dressing machines for the Indian Steel industry, again offering an import substitution
to Steel Authority, & Rerolling mills.
• Offering High-End Super Abrasive Tooling and encashing on import substitution and Atma Nirbhar drive.
As a part of our growth plan, our focus is to upgrade our machines with automation and digitalization and offer products and services related to additive manufacturing.
Optimism prevails
The impact of the Covid-19 lockdown on our lives has been both widespread as well as unique and the challenges that it has posed to the Manufacturing sector have been particularly more daunting. However, the pandemic has been a catalyst to accelerate the pace at which the manufacturing companies have started adopting Automation, Digitization, Robotization, AR and AI to get back the business to normalcy while providing a safe working environment. More and more repetitive routine activities are being carried out remotely adopting the 'work from home' concept and with virtual control. Most of the backend support is managed well remotely, improving efficiency, and saving on various costs.
The phased unlocking of the economy has provided an impetus to India's Manufacturing sector showing signs of recovery and attaining normalcy in August and September with an upsurge in the demand from most of the user segments and their resumption of business operations. To back it up, the IHS Markit India Manufacturing Purchasing Managers' Index (PMI) increased from 52.0 in August to 56.8 in September. I am optimistic and believe that, going forward, the Indian Manufacturing sector will be back to normalcy in Q3 / Q4 itself. The strong optimism would prevail with the release of a vaccine to combat the pandemic, vaulting the Manufacturing sector back to the growth trajectory.

The Government policies including the 'Make in India' drive, 'Vocal about Local', 'Atmanirbhar Bharat Abhiyan' have given much needed respite to the Indian Machine Tools industry.