Dynamatic Technologies has come a long way from just making hydraulic pumps to diversifying into the automotive business and now being a key global supplier of complex parts to Airbus, Boeing, and Bell Helicopter. Did you hold this vision when you started off?
Dr Udayant Malhoutra : Dynamatic started off as a Hydraulic Business in the early 70s. The company until the middle of the 80s was under severe financial stress. However, we today have the largest market share of Agriculture Gear Pumps in India, and globally, have over 30 percent manufacturing in India and the UK. We also have a Warehouse Center in the US.
As a kid, I had a passion for aeromodelling. The Aerospace & Defence (A&D) venture started in a garage in the back of our Hydraulic business in the mid-90s. We used to work with DRDO (Defence Research and Development Organisation) Labs and build products, which was challenging.
We then started working with Hindustan Aeronautics Ltd (HAL) starting with IJT, moving on to ALH, Cheetah-Chetak, LUH, Sukhoi, and finally LCA. We knew that for us to grow big, we needed to globalize the business. Hence, we started our business with Airbus in the late 2000s and focused on building our competency.
A&D is a highly skill-based sector and there is absolutely no room for error. We focused on building competency and a large resource pool with engineers and technicians who understand global customer requirements.

"We have a strategic teaming agreement with IIT where we are bringing the finest of
academia and industry to provide our military forces the best it can get to ward off adversaries."



You were an early adopter of digital tools, investing in research and development, computers, and computer-controlled machine tools. So much so, you also bought a horizontal machining center in the early 1990s for INR2.5 crore, an amount that was more than the entire gross block of your company's facility. Hence, your view on today's advanced manufacturing technologies and trends matters immensely.
Dr Malhoutra : Well, I was 20 years old when I joined Dynamatic. The company had no money and we went outside the paradigms to finance it. I did not go to the OEM market, but the after-market and the spares market, and was able to get advances, post-dated cheques, and delivery schedules for 4-5 months in advance.
I would talk to a bank manager and manage an alternative form of working capital. Similarly, I would commit to the suppliers and get credit from them. This way we were able to go beyond the traditional banking markets to finance the business through external stakeholders who normally do not give credit. Our limitations encouraged us to rethink ways to do business.
We started making investments in advanced technologies and processes way ahead of time. These did look expensive then, but we had our strategies to make these investments work. We kept thinking of innovative ways to do business and finance ourselves in similarly innovative ways.
With some A&D organizations lagging in the adoption of Industry 4.0, what can they do better to achieve digital transformation?
Dr Malhoutra : The A&D industry is still into handmade products. We have realized that India has some incredible cost advantages when it comes to labor, but we also have the highest cost of interest in the world.
So, if it's capital intensive, as part of our design we place it in Dynamatic UK. A lot of people ask me why would an entrepreneur from India come and set up plants in Germany and the UK, which are high-cost economies. They are high-cost only in terms of labor. We don't have labor there; we have built Industry 4.0 manufacturing with robots and have a very low cost of capital. We take advantage of local supplies for raw material and all our scrap – about 90 percent of aluminum or titanium – is machined out. We briquette it and give it back to mills, making the cost of production cheaper.
Then we move the parts to India where we get the best value of the labor cost and the best artisanal workers. We have workers from our villages who have been trained in Aerospace but these are artisans and children of artisans. We have this advantage at a time when artisanship across the world is becoming rare. Additionally, we have the 3D engineering capability of Bangalore. This way we have ensured all the elements add value to the customer.
Dynamatic Technologies Ltd has become the first private sector company to build a complex fuselage section for a supersonic fighter aircraft Tejas Light Combat Aircraft (LCA) and is a preferred production partner for HAL for over three decades on all its major platforms. This is the model for PSU-Private industry partnership in the D&A sector. What do you feel about this achievement?
Dr Malhoutra : We have a great relationship with HAL. It has been our mentor and helped us in growing our skillsets in the early days.
When the Sukhoi-30 MKI program was signed between India and Russia, HAL, as the partner of MoD, was to build the complete aircraft. Dynamatic became its partner to build all the major control surfaces with a dedicated plant inside HAL, Nasik.
This project was one of a kind in the country and has been the first successful Public-Private- Partnership model for A&D. We delivered over 130 aircraft sets and have just completed the contract.
As the Sukhoi program came to an end, we built competency for the Front Fuselage of Tejas-LCA, which is a very complex aerostructure. By building the Front Fuselage we have now the capabilities to build any part of a fighter aircraft in India.

Airbus A330 Flap Track Beam Assembly Line at Dynamatic Aerotropolis, KIADB Aerospace Park, Devanahalli
Dynamatic Technologies and IIT Kanpur have signed an MoU for joint indigenous development of innovative Unmanned Aerial Systems. This is a remarkable move in the direction of industry-academia collaboration. Kindly elaborate on this.
Dr Malhoutra : We have a vertical that focuses on Homeland Security where we have developed our own drones. We have developed a quadcopter for agricultural use, and are in the process of developing different variants of UAS.
We have a strategic teaming agreement with IIT where we are bringing the finest of academia and industry to provide our military forces the best it can get to ward off adversaries. The project has just started and we are working on a couple of products that we will be demonstrated to the forces.

"By building the Front Fuselage of Tejas-LCA, we have now the capabilities to build any part of a fighter aircraft in India."



You had to gear up for a spurt in volumes from BELL and increase capacity from 3 helicopter kits per month to 9 kits per month at a short notice.This is the highlight of IMTMA's forthcoming Productivity Summit. Our readers would be keen on knowing the same from you.
Dr Malhoutra : Dynamatic has been a strategic supplier for Bell Helicopter. This transition included moving over 1,500 detail parts from across 56 suppliers to 5 assemblies with Dynamatic as the only supplier. In addition to consolidating the supply chain, but also reverse-engineered the product from paper drawings to digital data.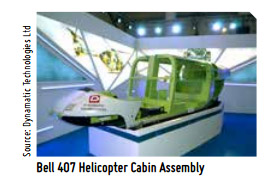 The company also showcased the skill to manage engineering concessions and was granted with Material Review Board approvals. This transition was the first time Bell moved outside of North America for its largest selling Helicopter, the Bell 407. We were the single source for all the products that were made and delivered just in time to Bell.
The helicopter market is cyclic and requires adaptation by suppliers to varying volumes. We were building at the rate of 3~4 sets per month and when the cost of oil changed, the demand for helicopters boomed. We had to quickly ramp up from Rate 3 to Rate 9. This had to be done quickly to ensure timely deliveries to the end customer.
We had a dedicated team that was put in place to analyze the requirement and come up with a plan to increase the volume, but not the cost. Our team worked on multiple strategies for duplicating certain long-lead items, building sub-assemblies to reduce on-jig work, etc. The team was conscious of not letting the cost of the products go up. They were able to deliver Rate 9 well ahead of the plan. We have been on time for delivery with 100 percent quality for the customers.
Please share your views on the government's new directive that allows foreign firms to directly invest up to 74 percent in the defence sector, raising the Foreign Direct Investment (FDI) cap from 49 percent through the automatic route.
Dr Malhoutra : It ideally should be 100 percent. This will help major OEMs to bring in the best of know-how and technology to the country. Any enterprise can then develop an ecosystem of suppliers to make these products, thereby increasing the economy and making the job and tax scene better for the state.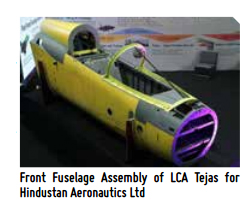 With the limitation of FDI, a partner is needed, which makes room for challenging issues such as ownership of liabilities and the subsequent cropping of distrust between partners. Thus, we have always believed in single ownership.
Moody's Investors Service has predicted continued challenges for India's Auto sector with auto unit sales declining at least 30 percent in 2020, following a decline of over 40 percent in the seven months through July. How much do you agree or feel otherwise about it?
Dr Malhoutra : The Covid -19 pandemic has had a severe impact on the Auto industry, which now faces concerns such as short-term liquidity as well as long-term growth in revenue and profitability. The outbreak of pandemic has created major job losses and uncertainties in the business, thus depleting consumers' financial ability to purchase new cars. Additionally, the concept of Work from Home has led to a massive reduction in the number of people using transport.
Source: Dynamatic Technologies Ltd
SOUMI MITRA
Editor-in-Chief
Modern Manufacturing India
soumi.mitra@magicwandmedia.in