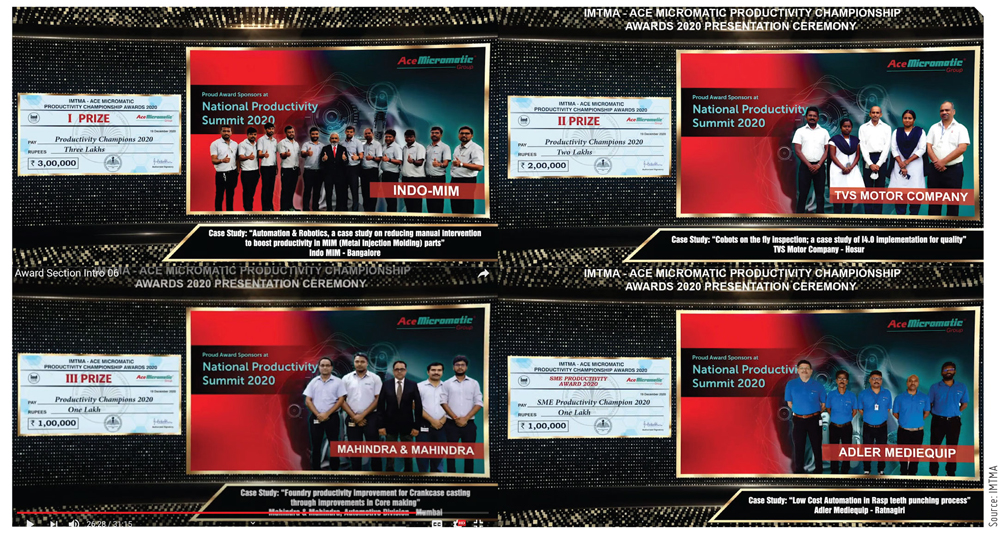 Notwithstanding the current turbulent times, the Indian Machine Tool Manufacturers' Association (IMTMA) carried on its tradition of organizing its annual National Productivity Summit (NPS) to put the spotlight on some of the finest practices in the Manufacturing industry that have helped achieve improved process performance and enhanced productivity.
The virtual event showcased these practices in manufacturing through enriching keynotes and live case study presentations.
Good times ahead
Addressing over 1,000 professionals who participated virtually from across the country, Indradev Babu, President, IMTMA, in his welcome speech, noted that focused efforts in improving productivity hold the key for enhancing and sustaining competitiveness in the Manufacturing Industry. He pointed out that India's Manufacturing industry is regaining its momentum in the third quarter of FY 2020-21. Industries have got much-needed boost with the Cabinet approving Production Linked Incentives (PLI) worth `1.46 lakh crore for 10 sectors including Automobile and Textiles.
In his keynote address on 'Managing Breakthrough Change for Productivity and Profit', Dr Gregory Watson, Chairman, Business Excellence Solutions, said that breakthrough changes in any industry are game-changers and technology provides the largest disruptive force in the industry today.
Vipin Sondhi, Managing Director & CEO, Ashok Leyland, in his keynote address on 'Innovation to drive Productivity in Indian Manufacturing' presented that the Indian Automobile industry is one of the finest examples of developing a Manufacturing industry through Government-led policy interventions and industry-led private investments. He stressed that India has an opportunity to raise its manufacturing competitiveness and become a supplier of choice not only for its large consuming class but also for global markets. This could happen if the Manufacturing industry focused thoroughly on Global Quality, Technology Leadership, Concurrent Engineering, Cost Optimization, Agility and Capacity Building.

NPS 2021 received an overwhelming response from over
1,000 professionals who participated virtually from across the country.



Spotlight on innovations
Leading manufacturing companies such as Bharat Heavy Electricals Ltd (BHEL), Brakes India, Dynamatic-Oldland Aerospace, Faiveley Transport Rail Technologies India, Hero MotoCorp, Indo MIM, Mahindra & Mahindra, Tata Hitachi Construction Machinery, TVS Motor Company, Yuken India presented their case studies over the two days of the event.
The summit also featured presentations on productivity improvements in the SME sector. Under this, Adler Mediequip and Khutale Engineering presented their case studies and contested for the IMTMA - ACE Micromatic SME Productivity Championship Award 2020.
BHEL was the first to make its presentation on 'Quantum leap in productivity in gas cutting with edge preparation of 1400mm and 10m long pipes'. A rotator-based positioner has been implemented for continuously rotating the pipes to improve productivity, safety and ergonomics.
Dynamatic-Oldland Aerospace made its presentation on 300 percent ramp-up of helicopter kits in a short time. The company had to gear up for a spurt in volumes from BELL and increase capacity from 3 helicopter kits per month to 9 kits per month at a short notice.
From the SME sector, Adler Mediequip made a presentation on 'Low-cost Automation in Rasp Teeth Punching Process'. The company manufactures medical implants. When an implant is placed in the Femoral hip joint to provide support to the largest load-bearing bone in the thigh, the cavity needs to be filed/rasped to match the shape of the implant. The capacity could thus be raised from 1-1.5 to 3-3.5 Rasps/shift.
Faiveley Transport Rail Technologies made a presentation on 'Capacity doubling and significant cost savings by using Value Stream Mapping in Panel Manufacturing'. The company is the sole supplier of E70 brake panels for Indian Railways. To address an increase in demand, it was required to improve its process. After a systematic process of VSM (Value Stream Mapping) and application of MOST (Maynard Operation Sequence testing) techniques, several improvements were done in the bottleneck area.
Khutale Engineering made its case study presentation on 'Many Kaizens add up when an SME embarks on a Zero Effect Zero Defect journey'. It is a 'lean' supplier of sheet and tube parts, and assemblies for the White Goods' industry. For an all-around improvement in its operations, it embarked upon Zero Effect and Zero Defect journey in letter and spirit. It did the extensive deployment of 5S, Safe ractices/conditions, Poka Yoke, conservation measures and addressed productivity issues by the use of Digital Read Out and improvement in the fixture, among other measures.
'Plating process change leads not just to productivity improvement but is also a step forward in I4.0 implementation' was what Brakes India chose to talk about. The company was facing major quality issues due to black dots on plated parts, leading to rejections and
customer complaints. It addressed the problem by changing the Zinc Barrel Plating process from an acidic process to an alkaline one. It could achieve the quality target, improve productivity by 20 percent, avoid significant Capex incurrence, and implemented bar code traceability in line with I4.0.
'Cobots on the fly inspection', a case study on I4.0 implementation for quality was done by TVS Motor Company. It was faced with a pressing need to improve the quality appeal, coupled with the capacity rise. The company implemented AI-backed, automated, Cobot-maneuvered, digital camera-based 'in-line' 100 percent inspection from Left Hand (LH) and Right Hand (RH) sides of a two-wheeler assembly line. Thus, its capacity increased from 1,000 to 1,800 products/shift with a much better assurance of quality.
Wrap up
National Productivity Summit 2020 concluded with the IMTMA - ACE Micromatic Productivity Championship Awards 2020 Presentation Ceremony. The award acknowledges outstanding efforts from the shortlisted case studies of companies that have excelled in achieving superior performance.

Sovan Tudu
Sub-Editor
Sovan.tudu@magicwandmedia.in