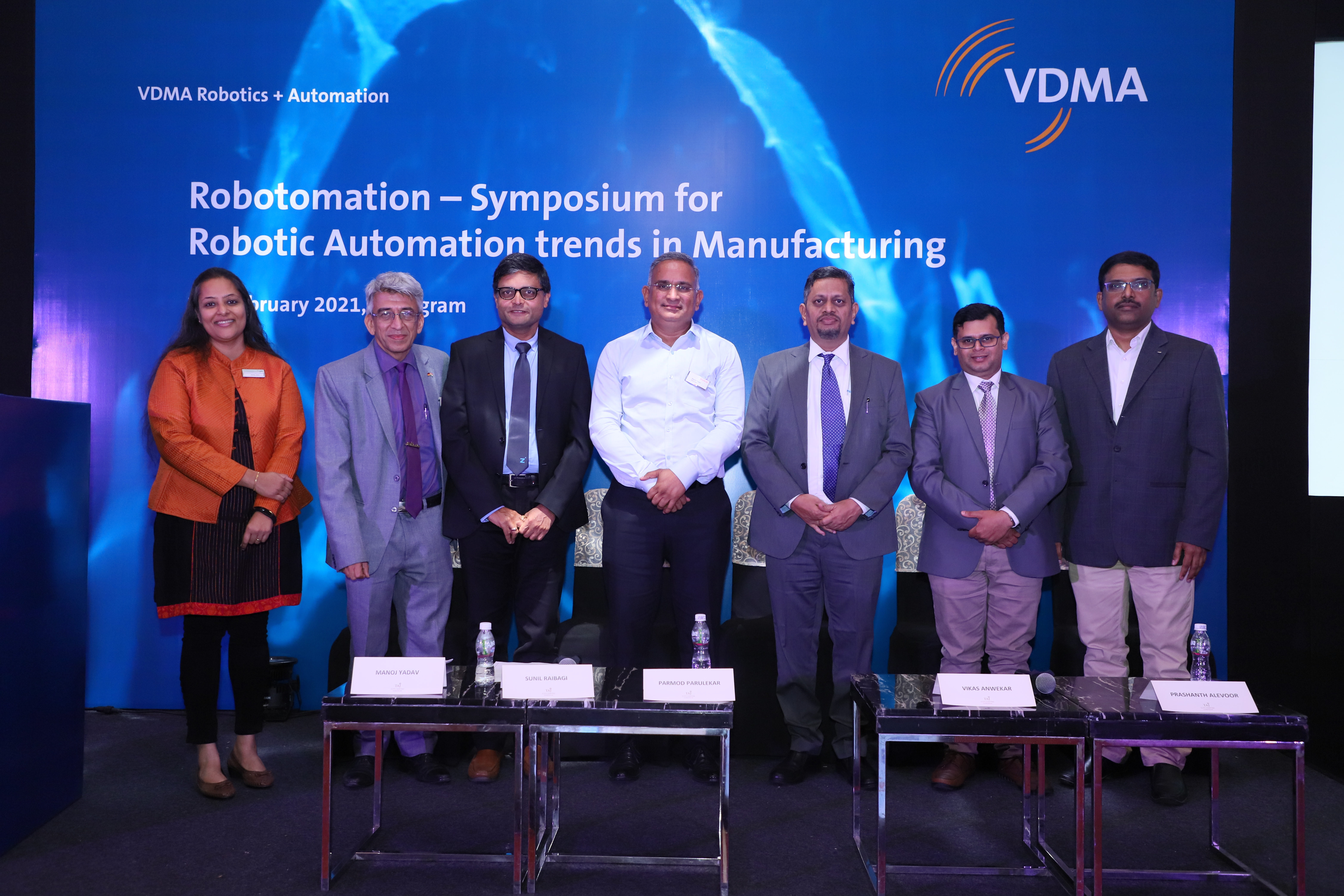 The VDMA Robotics + Automation Association of German Mechanical Engineering Industry Association (VDMA) recently organized 'Robotomation – Symposium for Robotic Automation trends in Manufacturing' at The Taj City Centre, Gurgaon, that focused on the global robotics and automation trends available for the manufacturing industry. Highlights...

It has become imperative for organizations to find ways to bridge the skill gap to stay ahead of the curve, which can be achieved by either recruiting the right people with the right skills, or by helping their existing employees stay relevant by upskilling them. The gradual integration of robotics and automation in the workplace has begun, transforming the nature of roles and functions in its wake. Hence, employers realize the need for the construction of a system that can support human and robotic interaction with automation driving significant changes in the workplaces.

Against this backdrop, the Symposium focused on the worldwide robotics and automation trends for the Manufacturing sector. Despite the prevailing circumstances around the pandemic, around 200 delegates from the Automotive, Tyre & Wheel Making, Machine Tool, Food & Beverage and Water industries attended the event.

'Make in India' focus

In his keynote address on 'The Global Robotics and Automation Boom', Patrick Schwarzkopf, Managing Director, VDMA Robotics + Automation & Member - Executive Board, International Federation of Robotics, focused on India's progress in harnessing the benefits of robotics and automation technologies for its Manufacturing sector. The country has witnessed dynamic growth of industrial robotics – CAGR (compound annual growth rate) of over 15 percent p.a. between 2014 and 2019 in installations.

Dr Joerg Polster, Minister & Head - Economic Cooperation, Embassy of the Federal Republic of Germany, New Delhi, (through video conferencing) highlighted 'Make in India' and 'Self-Reliant India' (Atmanirbhar Bharat) policies that are poised to play a major role in the Automation industry. He underlined the growing importance of automation with the pandemic today and the world markets going more local in comparison to global manufacturing trends.

Rajesh Nath, Managing Director, VDMA India, said, "It is worth bearing in mind that artificial intelligence, automation, IoT, and robotics are becoming more prominent. The pace of technological advancement and the rate at which professionals update their skills are already causing the skill gap to become more expansive. Further the viral outbreak has further accelerated the digital transformation within the global business ecosystem."
Automotive industry largest adopter.
Presently, the Automotive industry is the largest adopter of robotic solutions in India. The passenger vehicle segment clocked a growth of 11.14 percent in January 2021 at 2.76 lakh units, thus remaining in the positive territory for the sixth straight month, against 2.48 lakh units in the corresponding month a year ago.
Two-wheeler volumes rose by 6.63 percent to 14.30 lakh units in January 2021, compared to 13.41 lakh units in January 2020. While motorcycle sales increased by 5.1 percent to 9.16 lakh units as against 8.72 lakh in January 2020, scooter sales were up 9.06 percent at 4.54 lakh units from 4.17 lakh units a year ago. The total vehicle sales increased by 4.97 percent to 17.32 lakh units last month as against 16.50 lakh units in the year ago period.

Other segments including Food and Beverage, Consumer Packaged Goods, Electronics and Logistics industries are also starting to adopt automation and robotics at a much faster pace.
Leaders opine

Chairing the event, BB Gupta, President & Business Head, Auto Components Business, JBM Group, spoke on 'Emerging trends in the Automotive industry with the adoption of Robotics & Automation'. Vinnie Mehta, Director General, Automotive Component Manufacturers Association of India (ACMA) on the 'Rebound of Automotive Industry Post Covid'.
Well-known VDMA members such as Baumer India, Dürr India, FESTO India, Gudel India, KUKA India, Pepperl+Fuchs Factory Automation, SICK India, and Zimmer Automation presented their take on application-oriented technology. Other partners included Cotmac Electronics, DiFacto Robotics and Automation, Fluro Engineering, Schmalz India & Wenzel South Asia. There was a dedicated B2B exhibition space for the companies to showcase their technologies to the participants.
The two rounds of technology-oriented presentations were led by Manoj Yadav, General Manager, KUKA India; and Ravi Agarwal, Managing Director, Pepperl + Fuchs Factory Automation, who spoke on 'Key Applications, Challenges and way forward for Robotic Automation in Auto OEMs and Tier 1 Industry' and 'Sensors for Smart Manufacturing', respectively.
Automation on the rise

An interesting panel discussion on 'Role of Robotics + Automation for the Manufacturing Industry' was moderated by Nath. The panel composed of industry experts such as Rajachandran Madhan, Director, Indo-German Science & Technology Centre (IGSTC); Achintya Lahiri, National Head- Packaging Development and Engineering, Hindustan Coca-Cola Beverages Pvt Ltd and Rajiv Wahi, Chief Executive-International Business (EAM), Escorts Ltd, who drew attention to the increasing use of automation in manufacturing and even in their own factories. They stressed on the adoption being economical and viable for the SME and MSME industries, and highlighted the need to educate the Indian workforce on the adoption of automation.

The passenger vehicle segment clocked a growth of 11.14 percent in January 2021 at 2.76 lakh units, thus remaining in the positive territory for the sixth straight month, against 2.48 lakh units in the corresponding month a year ago.



Sovan Tudu
Sub-Editor
Magic Wand Media Inc
Sovan.tudu@magicwandmedia.in