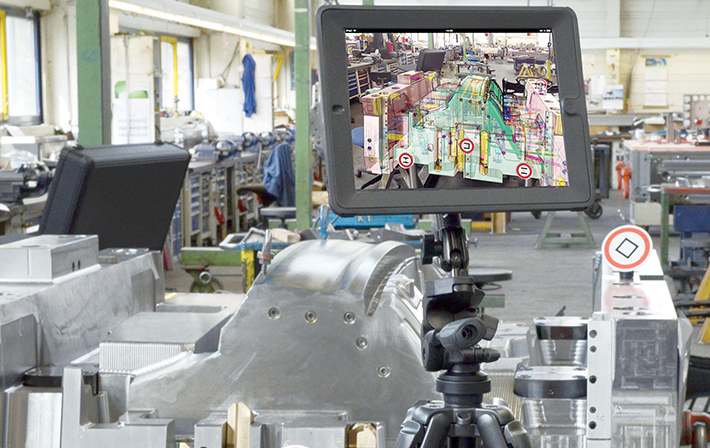 In the information-driven cyber-physical environment of Industry 4.0, the digital transformation of the manufacturing industry has brought on an interconnection between data, people, processes, services, systems, and production assets. With this, the volume, velocity, and variety of data that companies manage has increased exponentially.
Known as 'Big Data', this information is crucial for companies looking to implement data-driven strategies to optimize their organization's performance and efficiency, or increase their competitiveness. Amidst the excitement and anticipation of potential opportunities that these changes bring, Augmented Reality (AR) has emerged as a transformative technology that is set to revolutionize manufacturing processes. Valued at US$ 2.39 billion in 2016, the AR market is expected to reach US$ 61.39 billion by 2023 and the applications of AR has evolved significantly since its introduction.
Transformative technology for everyday uses
AR has many applications in today's society, whether through the use of smart glasses, video and laser projectors, or the overlaying of additional information. Users of AR can experience a new and improved natural environment, where virtual information is used as a tool to provide assistance in everyday activities. This functional aspect of AR, together with improvements in the AR technology, are key factors that have led to a transformation of its uses.
In 1992, the first functioning AR system was introduced and used by the US Air Force as a new method for training pilots. Subsequent commercial AR applications were largely concentrated in the entertainment and gaming businesses, but with technological advancements in the last decade, other industries are also developing a keen interest in the possibilities of applying AR in their fields.
Education, for instance, is an industry that few would expect to see AR employed, but the technology has made learning more exciting for students as they access content by scanning or viewing an image with a mobile device. Another example is an AR helmet for construction workers that displays information about the construction sites.
Augmented Reality for Manufacturing
Globalization has made it possible for worldwide exchange of new technologies, finished goods, and even new ideas. It has also allowed manufacturers the option of expanding their production facilities across borders. To ensure consistent quality across the global process chain, companies need an effective solution that offers them visibility and flexible control over their processes, without incurring too great a cost in terms of personnel, time, and travel.
FARO's Visual Inspect offers intelligent functions where the user is able to interact with the 3D data to inspect details of interest against 3D data.
Within this context, AR technologies can provide considerable added value to manufacturers through enabling direct, intuitive access to information and fast variance inspection, at any time and from anywhere. Processes can also be supported continuously and without disruption throughout the entire process chain.
In fact, the industry has caught on to the use of mobile devices with an integrated camera. An image captured by the camera can be enhanced with additional information of the operator's choice as it is being displayed on the device. A key reason for this method's popularity is in the efficiency it provides — the accuracy of the overlay achieved here reduces the time and cost of inspecting components, tools, and production facilities.
In this case, AR is the extension of a model in the production space, connecting virtual reality with the actual product. The exact match between the real and virtual world is ensured with the use of markers. An overlay is created by connecting 3D points on a computer-aided design (CAD) model with 2D points in one corresponding image.
Previously, complex CAD data was not always available across the various functions of a company, and it was challenging to migrate large amounts of industrial data. With the support of AR technologies, it is now possible to share such information with just a tap on a mobile device. The data can also be seamlessly transferred from the device and utilized, streamlining the production process. AR can be used in the inspection of parts, dies, and moulds to detect and document errors; in CAD-to-part comparisons to see real-time deviations from nominal data; as well as in component alignment and assembly to see how complex parts should be assembled. In addition, it can be used for quality assurance to inspect incoming parts directly at the delivery point or at the supplier site before delivery.
Application - Complex assembly
Modern manufacturing involves assembling hundreds or thousands of elements in an accurate order, as quickly as possible. This is true regardless of the product type — whether automotive, aerospace, heavy equipment, or ship building — and every new product calls for a new set of assembly instructions.
Manufacturers rely on assembly drawings as a main means for assembly guidance. An assembly drawing delivers the holistic constructional knowledge of a machine and its separated components, and it is an essential technological file for the technicians to carry out the assembly task and evaluate the end product.
Confined to a 2D drawing, a large amount of information on product components can be quite excessive and cumbersome – making it challenging for engineers to quickly understand the complex assembly relations. The application of AR in complex assembly processes enables technicians to access accurate and up-to-date information for component alignment and assembly swiftly to see how complex parts should be assembled — without the need for complicated 2D drawings.
Application – Quality assurance
Metrology in general, and quality assurance (QA) more specifically, also offer numerous potential applications for AR. AR can be used for final inspection in the production space. Any error in the manufacturing process becomes apparent by directly overlaying the CAD data to the as-built part or assembly that is being inspected. This application is extremely versatile, and it can be used to check that brake lines and flexible parts have been installed correctly, or that single parts have been positioned according to design. It can also be used to verify the completeness of assemblies.
The technicians in charge of quality inspection can take photos of the parts or assemblies on the product, and compare them with supplier-provided or CAD images via an AR overlay. Technicians can easily spot features that are out of specifications from the overlay, allowing them to identify any issues quickly and intuitively.
Reaping the benefits of AR
Unquestionably, AR promises major benefits for manufacturers. With the integration of AR, processes can be more coordinated, and production can be operated in a lean and structured manner.
AR can provide immersive instructions for technicians in the production space, leading to significant time-savings through improved performance, and cost reduction through the use of lesser resources. AR enables users to visualize product components and allows for quality improvement in training, with a more authentic and sustainable learning experience. Some AR solutions also provide manufacturers with greater mobility and flexibility by introducing mobile solutions, which offers mobile visualization and comparison to real-world conditions. This presents the potential for quality improvement, with earlier error detection in the production or design processes.
Concerns over the cost of adopting AR solutions may keep manufacturers from reaping the benefits it brings. However, some degree of investment is necessary to ensure greater product quality. Top manufacturers place great importance on producing quality products in the most efficient manner, and it is entirely possible to make an informed choice to ensure a positive return on their investment in improving quality.
Manufacturers should decide on a solution that would work best for them by determining the key function for AR integration, before exploring the solutions available. For example, if the main objective is to provide AR for quality inspection while eradicating the need for paperwork, an integrated solution like the FARO Visual Inspect provides convenience and speed for the user, as it offers a large amount of storage on a single mobile device, with all the files required easily within reach.
The innovative platform offers complex 3D data and augmented reality in all working environments, regardless of time and location, and is also a cost-effective alternative to expensive augmented reality solutions.
Complex CAD data that was previously unavailable throughout a company or on a production line can now be utilized anywhere due to Visual Inspect's powerful translator, which compresses the CAD data to a format suitable for use on the iPad. This enables Visual Inspect to be used for comparison and inspection, allowing users to spot any discrepancies between the CAD model and the physical product — through taking a photograph and overlaying the CAD data, or by using the AR functionality and making comparisons in real-time for deviations. In addition, the data collected can also be used, shared, and analyzed across departments, offering companies opportunities for better collaborations and im-proved productivity.
Worthwhile investments pay for themselves when it comes to time- and cost-savings in the long run. With the Visual Inspect, FARO offers a whole new solution that meets the needs of a globalized, flexible manufacturing process, and it helps manufacturers streamline their processes to be more flexible and nimble, while taking into account increasing cost pressures.