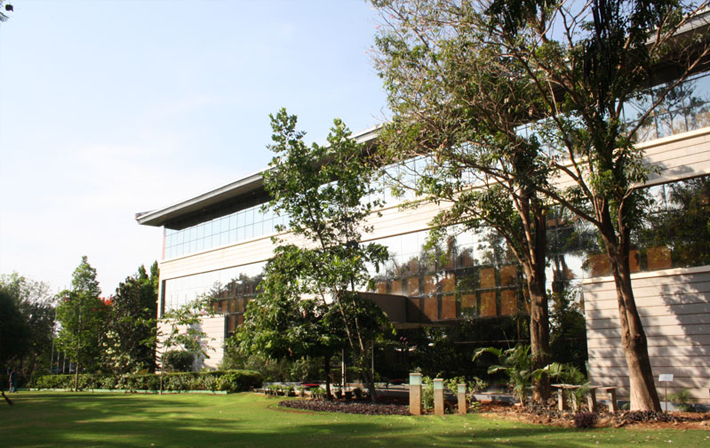 Sprawled across a lush green area of six acres, TaeguTec India Pvt Ltd (TTIL) is a leading supplier of modern machining solutions to myriad industry sectors such as automotive, die and mould, aerospace, power generation and so on. Having started its Indian operations in India in 2001, it has grown leaps and bounds offering a wide range of turnkey solutions and tailor-mades to its customers for improving productivity and cost efficiency on the shop floor.
A journey to remember
Taking pride of the company's growth since its inception L Krishnan, Managing Director, TaeguTec India Pvt Ltd & Past President, Indian Machine Tool Manufacturers' Association, shared nostalgically, "TaeguTec India's journey has been exceptional. It has set a positive trend for new entrants into the Indian market. In a very short period of time, we emerged as one of the top three players of the industry. Our journey has been very satisfying to all the stakeholders of the company."
TTIL's cutting tools for metal working manufacturing sector.
Impressive clientele base
With its product lines of Tungsten Carbide cutting tools that include inserts and holder bodies for turning, milling, drilling, grooving, parting applications, and Solid Carbide tools and tooling systems, TTIL serves the metal working manufacturing sector of the country. Auto and auto component companies form a major part of the company's customer segment and contri­butes over 60 percent of its sales and revenue. "However, over the last five years, contribution from other sectors like power, aerospace, to name a few, has increased," added Krishnan. The company's customers include major automobile OEMs like Maruti, Hero Motors Corp, Honda, Tata Motors, Ashok Leyland, Mahindra, Bosch, Toyota, Bharat Forge, etc.
R&D is the backbone
Speaking of meeting customer's requirements, Krishnan shared, "Our facilities are modular and enable us to quickly enhance capacities to meet increasing demands." Presently, the company has a wide reach in the Indian market with branch and channel-partner presence in every major industrial town. Acknowledging the contribution of a strong R&D as a requisite for growth, the company's R&D team is continually engaged in innovating products for the metal cutting industry. In this context Krishnan averred, "R&D and aggressive new products development and deployment differentiate us from the pack. A significant part of our revenue comes from new products and solutions."
Customers before us
Strongly following its philosophy of 'being a partner in cost reduction' to the manufacturing industry, the company focuses all its efforts towards various initiatives to help its customers remain competitive. As Krishnan explained, "In a competitive market, our customers are constantly exploring, innovating operations to improve the productivity and reduce the cost of manufacturing." In this backdrop, among several other initiatives, a fully integrated philosophy incorporating prof­itability, increased productivity and expert knowhow –named TaeguTeconomics was
introduced. It includes line improvement, project management, tool cost ma­nagement, and supply of tool dispensers. Such initiatives and services offered by the company aim at helping its customers reduce costs not just once, but on an on-going basis; and succeed in the face of acute competition.
Auto and auto component companies form a major part of the company's customer segment.
Aligning with changing trends
TaeguTec's global presence enables it to spot the trends early and proactively prepare for the changing requirements. "More than 50 percent of our employees have a direct contact with our end-customers to observe and anticipate emerging trends, and formulate and develop strategies. This is a very critical component of our customer engagement," he shared. In addition, the company's design team also contributes in meeting its customers' requirements.
TTIL is in the process of gearing itself up with various digital tools to help its customers get information and select appropriate tools and processes for various operations. In this connection, apart from digital catalogue, the company has a TT App for Android and an IOS platform.
Contribution to the environment
Maintaining a balance between the yin and yang, TTIL takes pride in being steadfast in its consideration towards the natural world, along with its consistent commitment to its customers.
Sustainability is at the core of all TaeguTec's operations, claimed Krishnan. "We are guided by the 'reduce, re-use and recycle practice'." The company has taken several initiatives to practice the same with all its resources like land, water, energy, raw materials and other inputs. "Our desire is not just to minimize the negative impact on the environment, but also to create a positive one," he emphasized.
"TaeguTec India's journey has been exceptional and has set a positive trend for new entrants into the Indian market."


L Krishnan,
Managing Director,
TaeguTec India Pvt Ltd &Past President, IMTMA
Blue Print
With its constant innovations, tailor-made solutions, and customer-favorable policies, it
is no surprise that the year has been an optimistic one for TaeguTec India. The company has registered a positive sales growth during the year 2016-17. "If the overall industrial growth scenario in the region continues, our company will further grow at the rate of 8 to 10 percent in the current financial year and in the years to come," concluded Krishnan.
Author:
P K Chatterjee
Senior Correspondent
Magic Wand Media Inc
info@magicwandmedia.in
Source: TaeguTec India Pvt Ltd