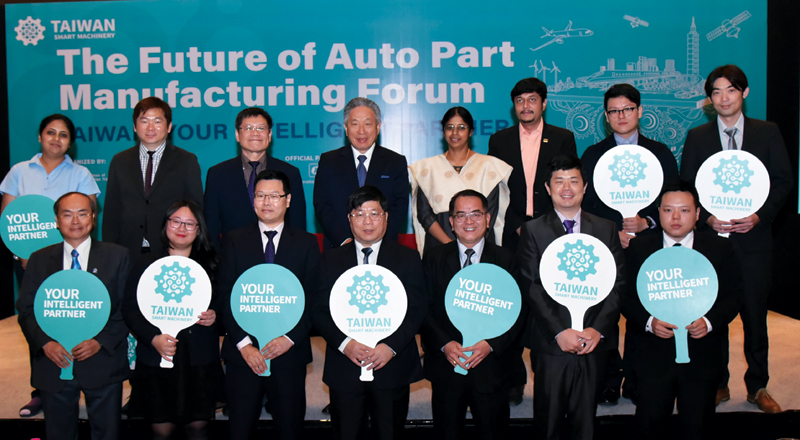 In its endeavor to aid Taiwan's machine tool manufacturers explore and tap the potential of Indian automotive and auto component industries, Taiwan External Trade Development Council (TAITRA) provided them with a platform to gauge the opportunities awaiting in the auto clusters of India.
Taking cognizance of the fact that India is the world's 5th and the largest in the car manufacturing and production, and that the Indian automotive industry is constantly on a lookout for cutting-edge machine tools, Taiwan's machine tools manufacturers are keen to make the most of this opportunity. Additionally, India's Automotive Mission Plan 2026 (AMP 2026) opens up promising prospects for them with the demand of medium- and high-end equipment by the Indian automotive component manufacturers on the rise.
Taiwan is currently the 4th largest exporter of machine tools in the world market. Its advanced metal processing technologies and extensive experience in the domain has fetched the country a significant repute among world-renowned auto makers.
Building Bridges
Hence, to facilitate alliance between them, TAITRA held a Taiwan Smart Machinery Forum in April 2019 in Ahmedabad and Bangalore. Leading manufacturers from Taiwan such as Palmary Machinery, Manford Machinery, SEYI, Roller King Enterprise, Kao Ming Machinery Industrial, Chin Fong Machine Industrial, Ducis Enterprise and Chiah Chyun Machinery made their way to the two cities to actively explore their automotive clusters.
The Forum
About 140 buyers from the auto sector attended the Forum and B2B sessions. D Thara, Vice Chairman & Managing Director, Gujarat Industrial Development Corporation (GIDC); Chung Kwang Tien, H.E. Ambassador and Representative, Taipei Economic and Cultural Center (TECC) in India; Premal Dave, Deputy Director Gujarat Western Region, The Confederation of Indian Industry (CII); S Baligar, Zonal Co-ordinator, Karnataka & Hosur Zone, Automotive Component Manufacturers Association of India (ACMA) and Lincy Varghese, Executive Officer, ACMA, were among the ones present. "I invite Taiwanese companies to invest and set up their manufacturing base in the state of Gujarat," said Thara. Krist YB Yen, Deputy Executive Director Industry Marketing Development, TAITRA, said, "Taiwanese quality machine tools are highly competitive in India. Hence, we have invited the leaders from Taiwan machine tool industry in India to demonstrate their latest technology involving CNC machines," To this added, Dave Tsai, Director, Taipei World Trade Center, Chennai, that the Taiwan machine tools are increasingly getting more popular in the Indian market.