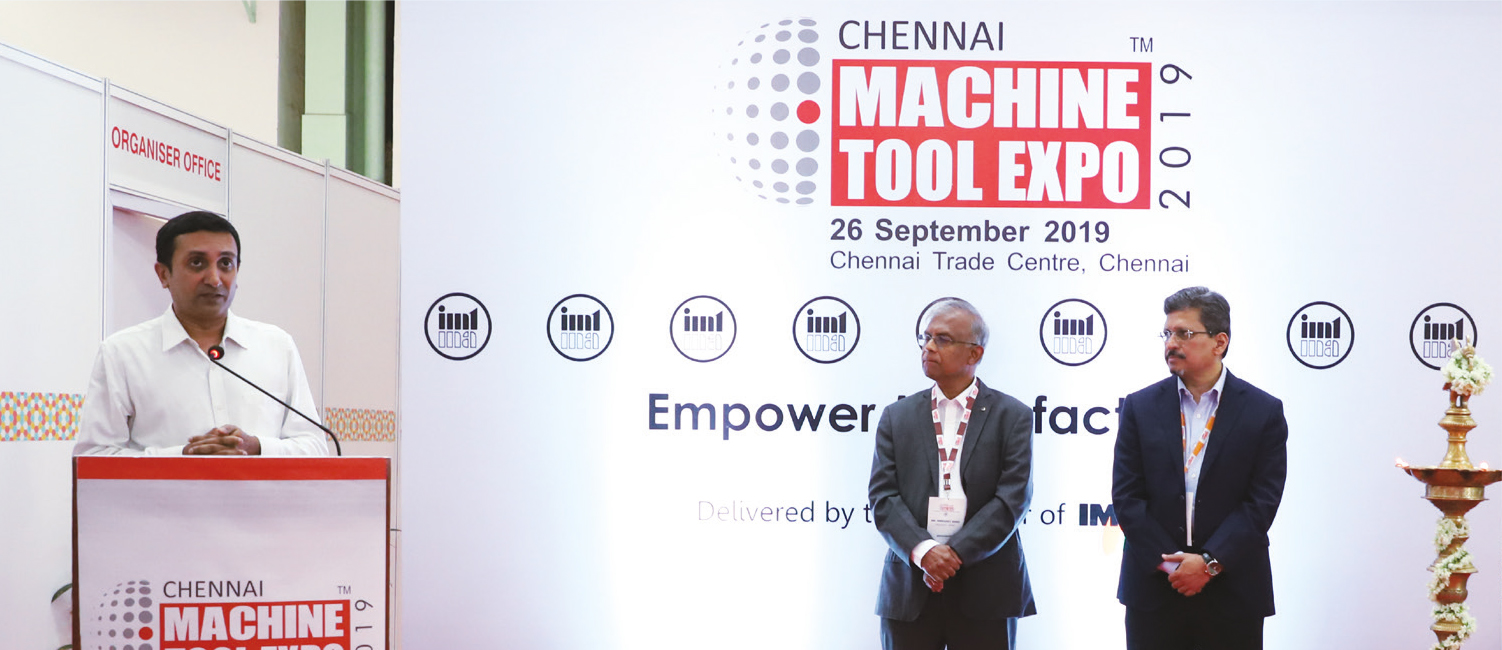 Hosted by Indian Machine Tool Manufacturers' Association (IMTMA), the Chennai Machine Tool Expo (CMTX), held from September 26 – 29 in Chennai, was well received as a new and ideal point of convergence in South India by the manufacturing fraternity. Highlights from the show…
Building off the success of its regional shows in the North and West of India, IMTMA this time offered its platform in Chennai to bring together manufacturing players from the nearby Tier 2 and 3 cities with the aim to provide them the much-required exposure to the ever-evolving manufacturing technologies.
Notwithstanding its maiden edition, the Chennai Machine Tool Expo (CMTX) 2019 proved to be a successful show with regard to the wide variety of product displays and high visitor turnover. The expo gained what it had aimed for which was to attract end-users from Tamil Nadu and South India and add value to the region's SMEs.
The Bright Side
The event kickstarted with the traditional inauguration ceremony graced by the Chief Guest, Srivats Ram, Managing Director, Wheels India Ltd. Also present were Indradev Babu, President, IMTMA; V Anbu, Director General & CEO, IMTMA; and other eminent dignitaries from the industry.
The leaders focused on the current headwinds the industry is facing and deliberated on the ways to remain unfazed. Ram proffered hope for the coming days and offered suggestions to the machine tools manufacturers, "The industry must follow the benchmark capabilities of global manufacturers. Emulating their capabilities and standards will increase your scope. It's a cyclical industry, and hence the current situation will change."
"Automation is the area where people will invest in the coming days. This is the period when you must focus on building that capability so that if not in terms of volume, but in terms of capability you can reach the global customers," he further added.
Babu pointed out to the consistent efforts by the industry, "The Indian Machine Tools industry has been addressing the technological requirements of the Automotive sector. It is focusing on new product development, design, innovation and research. I am glad to inform you that the Advanced Manufacturing Technology Development Centre (AMTDC), jointly set up by IMTMA and the Department of Heavy Industries, GoI, at IIT Madras, is developing new technologies for the manufacturing industry. It is a matter of pride that the Auto Industry from Tamil Nadu has been using the Centre to improve their manufacturing processes."
Regional Reach
On choosing Chennai as the chosen location for a regional show, Ram noted, "Chennai is a big market for machine tools. While machine tool companies are concentrated in Bangalore, the end-users mostly are in Tamil Nadu so it is beneficial for the machine tool manufacturers to exhibit here."
Commending IMTMA's role in organizing regional shows, he noted, "It is important for IMTMA to organize such shows because they help reach a wider audience. Most suppliers from tier 2,3 and 4 do not make it to shows happening in places such as Bangalore due to several constraints. Hence, regional shows are a must."
Regional technology shows, said Babu, are significant for the manufacturing industry as they bring local customers directly to vendors and build good brand awareness. "I think the exhibitors will be able to reach many local customers
and sign contracts to enrich their manufacturing processes," he added.
Ram also expressed his delight on the future capabilities the manufacturers exhibited at CMTX 2019, "This is important since the evolution and growth of the industry depends on the capability building," he stressed.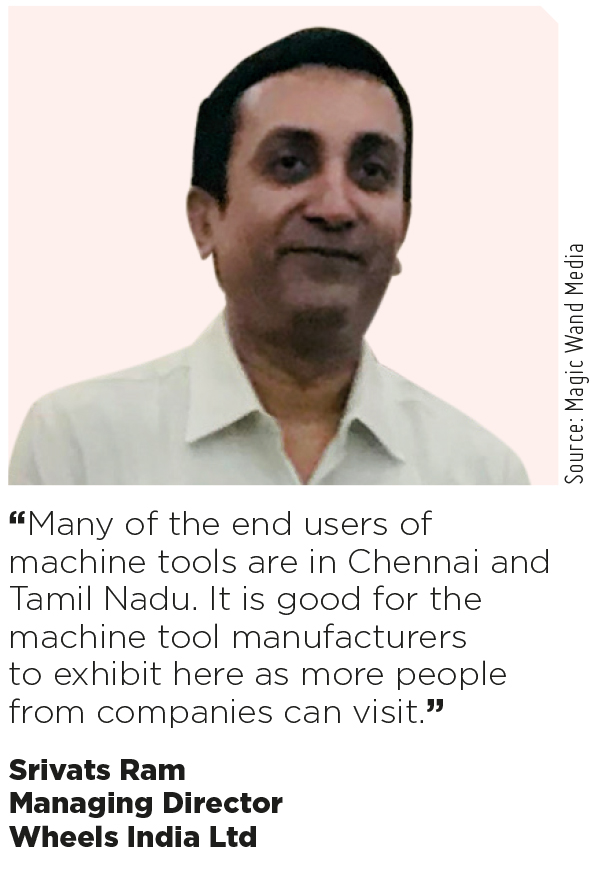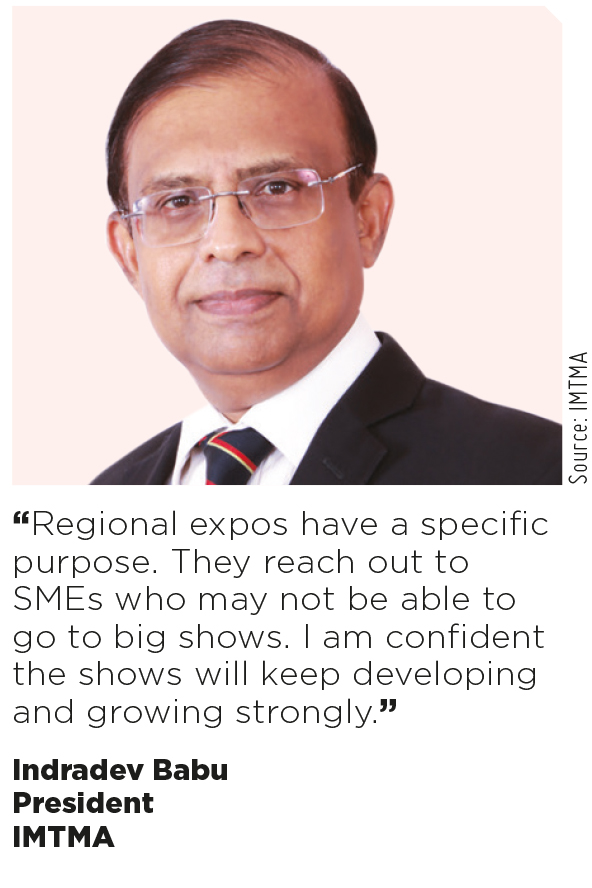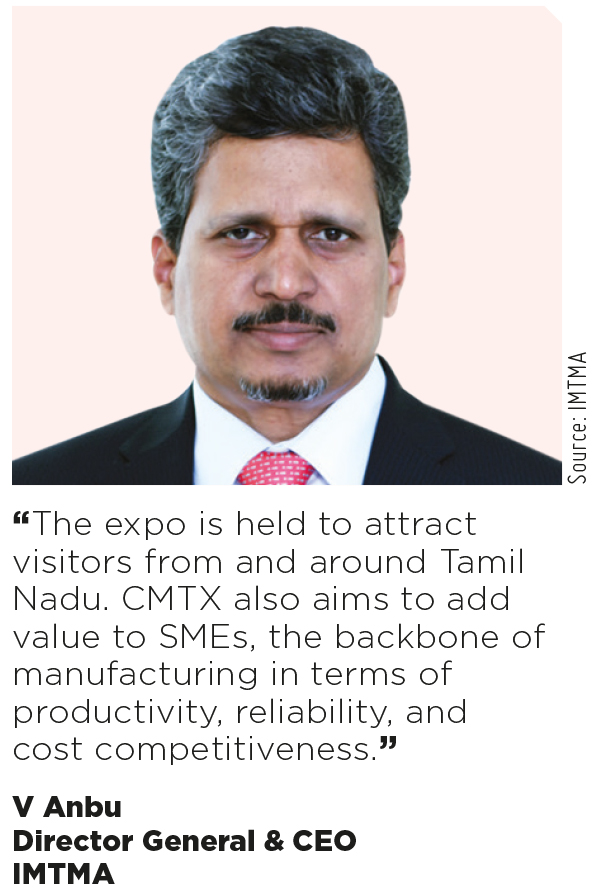 Live Demos at CMTX 2019
EPSON gave live demo of its cost-effective, space and energy saving industrial robots, SCARA Robots T-3 and T-6. The most interesting feature of these robots is they do not have any internal battery, which ordinarily adds to the operational expense of robots since roughly after a year and a half, robot batteries need to be changed.
Zentron Labs Pvt Ltd displayed its Terminal Inspection Systems, G Tron and IMM 9030. The machines come with three-camera systems. G Tron can inspect 2,400 parts per minute. The IMM 9030 can show every detail of what is happening inside the system, thus enhancing quality control drive for any manufacturing company.
Meiban Engineering Technologies being the Indian counterpart of Muratec, Japan, presented turning machines from Muratec. The company demonstrated how two machines for different operations have been combined in a cabinet to reduce installation space.
Ace Manufacturing Systems Ltd displayed its metal working machines TCV 540 for chipping, AMS 850 V for die-mould operation and newly launched SJE 08. It showed its 3D Printed critical automotive parts. The company is keen to spread awareness on its
new end-to-end 3D manufacturing service. A new division has been opened to design, validate and manufacture parts from aluminum, steel, titanium and inconel.
Batliboi Ltd demonstrated the Chetak 55 MC, 80 MC machining centers, along with 20 TC LX turning center with improved performance. UCAM Pvt Ltd presented its updated clamping systems that offer more compactness and rigidity.
Efforts Going Right
For a country like India whose manufacturing sector mostly comprises SMEs, it is highly crucial that they remain updated with the latest developments in the global industry. The role of regional shows is of high significance since they are a catalyst in making our industry players come at par with their global peers. Through its regional shows, IMTMA endeavors to bring India's SMEs in the forefront and aid them in leading the country in its growth journey.
Through its regional shows, IMTMA endeavors to bring India's SMEs in the forefront and aid them in leading the country in its growth journey.
---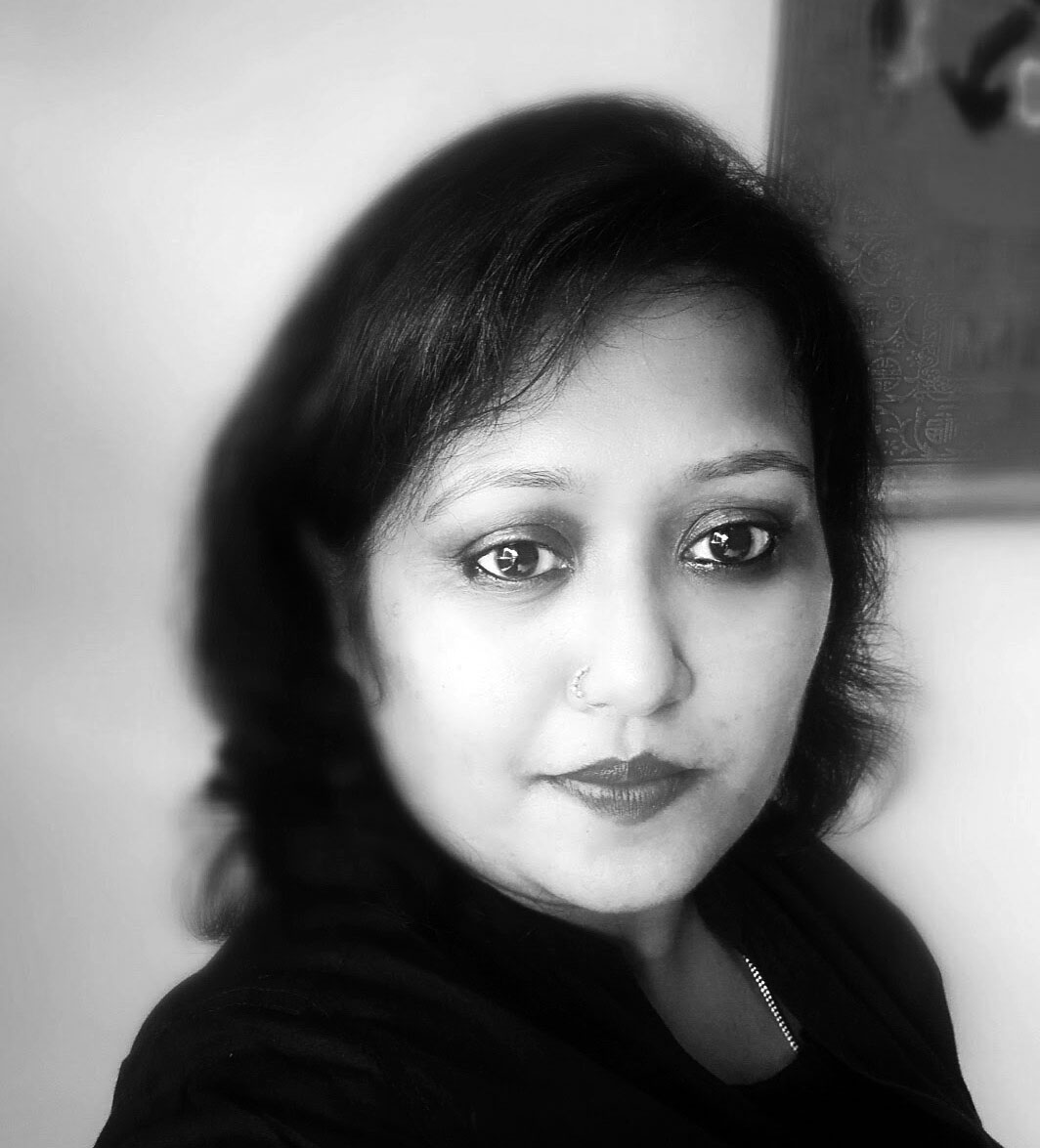 ARUNIMA NATH
Correspondent
Magic Wand Media Inc
---