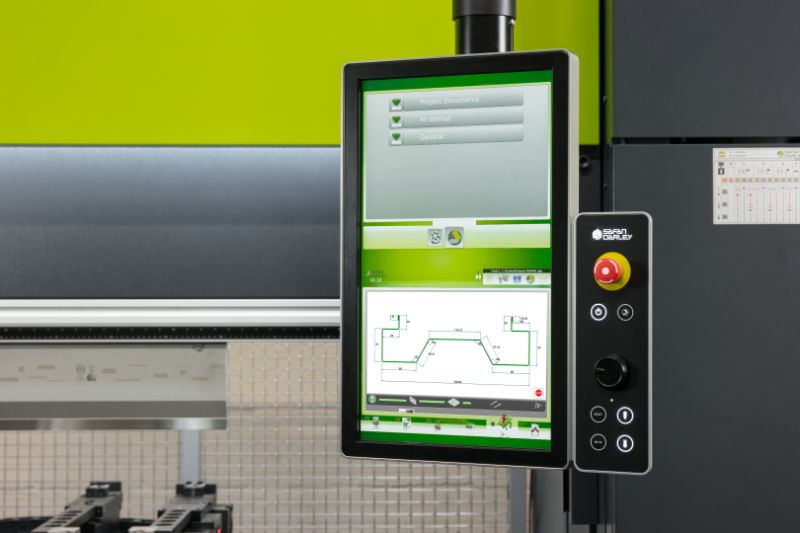 SafanDarley showcases its latest innovations for the sheet metal industry at IMTEX FORMING 2020.
SafanDarley has been the world leader for Electronic, Hybrid and Hydraulic press brakes. 25 years of experience gives SafanDarley a permanent competitive edge in fully electric press brakes that will be demonstrated at IMTEX 2020. Discover how you can also achieve the highest degree of efficiency with the fastest and safest bending cycle, off-line programming and unrivalled energy and CO2 reduction.
E-Brake Premium Series
At IMTEX 2020, SafanDarley will demonstrate the E-Brake Premium 100T-3100. The latest version of the multi-award winning fully electronic press brake series.
The E-Brake Premium is fitted with a split screen touch control system operating on a Windows platform, which facilitates a paper-free working environment.
The series can also be fitted with a 3D back-gauge, the patented E-Bend L Blue angle measurement system and a range of CNC-driven bending aids.
AutoPOL off-line bending software
The company's unique AutoPOL off-line bending software is a modern 3D system for off-line press brake programming and unfolding of 3D CAD files. The optional Batch & Remote function enables automatic processing of multiple parts. All tasks are performed without user input, results are reported back and production data created. It dramatically reduces programming costs.
Hybrid and Hydraulic Machines
SafanDarley also offers a range of unique energy-saving hybrid and hydraulic machines up to 1,250 tonne capacity.
Industry 4.0 interface
In addition to all the machine innovations, the company also offers an Industry 4.0 interface, the E-Control GateWay. With this interface, one's overall press brake production is claimed to be more efficient through better planning, shorter downtime, greater flexibly and faster adjustment. A solution to take a big step towards a connected factory.
SafanDarley B.V.
T: +31 (0)573 222 222
E: P.Hillam@safandarley.com
www.safandarley.com