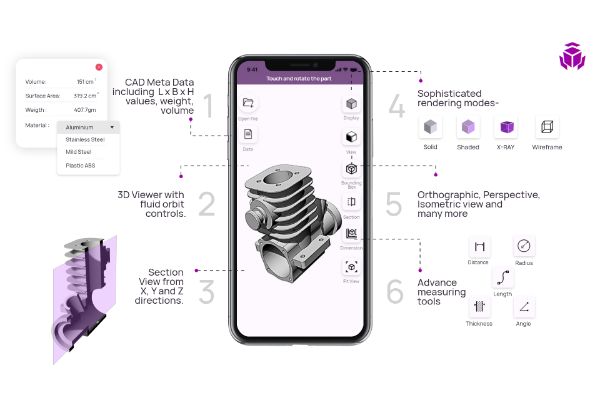 Chizel, India's B2B Cloud Manufacturing Platform, has had a quintessential journey of a successful startup. Sparked by the passion to create a positive difference in the Indian manufacturing industry and equipped with the foresight to temper with ideas along the way, the company is now top of its game, raring to accomplish more.
It was in 2014 that Chizel came into being as a B2C 3D printing design company, building a mass customization platform for lifestyle products. In this initial stint, the company outsourced all its manufacturing requirements to vendors across India, only to gradually realize that the supply chain to manufacture parts on-demand is quite broken and fragmented in the country. It was this realization that planted the seed of the present-day Chizel.
"In 2017, we pivoted our direction towards solving the long-standing manufacturing supply chain problem in India, which is a much bigger market that we presently cater to," shares Yash Rane, Founder & CEO, Chizel.
Poonam Pednekar
Chief Copy Editor
Magic Wand Media Inc
poonam.pednekar@magicwandmedia.in
Finding solution to problem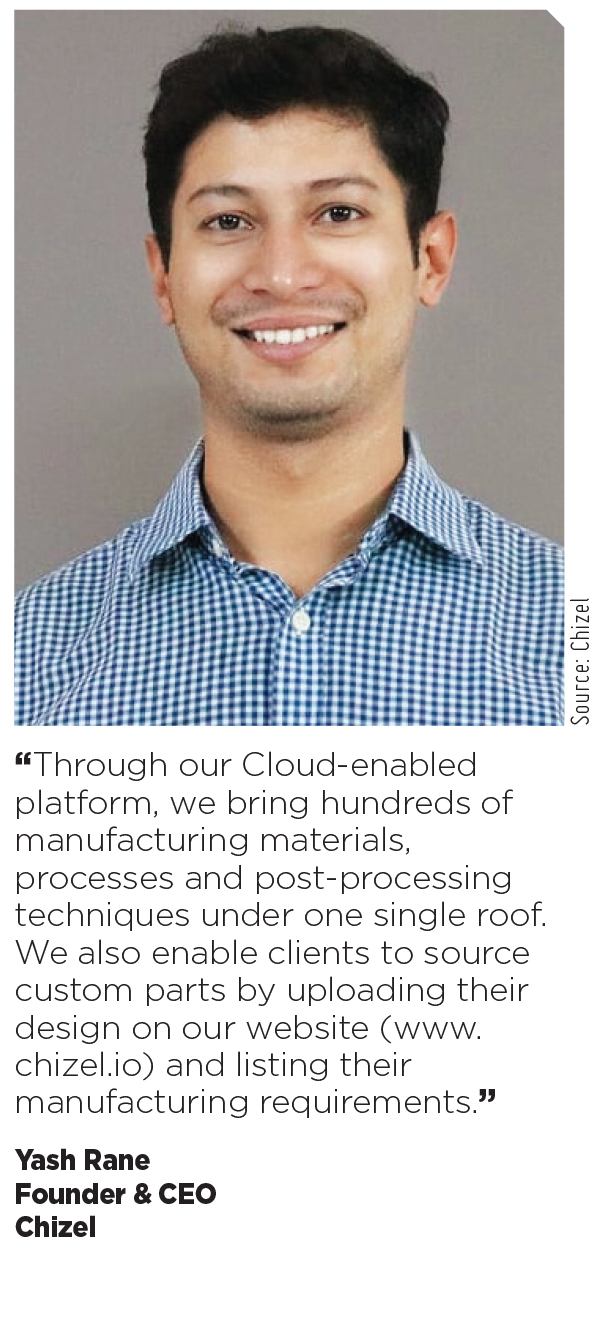 The team noticed that the majority of the OEMs/enterprises adhered to traditional practices to procure custom parts, wherein they spent several days (sometimes weeks) to get quotes from suppliers. The entire process was being communicated on calls/emails which was a less effective and time-consuming affair. "So, through our Cloud-enabled platform, we decided to bring hundreds of manufacturing materials, processes and post-processing techniques under one single roof. Apart from this, we also enable clients to source custom parts by uploading their design on our website (www.chizel.io) and listing their manufacturing requirements," Rane adds.
Chizel utilizes its proprietary smart engine to identify optimum cost and turnaround times and reflects it on the platform within a few minutes. On the back-end, the platform has partnered with qualified machine shops across India. Based on parameters such as complexity, quality expectations, TAT, etc. the company identifies the right sourcing partner who can manufacture the part.
"Hereafter, the customer can opt to place an order directly from our platform. Once the order is placed, we take end-to-end responsibility till the dispatch of the part. This way, the manufacturing partner gets the order delivered within its cost and timelines, and without having to involve in manual bidding, quoting, and juggling around with multiple suppliers. It provides our customers flexibility of manufacturing anything and everything without having to worry about the supply chain risks," he further adds.
Different business lines
Chizel has two business lines: Chizel MaaS (Manufacturing-as-a-Service) and Chizel Procure. Both verticals leverage the core ideas of 'Technology' and 'Network' that the company is building.
With Chizel MaaS, a buyer gets a one-stop shop solution for manufacturing custom parts by leveraging the company's qualified network of machine shops across India. "Using our proprietary bidding algorithms combined with a wide network of under-utilized machines, we get the best sourcing costs to manufacture parts and pass on the benefits to our customers. On the other hand, suppliers connected to this platform get regular business enquiries relevant to their key strengths and capabilities," shares Rane.
With Chizel Procure, the company aims to help buyers and sellers to digitalize their entire supply chain. A buyer can onboard a supplier, send them confidential data securely, render quotes, compare them and award businesses all through one single dashboard. On the other hand, a seller can manage all the orders at a one-stop platform and further manage accounts and payments efficiently.
"Every step is digitally tracked and accessible to both buyers and sellers, bringing in transparency in the supply chain," he adds.
Birds of feather
Entrepreneurs are usually wary of whom they choose as team members as they possess the capability to make or break their business. As of Chizel, the three founding members have a common academic background of IIT Roorkee. However, this was one of the many reasons they instantly took to each other. Another being the will to develop a venture of their own.
Yash Rane is the Founder and CEO of the company. He is a Mechanical Engineer and started his professional career in the automotive industry as a Purchase Manager, which made him understand the need of manufacturing parts on-demand. Coming from a techno-commercial background, he is heading Sales and Marketing for Chizel.
Ravi Ranjan is the Co-founder and COO of Chizel. A Mechanical Engineer, he has 12 months of experience in the Oil & Gas Sector as Maintenance Engineer. Working on production, supply chain and engineering, he manages day-to-day operations and finances of the startup.
Devang Saini, Co-founder and CTO is a Civil Engineer but found his passion in Cloud Product development. With two years of arduous entrepreneurial background, he is the mind behind Chizel's unique software products and offerings.
(L-R): Ravi Ranjan, Co-founder & COO, Chizel; Yash Rane, Founder & CEO, Chizel; and Devang Saini, Co-founder & CTO, Chizel
Teething issues
Talking about the financial backup that the startup relies upon and its strategy to cope with typical startup troubles, Rane states, "Chizel was a bootstrapped company for the first 12 months. From the beginning, we had chalked out a strategy for revenue and profitability that helped us grow and sustain the business. In 2018-19, we raised a pre-seed funding of $300K from institutional and Angel investors. This amount enabled us to hire the right team members, those with in-depth knowledge and expertise in manufacturing and new-age technologies, and also to scale up operations in a big way. We are in the process of raising another $1 million in the next 3-4 months."
The startup does not have much competition within India as there are only a handful of companies who are into on-demand manufacturing. "For us, innovation has always been a bigger concern compared to competition. We are not trying to compete with existing manufacturing giants, but trying to create our own reputation and niche," he adds. "The whole concept of on-demand manufacturing is fairly new in our country. Over the years, we noted that the manufacturing ecosystem, especially for MSMEs, is highly unorganized and inefficient. This is where Chizel's cloud platform steps in, attempting to support as well as empower numerous manufacturing shops of India, bringing efficiency using the power of Cloud and technology," he adds.
The team's first priority, according to Rane, was to make technology as its front face. However, in its initial stage, it became clear to them that in terms of sourcing and ordering manufacturing parts, customers usually prefer talking to people over call rather than doing everything via a tech-platform. "It was a challenge in itself to convince people that our platform offers end-to-end solution as it brings increased orders in a given timeframe, and enhances efficiency and revenue for manufacturing shop owners," he shares.
The startup has come far from those days and has served over 500 clients since its inception. As of now, its major customers are SMEs in diverse sectors like automation, medical devices, special purpose machines, electronic and electrical components, automotive, etc. "In fact, our on-demand Cloud manufacturing platform has been designed keeping the needs of the Indian market in mind, and is best suited for them. We have also served a few bigger companies including Volvo, Capgemini, Funskool, and Mahindra," informs Rane.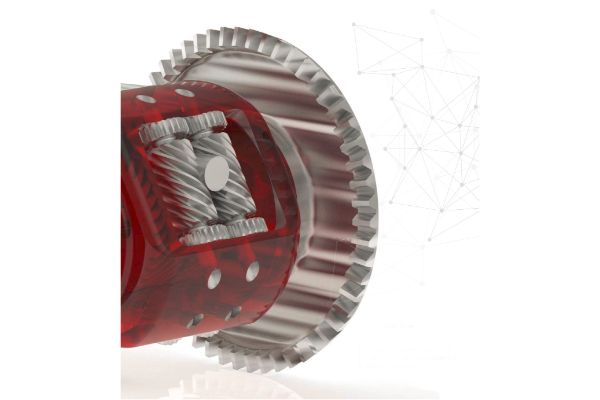 Plans ahead
Chizel is now a focused B2B platform and has acquired customers from an array of industries like automotive, heavy engineering, and SPM. "We are continuously expanding our verticals and industry sectors and are growing at a rate of 100 percent quarter-on-quarter. We have recently started developing exports business of manufactured parts as well. In the last 12 months, we have catered to over 200 customers pan-India and have manufactured over 20,000 parts in metal and plastic with technologies like machining, sheet metal, and 3D Printing," shares Rane.
"Going ahead, we want to reach out to 4M small-scale machine shops across India, impacting their business with technology and on-demand manufacturing, and in the process, democratize and redefine manufacturing in multiple sectors," he adds summing up.

Source: Chizel
With Chizel MaaS, a buyer gets a one-stop shop solution for manufacturing custom parts by leveraging the company's qualified network of machine shops across India.
The Indian manufacturing ecosystem, especially for MSMEs, is highly unorganized and inefficient. This is where Chizel's platform steps in, attempting to support and empower manufacturing shops, bringing in efficiency using the power of Cloud and technology.