One of the most popular tooling partners in the Indian industry, Tungaloy India Pvt Ltd has had an eventful journey since its inception. Here's knowing how the Indian subsidiary of Tungaloy Japan performed the formidable task of not just finding a strong foothold in the country but become one of the leaders, and its strategies to cope with the current unprecedented times.

Prior to the establishment of Tungaloy India, Tungaloy Singapore would oversee and cater to the Indian market. "One of the biggest challenges then was that we were only known for our Turning Tools. Timing of Tungaloy's merger with the IMC Group in 2009 and inception of Tungaloy India in 2010 worked in our favor as a launch pad. Infusion of extremely innovative products for Milling, Drilling, Grooving as well as Turning, during our inception, helped us reach out to customers confidently. Today, it has made us one of the most popular tooling partners in the industry," shares Jay Shah, Managing Director, Tungaloy India Pvt Ltd.
The company has not only increased its market share in all segments with new products, but also reduced its Turning dependability from 98 percent to 58 percent now.
Worthwhile challenges
Shah lists out additional barriers the company had to smash to gain entry in the Indian arena. "With already quite a few strong names in the Cutting Tool industry we had our work cut out. As a new entrant, our goal was not only to find a strong foothold, but also become one of the leaders, which was a formidable task. It has been an eventful journey till now. We started with a team of ten with a yearly turnover of `8 Crore to a team of 102 and a turnover of `200 Crore in 2018, all in just 8 short years. Finding the right Channel Partners was key, along with putting together a dynamic team, with strong communication, core values and work ethics," he adds. The hard work has paid off with the company achieving `172 Crore in 2019 with a target of `220 Crore for 2021.
Highly receptive Indian market
India being one of the world's fastest growing economies has an unparalleled potential, Shah believes. "Our globally hit products are very well received by the Indian consumers. They not only welcome faster, better and the most cutting-edge tools and technology, but also demand for them. Such is India's zeal to grow and be in the forefront of the Machining world," he points out.
Recognizing this, Tungaloy Japan has included India as one of the five subsidiaries responsible for New Product Development during a yearly conference where the feedback and the new product requirements of Indian customers are taken into account for future planning of product ranges, which are then horizontally deployed throughout the world.
Synergy of Tungaloy's metallurgy and R&D of IMC has helped the company deliver the most innovative and consistent products. Every year, it launches over 25 new products, which is one of the biggest contributors to its growth. Indian customers are the first to test Tungaloy's new products and implement them. The company's products including Deep Tri Drill for deep hole drilling on machining centers, TungForceRec for small pocketing applications, the new T9200 series turning inserts for high-speed turning of steels, advanced Multi Nano layer PVD coated AH8000 series inserts for high temp alloys, and Easy Multi Cut grooving solution for deep grooving, have been found exceptional in solving customers' key problem areas.
Synergy of Tungaloy's metallurgy and R&D of IMC has helped the company deliver the most innovative and consistent products. Every year, it launches over 25 new products, which is one of the biggest contributors to its growth.

One of Tungaloy's biggest business generating segments are the Two wheelers and the Passenger vehicle sectors followed by Commercial Vehicles. Apart from Automotive, it is well received by Aerospace, Oil & Gas, Rail Component Machining, Defence Components and General Engineering.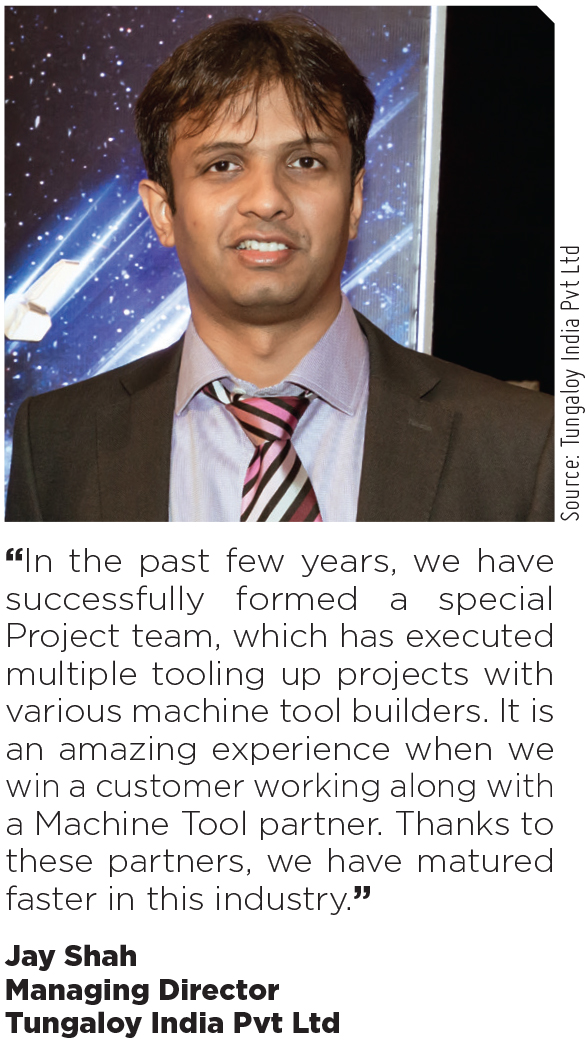 Standard vs. customized solutions
Shah shares that the company does not believe in offering too complicated tools, which sharply increases investment and maintenance costs. "We try to offer simple special solutions developed around our standard inserts program," he adds.
Seventy five percent of its sale is from standard products. "Most of our special tool development happens for projects we do with our machine tool partners and we are glad, we have had very good acceptance from both our partners and our customers. We also develop special tools for re-engineering projects we do with our customers, for process improvement," he further shares.
Meeting demands post Covid-19
The Cutting Tools industry was getting ready to meet the new demands owing the emergence of EVs and the future sunshine sectors. Shah offers his view when asked regarding the change in the scenario with the appearance of Covid-19. "Currently our biggest challenge is to come out of the pandemic post which the demand will see a gradual rise. Though the Automotive industry is ready to launch newer models of EVs, Covid-19 has given them a chance to relook into improving their offering, working on cost reduction and look at overall optimization of their concept EV. However, the 2W and 3W are already being sold and would steadily increase, post Covid-19. 4W EVs' sale would take at least another couple of years to see a steady rise," he notes.
The Automotive industry, he believes, will still be the major tooling buyer, though an increase in popularity of Hybrid and EV cars will have an effect on tooling consumption. "Increase in the use of composites in aero structures can lead to lower consumption of tooling as it will have mostly end milling and drilling applications and not much of other operations. Tungaloy is geared up to meet newer challenges. Post covid-19, we see a huge opportunity coming India's way which will surely bring in newer horizons to explore for the Cutting Tools industry," he adds.
To this end, the company has invested in newer technologies. Tungspeed Mill for high-speed precision machining of aluminum parts; Ream Meister for high-speed hole finishing; a new range of indexable threadmills; and new geometries of router endmills for machining composites; are few of the examples.
Ready to strike back
Tungaloy has chalked strategies for meeting a fresh surge in demand of its products once the things are back on track for the manufacturing industry. "Our ERP system does not allow hoarding of stock by any particular subsidiary. We keep the fast-moving inserts of the Indian market in our warehouse at Mumbai for supplying to our customers in the smoothest and fastest mode possible," Shah shares.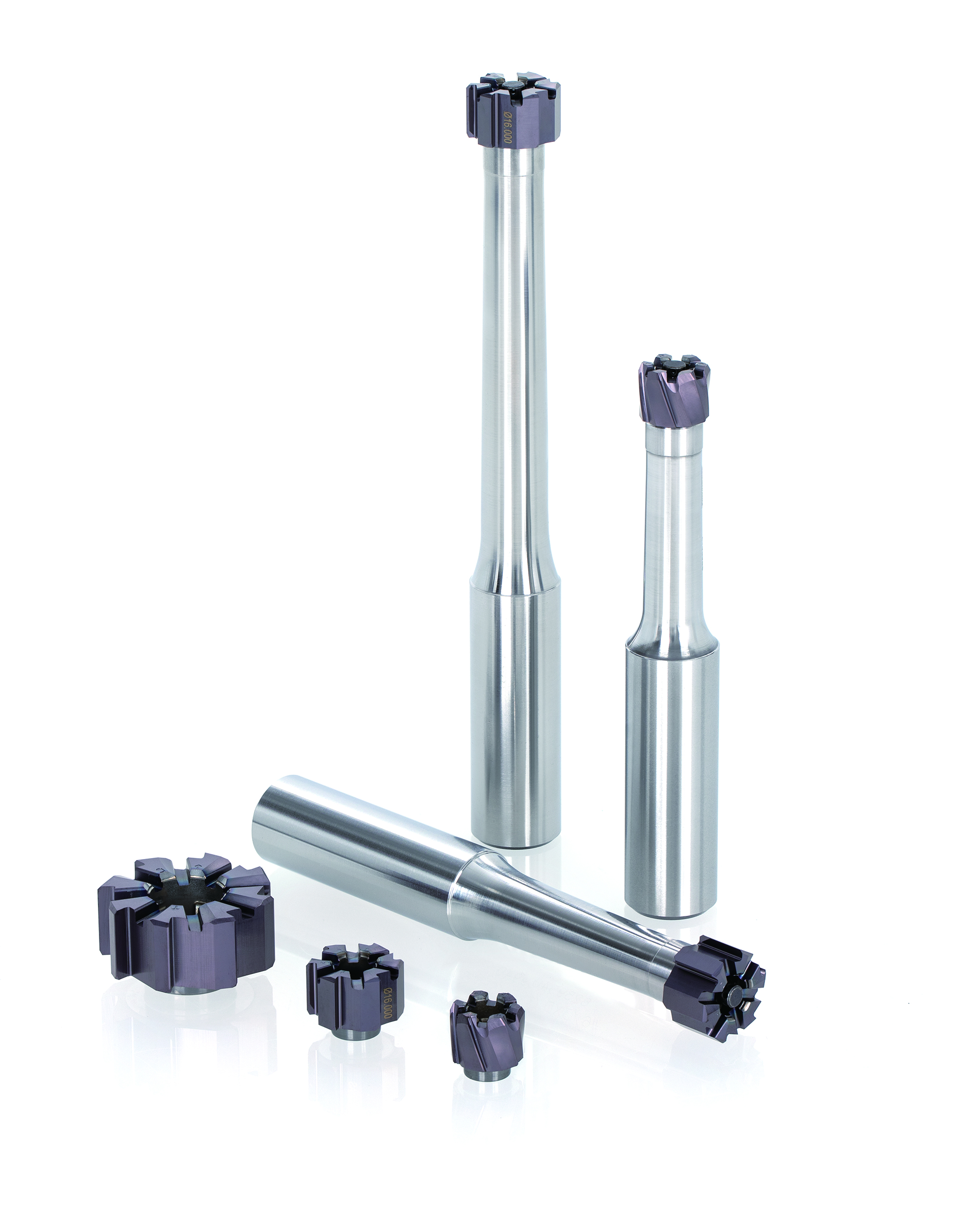 Challenges are to teach
The pandemic lockdown has brought about an unprecedented set of challenges in the day to day operations of companies that have stopped them in their tracks. Shah throws light on the hurdles that have emerged in the supply chain management of the company, "As of now, one major hurdle we have is in getting the shipments from Japan and delivering to some places in India. Due to many shipments in queue, and stoppage of passenger air movement, we have to wait for our turn to get the shipment." The company can ship to its customers only three days a week. Hence, efforts are on to optimize the systems and manage the warehouse team's time to serve the customers efficiently.
"Every situation teaches us to view things differently and come up with unique solutions. Our current situation calls for better inventory management and efficient warehousing. We have a range of Industry 4.0 compliant tool management solutions to enable customers to get a range of reports for monitoring and efficiently manage their tool inventory and manufacturing costs. This can be accessed remotely and can integrate the functions of warehouse and purchase with least human interaction. Our direct customers now have an option of selecting and placing orders directly with Tungaloy, through our website," he informs.
Optimism for India
As per the estimates done a few months ago, the global metal Cutting Tools market was to grow at a CAGR of 8.8 percent to reach $38.3 billion by 2024 from $22.2 billion in 2018. However, owing to Covid-19, economy of every country has shrunk drastically. Shah is of the view that the tooling market globally may not grow at the pace at which it has been forecasted. However, for India, he sees a hope for faster recovery.
He informs that the company has already started receiving enquiries from customers for components which are being manufactured in other countries, and is looking at a possibility to manufacture the same in India. "This will help the manufacturing sector to register a decent growth rate for the next 2-3 years. Post Covid-19, we may see many new projects and investments being shifted to India which would be a great opportunity to the entire industry," he notes
Motivating teams during Covid-19
Shah tells us about the initiatives the company is undertaking to manage stress of the task force and boost their morale. "Under a lockdown, it's an uneasy scenario for a salesman. Travelling and meeting people is part of his daily work routine, which can be very rattling. The anxiety of one's livelihood and well-being of loved ones can be very strenuous. Hence, it has been our focus to keep the team motivated and upbeat. We have focused on online training on every new product and its application for the last 8 weeks. It also included fun team building elements. By doing so, we could also hone our presenting skills to a virtual audience. We now have a formidable team of presenters who can handle digital presentations with ease," he informs.
"We have also organized interactions where participants had a chance to showcase their talents in singing, acting, delivering dialogues, showcasing their travelogue through photos, and training them on how to take care of their personal finances. We have realized that the team and their families also need to be relieved of stress and hence we have regularly organized some fun indoor family activities, clue related puzzles, and Bollywood quizzes so the entire family can participate and take their minds off the current stress," he adds.
"Making the best of a situation by finding growth opportunities, and having a new and positive outlook even in the midst of a crisis will definitely be a new skill we all will need to learn," he concludes with a point to ponder on.
"Making the best of a situation and finding growth opportunities, and having a new and positive outlook even in the midst of a crisis will definitely be a new skill we all will need to learn."
Poonam Pednekar
Chief Copy Editor
Magic Wand Media Inc.
poonam.pednekar@magicwandmedia.in