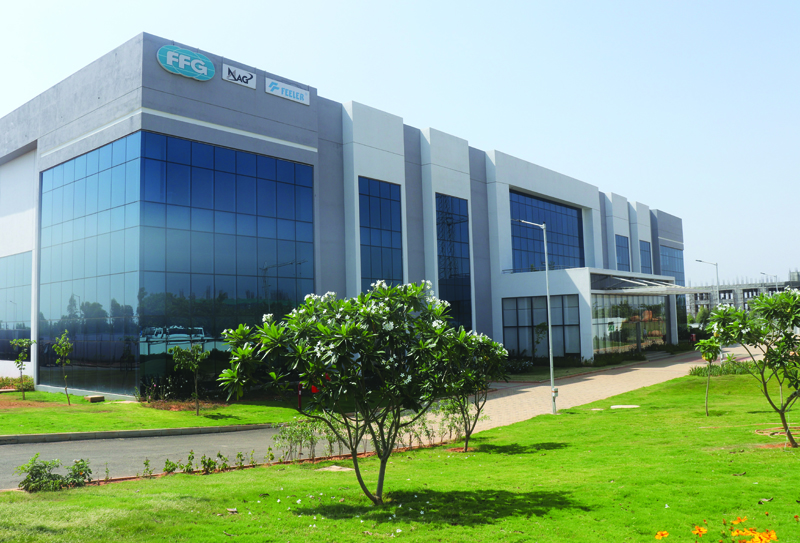 MAG India Industrial Automation Systems Pvt Ltd has had remarkable growth in a wide range of industries including automotive, aerospace, defense, power, die & mould, medical equipment, and railways. A snapshot of its accomplished goals that have made it win a coveted position in the machine tools industry…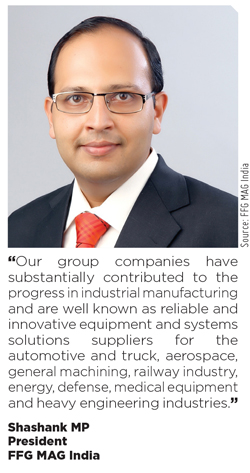 FFG MAG India's journey has been very exciting since its inception in 2006. This was the time when many of its global automotive OEM customers had moved to India to set up their plants. "This gave us the opportunity to deliver high technology manufacturing systems for powertrain and axle components (cylinder blocks, cylinder heads, transmissions, crankshafts, knuckles, etc.). Some of these systems were agile (with full flexibility) and some were hybrid (a combination of special and flexible machines) with either automation (gantry loaded systems) or manual direct loading of components," shares Shashank MP, President, FFG MAG India.

The company then forayed in the areas of aerospace, defense, power and railways, executing several key projects with its turning machines, double column machines, grinding machines, and heavy-duty horizontal machining centers. FFG MAG India has also made a remarkable footprint in the Automotive tier segment over the last five years.
"As our customer base started increasing in India, we also grew at every stage. In the year 2011, we set up a technology center in Bangalore as the first step before manufacturing. This facility was equipped with demonstration capabilities, in-house fixture design, and manufacturing along with a quality assurance facility," he adds.
In the year 2016, the company took its first steps towards local machine building and local service of its MAG motor spindles. "We have been highly successful in establishing a full-fledged and state-of-the-art manufacturing facility in Bengaluru spanning 80,000 sq ft. We also have established our strong presence in nine locations across India – Bengaluru, Chennai, Coimbatore, Kolhapur, Pune, Baroda, Ahmedabad, Delhi, and Jamshedpur – to support all our customers in terms of service, application, and sales," he shares further.

Currently, FFG MAG India is focused on MAG SPECHT horizontal machining centers and
FEELER VMP and VMX vertical machining centers that cater to the requirements
of high-precision and high-speed machining applications.



Growing strong
The new facility of FFG MAG India in Bangalore has been built with a strategic long-term plan for the group in India and a strong commitment from the company to its customers, explains Shashank.
The facility is capable of handling vertical and horizontal machining centers up to very large double column machines and heavy-duty turning machines. As the company's main focus is on delivering technology solutions, which often involve automation like gantry systems, the new facility also facilitates the demonstration of complete systems including such automation equipment to customers.
FEELER VMX Vertical Machining Center
"Currently, we are focused on a couple of products from our portfolio in this facility which are MAG SPECHT horizontal machining centers and FEELER VMP and VMX vertical machining centers. Both these series of machines cater to the requirements of high-precision and high-speed machining applications. With these machines, we supply products and technologies to the Automotive (Passenger car and commercial vehicles), Farm equipment, Die & Mould, Aerospace, Defense, Medical equipment, and General Machining applications. We also execute projects for crankshaft manufacturing systems with our VDF BOEHRINGER crankshaft machines in combination with SPECHT machines," he informs.
The company has also expanded the fixture manufacturing in the facility which supports its global fixture requirements in addition to that of the local market. "We export about 200 fixtures every year to MAG Germany and MAG North America. The quality assurance setup has been enhanced and augmented to cater to the increased production requirements," he adds.
The new facility also has a state-of-the-art spindle repair and reconditioning facility with experienced spindle specialists. "In this facility, we are able to service both our motorized and gear-driven spindles," he shares.
FFG MAG India also has a highly skilled and qualified engineering team that takes care of machine design, fixture design, tooling design and turnkey solution design.
Comprehensive automation offerings
MAG has gained quite a reputation in the industry owing to its automation systems. Elaborating on its automation offerings in India, Shashank speaks about the MAG SPECHT series machines that can be integrated easily in any manufacturing process. "This means the automation concept and the type of installation can be freely configured. Loading from above with the integrated protective tray of the gantry as well as manual or automatic loading from the front are alternatively executable. The most common forms of automation being executed in our projects are gantries (overhead loading), stationary or rail-guided robotic loading (front loading). In some cases where cost is a key factor, simpler conveyorized automation for part loading from the front and the side of machines is implemented," he explains.

SPECHT600 Horizontal Machining Center
Another important product that the company offers to support unmanned batch production is the Multi Pallet system MPR12. The system has the capability of storing multiple fixtures with components loaded in parallel to machining time and can be programmed to automatically run in multiple shifts and handle multiple part types.
Receptive Indian market
Receptive Indian marketAccording to Shashank, the reason the Indian market has been highly receptive to the company's products is mainly because it leads in technology. "Our legacy traces back to 1798, when our first plant was founded in Germany. Since then, our group companies have substantially contributed to the progress in industrial manufacturing and are well known as reliable and innovative equipment and systems solutions suppliers for the automotive and truck, aerospace, machine building, general machining, railway industry, energy, and heavy engineering industries. Our VDF BOEHRINGER turning machines, for example, are preferred for heavy-duty turning applications especially in the Indian defense industry for the last several decades," he stresses.


Multi Pallet System MPR 12
One of the unique advantages MAG India offers is its capability of delivering a range of technologies for a wide spectrum of applications:
• Milling: Single spindle and dual spindle machining centers, double column machines with 5-axis machining capability, horizontal boring machines, large general purpose milling machines etc.;
• Turning: Horizontal and Vertical single and dual spindle turning centers, turn mills, etc.
• Gear hobbing, power skiving, chamfering and deburring machines;
• Integrated grinding solutions;
• Rotary transfer machines.
"Our business strategy is to be known as a full technology and service provider which makes our process begin with customer application and part analysis to determine the process layout. The next step is to identify suitable machines, fixtures, and tools. Following this is the analysis of automation, cell management and networks, data management and diagnostic systems. We are also able to scale this technology integration based on the customer demand," explains Shashank.
MAG has also pioneered many innovative solutions in India like manufacturing systems with adapter plate technology (to avoid changeovers between part types and enable flexible lines), minimum quantity lubrication to reduce part piece cost and increase productivity and linear motor technology to reduce idle times on machines. "We have also pioneered the development of honing on SPECHT machining centers with patented spindle technology. This rich technology background and experience with our group has allowed us to serve customers in all leading sectors across India for several decades now," he adds.

"From the machine tool fraternity perspective, there should be no impact on India's machine tool manufacturing
due to Chinese imports. India has a very robust local supply chain for
all components required in the machine tool industry."



He goes on to add that safety is MAG's first priority, and hence all its manufacturing systems are fully equipped with the safety integration protocols in the control systems and software.
"The major benefit our customers get when we deliver our complete system with automation is that they have one face for all deliverables, lower lead times, best overall equipment efficiency with the best fit of components, high flexibility, integration of turnkey equipment, integration of Industry 4.0 and the ease of retooling our systems in the future," informs Shashank.
Controlling high quality of offerings
On the practices in place at FFG MAG India for ensuring the quality of its products and processes,
Shashank shares that they have adopted similar quality processes as implemented by the company's global plants with their long-term experience.

"We follow a very stringent Quality Assurance system during the building and testing of equipment. All our assembly and quality engineers are trained by experts in Germany, North America, and Taiwan on implementing best quality practices in the process," he adds.
"A significant contribution to the product quality comes from the product design itself. Our equipment is implemented by customers for applications that require high-precision manufacturing. Hence, the machines are designed with intelligent technology to achieve the highest continuous accuracy," he shares further.
Digitization has been a remarkable step towards creating a positive impact on the cost, time, and quality of production. MAG is one of the first suppliers to take advantage of the benefits of Digital Twins for the process, product, and manufacturing system for the projects. Thus, only NC programs that are tested and optimized on the virtual model and are guaranteed collision-free from the very first start-up are delivered to the fully assembled machine.


Gantry Machine
"An important step was the introduction of the virtual commissioning, which starts on the model already during the design phase. This allows many optimizations to be implemented even before the real products are built. By far the greatest effect is the spatially separated commissioning of machine and automation, which eliminates the need for joint assembly for preliminary acceptance and reduces project completion by approx. 10 weeks," he adds.
Pandemic hurdles
The pandemic lockdown has certainly posed severe challenges to the entire economy and most companies across India. On the hurdles the company faced in the months of lockdown, Shashank says, "Safety and health of all our employees and other associated partners is of utmost importance and we have respected and followed all the guidelines that were mandated. Implementation and maintaining adequate PPE for all team members was the first challenge that we had to overcome. As borders were sealed and transport services suspended for a while, some of our suppliers in other states that were severely affected could not supply material on time for our projects."
However, thanks to a strong order backlog of projects, it was able to recover quickly from the situation. Post the lockdown, the entire team at FFG MAG India demonstrated a high level of commitment in being able to complete the projects and start the installation and commissioning activities at its customer plants.
As far as FFG MAG India is concerned, its imports are mainly from Germany, Japan, and Taiwan. Due to these origins of import, it did not face any major issues with its supply chain. "From machine tool fraternity perspective, there should be no impact on India's machine tool manufacturing due to Chinese imports. India has a very robust local supply chain for all components required in the machine tool industry," he notes.

Robot Loading
Plans ahead
FFG group has a vast expanse of technology and plans to bring most of it to India in phases, shares Shashank. "We are in a phase of consolidating and increasing our market share in India with great emphasis to products that are built at FFG MAG India along with the machines being imported directly from our parent units in various countries like Germany, Italy, Switzerland, the US, Taiwan,
Korea, and Japan," he adds.

Safety is MAG's first priority and, hence, all its manufacturing systems are fully equipped with the safety integration protocols in the control systems and software.



In the next phase, it intends to increase its local footprint by building additional high technology machines in the areas of turning, grinding and large capacity machines to cater to sectors like aerospace, railways and energy-related segments in addition to existing customer sectors.