Dear Readers,
India's Manufacturing industry is regaining its momentum after losing ground during the first and the second quarter of FY 2020-21. The air of uncertainties which engulfed industrial activities are now receding with the easing of restrictions.
India's manufacturing PMI (Purchasing Managers' Index) rose to 56.8 in September 2020 as against 52 in the preceding month of August. It was the fastest pace of growth since 2012, as per data analytics from IHS Markit. The research has also revealed an upturn in sales with a renewed expansion in fresh export orders, perhaps the first positive sign since the outbreak of the disruptive pandemic.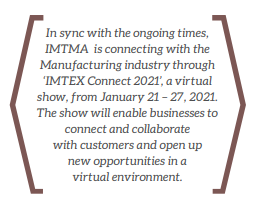 Presently, there is an upsurge in Automotive and Consumer Durables segments. There is a need to explore demand from multiple sectors, maximize production, enhance exports and upgrade indigenous capabilities. The disruptions in global supply chains and trade flows make it imperative for the Manufacturing sector to explore new regions and markets, many of which have hitherto remained untapped.
The pandemic and economic slowdown have perhaps paved way for introspection, innovation and indigenization, which is the essence of Aatmanirbhar Bharat. The focus is shifting towards local manufacturing in Tier 1, Tier 2, and Tier 3 cities for which the Machine Tool industry needs to establish synergies and reskill its workforce. India needs to establish a conducive environment for global manufacturing industries to set up manufacturing facilities, enter into joint ventures with local industrial units and enhance exports. As this happens, the country will become a favorite manufacturing destination.
In sync with the ongoing times, Indian Machine Tool Manufacturers' Association (IMTMA) is connecting with the Manufacturing industry through 'IMTEX Connect 2021', a virtual show, from January 21 – 27, 2021. 'IMTEX Connect' will enable businesses to connect and collaborate with customers and open up new opportunities in a virtual environment. IMTMA will thereafter organize 'IMTEX 2021 & Tooltech 2021' from June 17 – 23, 2021 at Bangalore International Exhibition Centre, Bengaluru.
I do hope these initiatives from IMTMA will provide opportunities for the manufacturing fraternity to interact and find new avenues for business growth.