Dear Readers,
It is encouraging to see that the Manufacturing industry seems to have taken the recent setback in its stride, reinventing and strategizing its businesses and looking to bounce back.
Welcome to the post-Covid lockdown scenario!
Industries have received encouraging sales and orders in the last few months and the auto sales picking up during the season has managed to lift the pall of gloom and bring customers back to the market.
On the economic front, industries have regained momentum as visible in the recent GDP figures. It's encouraging to see the accelerated production revealed by IHS Markit (a leading global research and analysis group). Hopefully, it sustains till the end of the financial year. Also, India's manufacturing purchasing manager's index (PMI) rose to 58.9 in October 2020, the highest since mid-2008, as against 56.8 in September 2020.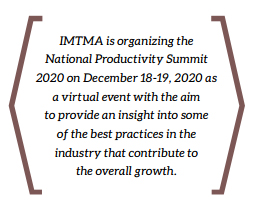 The recent uptick in the sale of tractors and passenger vehicles has reinforced the fact that the Manufacturing industry is on the right track and India is steadily moving towards becoming an export-oriented market in the capital goods sector. As this happens, the country would perhaps realize its dream of becoming a $5 trillion economy with the contribution of $1 trillion from the Manufacturing sector in the next few years.
The Government of India's measures have also ushered in positive sentiments. The Manufacturing industry has received its growth tonic with the Union Government announcing a series of measures to support the growth of MSMEs. The Government also approved the Production Linked Incentives worth `1.46 lakh crore for 10 sectors including the Automotive and the Textile. The incentives are expected to propel the Automotive sector to scale further heights resulting in simultaneous growth for the Indian Machine Tool industry.
Moving with the market's changing dynamics and the need to connect and collaborate in today's manufacturing industry, Indian Machine Tool Manufacturers' Association (IMTMA) is organizing the National Productivity Summit 2020 on December 18-19, 2020 as a virtual event. The Summit aims to provide an insight into some of the best practices in the industry that contribute to the overall growth.
We do have some interesting days ahead to look forward to and I hope that these initiatives will provide immense opportunities for the manufacturing fraternity to interact and find avenues for growth.
Indradev Babu
President
Indian Machine Tool Manufacturers' Association (IMTMA)